Voice of America Lu Yang, March 7, 2012 Translated by China Aid Association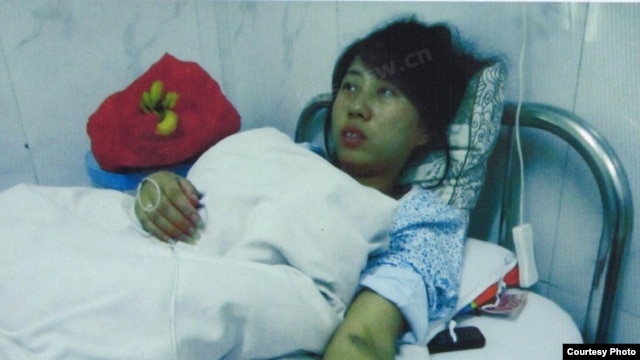 Feng Jianmei was forcibly aborted of her baby at a hospital

Husband of the forced abortion victim Feng Jianmei from Zhenping County, Shaanxi , China, has authorized lawyers to seek justice through legal means. Their lawyers indicated that her family decided to turn to lawyers because they were disappointed with the local government. Feng Jianmei's family said that the local government hadn't responded to their authorization of lawyers.

Changed their minds and hired lawyers to seek justice

On June 28, Feng Jianmei's husband Deng Jiyuan formally authorized lawyer Zhang Kai from Beijing Yijia Law Firm and Yang Zhizhu, previously an associate professor of the Law Department of China Youth College for Political Sciences, to file a criminal suit and apply for state compensation on behalf of the couple.

In earlier times, the Deng family politely declined the proposal made by lawyer Zhang Kai and Yang Zhizhu to help them resort to the law.

Regarding Deng Jiyuan making a special trip to Beijing to seek legal assistance, lawyer Zhang Kai commented to Voice of America on July 3, "I think he was out of options. Initially the government agreed to their terms and promised to give them a proper solution that would be satisfactory to them. But after we left, the government did not deliver what they promised. Finally, the Deng family got disillusioned. To make it worse, the government limited their freedoms and forbade them to go out of their home. Deng Jiyuan found an opportunity to slip away and decided to go to Beijing to find a lawyer."

Lawyer Zhang Kai told the journalist that they had accepted Deng Jiyuan's authorization. Next, they would pursue two legal procedures: one is to require the local public security agency to investigate the case; the other is to apply for state compensation.

Zhang Kai sent a legal letter on July 2 to the Public Security Bureau and Procuratorate of Ankang city in which Deng Jiyuan lives, requesting judicial agency to place the case on file and investigate the alleged crimes of intentional harm and power abuse involved in Feng Jianmei's forced abortion, and as a result, to determine if the case involves the crime of intentional harm or the crime of power abuse. He will also start the process of applying for state compensation soon after.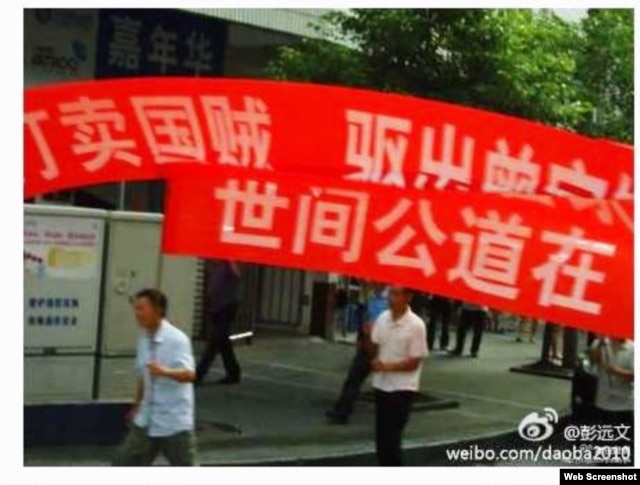 Villagers raised banners with messages against Feng Jianmei and her family

Deng Jiyuan: It is still not convenient to receive interviews by foreign media.

On the same day, Feng Jianmei's husband Deng Jiyuan told Voice of America that he would stay in Beijing for a few more days at his lawyers' request. But he also said that currently it was not convenient for him to receive interviews by foreign media and that journalist could contact him a couple days later.

Before he Deng Jiyuan left home for Beijing, a few dozens of people tried to stop him in the afternoon of June 22, and one of these people kicked him in the stomach. This person was described as an "alcoholic maniac from a neighboring village" by the local officials. On June 24, a crowd of farmers from Deng's hometown reportedly raised banners spontaneously calling the Deng family "traitors". One of the banners read "run them out of Zeng Family Town." It is where the Deng family live in.

Yang Zhizhu, one of the lawyers authorized by the Deng family, shared on his blog that Deng Jiyuan shook off those tailing him at his hometown on June 24, went through many difficulties, and after 83 hours, he made it to Beijing in the morning of June 28.

The current situation of the Deng family

Since the lawyers authorized by the Deng family sent a legal letter to the local judicial agency of Ankang, the family's situation has received concern from the outside world. The journalist interviewed a relative of the Deng family on July 3 by the phone.

Journalist: Does the local government know you hired lawyers?

Relative: I think they should have known.

Journalist: Are they causing you trouble for hiring lawyers?

Relative: They haven't caused us trouble.

This relative said that Feng Jianmei was currently still in the hospital. She is still recovering and the headache she previously had lingers on. Recently she started to have pain in her eyes too. The doctor found her blood pressure low and told her to pay attention to nutrition. This relative also said that Feng Jianmei's meals at the hospital were bought by her caregiver from the outside.

On June 2, Feng Jianmei who was seven months pregnant suffered forced abortion. The tragedy has attracted widespread attention after it was exposed on the internet.

http://www.voachinese.com/content/forced-abortion-in-shanxi-update-20120703/1360781.html


---
China Aid Contacts
Rachel Ritchie, English Media Director
Cell: (432) 553-1080 | Office: 1+ (888) 889-7757 | Other: (432) 689-6985
Email: r.ritchie@chinaaid.org
Website: www.chinaaid.org