Taipei Times
By Loa Iok-sin / Staff reporter
Thu, Jun 04, 2015
The Democratic Progressive Party (DPP) yesterday expressed its support for pro-democracy movements in China, saying that only upholding values of freedom and democracy could serve as a stable basis for cross-strait exchanges on the eve of the 26th anniversary of the Tiananmen Square Massacre in Beijing.
"Democracy, liberty and human rights are universal values beyond national boundaries, and therefore peaceful and stable cross-strait relations could only be built on the basis of a free and democratic system," the statement said. "We would like to urge Beijing to believe that the people have the willingness and the ability to face challenges in democratization, for that, without democracy and freedom, without human rights and rule of law, economic growth alone is insufficient to create lives with dignity."
What happened in Tiananmen Square 26 years ago was because of young people's pursuit of democratic reforms and their hope to fight corruption, the DPP said.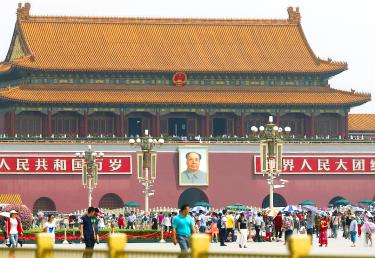 Tourists visit Tiananmen Square in Beijing, China yesterday.
(Photo: EPA)
Although the events have occurred in different times and settings, the participation of young people in Taiwan's Sunflower movement and in Hong Kong's Occupy Central Movement expressed similar messages: They want to decide for their own futures, it said.
"People are masters of the nation, those in power should respect and tolerate different voices. Only by following the will of the people, protecting freedom and human rights and pushing for democratic reforms can social harmony and stability be sustainable," the statement said. "We call on Beijing to refrain from repressing dissident voices in an inappropriate way and to implement protection for the freedom of expression."
The DPP also expressed its support for the movement for democratic reforms in Hong Kong, urging Beijing to engage in meaningful dialogues with Hong Kongers.
---
China Aid Contacts
Rachel Ritchie, English Media Director
Cell: (432) 553-1080 | Office: 1+ (888) 889-7757 | Other: (432) 689-6985
Email: r.ritchie@chinaaid.org
Website: www.chinaaid.org