The Guardian
Benjamin Haas
in Hong Kong
Monday 23 January 2017 22.16 EST
Last modified on Tuesday 24 January 2017 18.51 EST
■ Top human rights lawyers say Xi Jinping's
China
is moving farther and farther away from the rule of law amid new claims about torture of Chinese attorneys
In a letter to the Guardian
, a group of leading lawyers and judges from the US, Europe and Australia expressed "grave concern" over the detention and treatment of legal professionals.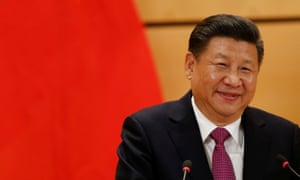 Authors called on Xi Jinping to uphold international law if
China truly wants the responsibility of a global power.
Photograph: Denis Balibouse/Reuters
The authors – which include former French justice minister Robert Badinter as well as British human rights lawyers
Michael Mansfield
QC and Clive Stafford Smith - called on China to release "the detained or arrested lawyers and others held with them", describing their detention as "without legal basis".
The letter – written to coincide with the
Day of the Endangered Lawyer
– comes after human rights lawyer Xie Yang detailed being
tortured while in police custody
. He was beaten, forced into stress positions, deprived food, drink and sleep, denied medical care and received death threats, with one inquisitor saying: "We'll torture you to death just like an ant".
Xie was one of
nearly 250 lawyers, legal assistants and activists
that were rounded up in a nationwide crackdown in July 2015. While most were released, about ten are still in custody or have been disappeared.
Two other lawyers targeted in that campaign, Li Heping and Wang Quanzhang, were reportedly tortured with electroshocks until they fainted, drawing particular concern from the authors of the letter.
The signatories also detailed instances of detainees fed unnecessary medicine, and highlighted one case where the repercussions of torture do not end once released. Li Chunfu, a lawyer and brother of Li Heping, was released earlier this month but
displayed signs of severe mental illness
, with some describing him as a "broken man".
China has ratified the UN convention against torture, and the authors called on Xi to uphold international law if China truly wanted the responsibility of a global power.
"In order to vindicate its claim to be a responsible stakeholder in the international community and to be a respected global superpower, it is imperative that China honour its international commitments to international conventions and human rights," the letter said.
"
Xi Jinping
has repeatedly stated that 'China is a country ruled by law' and that 'every individual [Communist] party organisation and party member must abide by the country's constitution and laws and must not take the party's leadership as a privilege to violate them'. Yet the events just described appear to move farther and farther away from those commitments."
A similar group penned a letter a year ago calling for China to end its crackdown on lawyers and activists then in its early days, but there has been no signs of improvement, promoting the lawyers to "write again to express our continued grave concern over subsequent developments in
China
".
The signatories also included David Collins, former president of the American Bar Foundation, Elizabeth Evatt, a leading Australian civil rights lawyer, and Manfred Nowak, the former UN rapporteur on torture.
---
ChinaAid Media Team
Cell: (432) 553-1080 | Office: 1+ (888) 889-7757 | Other: (432) 689-6985
Email: media@chinaaid.org
For more information, click here