South China Morning Post
By
Mimi Lau
Published : Thursday, 06 July, 2017, 6:55 pm
Updated : Thursday, 06 July, 2017, 11:44 pm
■ Time running out for ailing dissident on medical parole, friends say
Family and friends of Nobel Peace Prize laureate Liu Xiaobo were keeping vigil on Thursday after doctors warned that the ­dissident's health had worsened.
Close friends said the family was told Liu could no longer cope with the medication he was receiving to treat his late-stage liver cancer at a hospital in Shenyang, Liaoning province.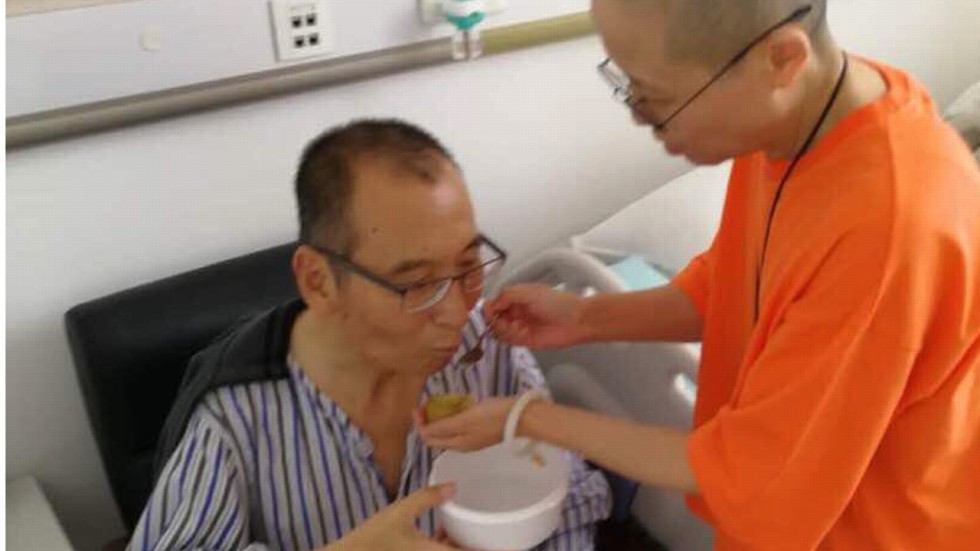 In an undated photo, Chinese dissident Liu Xiaobo is attended
to by his wife Liu Xia in a hospital in China. Photo: AP
The First Hospital of China Medical University in Shenyang said in a statement that Liu's liver condition was deteriorating.
The hospital also released a statement purportedly from Liu Hui, the brother of Liu's wife Liu Xia, saying Liu Xiaobo's medication had been adjusted – but not stopped – because the tumours were spreading fast.
Liu Xiaobo was granted medical ­parole last month after he was diagnosed with the cancer in May. Liu Xia has been with him but friends said they could not visit or communicate with the couple.
"We might be losing Xiaobo soon," poet and friend Ye Du said.
"The notice informing family members to be prepared [for his death] over the next 24 hours came last night or this morning."
Ye said he had spoken to Liu's family and they had been told that his condition initially improved after doctors removed a build-up of abdominal fluid on Monday. But his health deteriorated quickly on Wednesday.
Medical specialists told the family that Liu's liver function had declined, forcing them to stop administering both his Chinese and Western cancer medication, Ye said.
Mo Zhixu, another friend, confirmed that Liu's family had been informed of the sharp decline in his health.
"He can eat a little bit but not that much. Now he is just being given pain medication and drugs to calm him down, and being fed through an intravenous drip," Mo said.
Mo said he and friend Wen Kejian had spent several days unsuccessfully trying to find and contact Liu at the Shenyang hospital.
The hospital said in an undated online statement that Liu's abdominal swelling had worsened.
"The abdominal fluid building up in Liu Xiaobo's body has increased," the hospital said, adding that the lead doctor in the case had informed the family of the situation.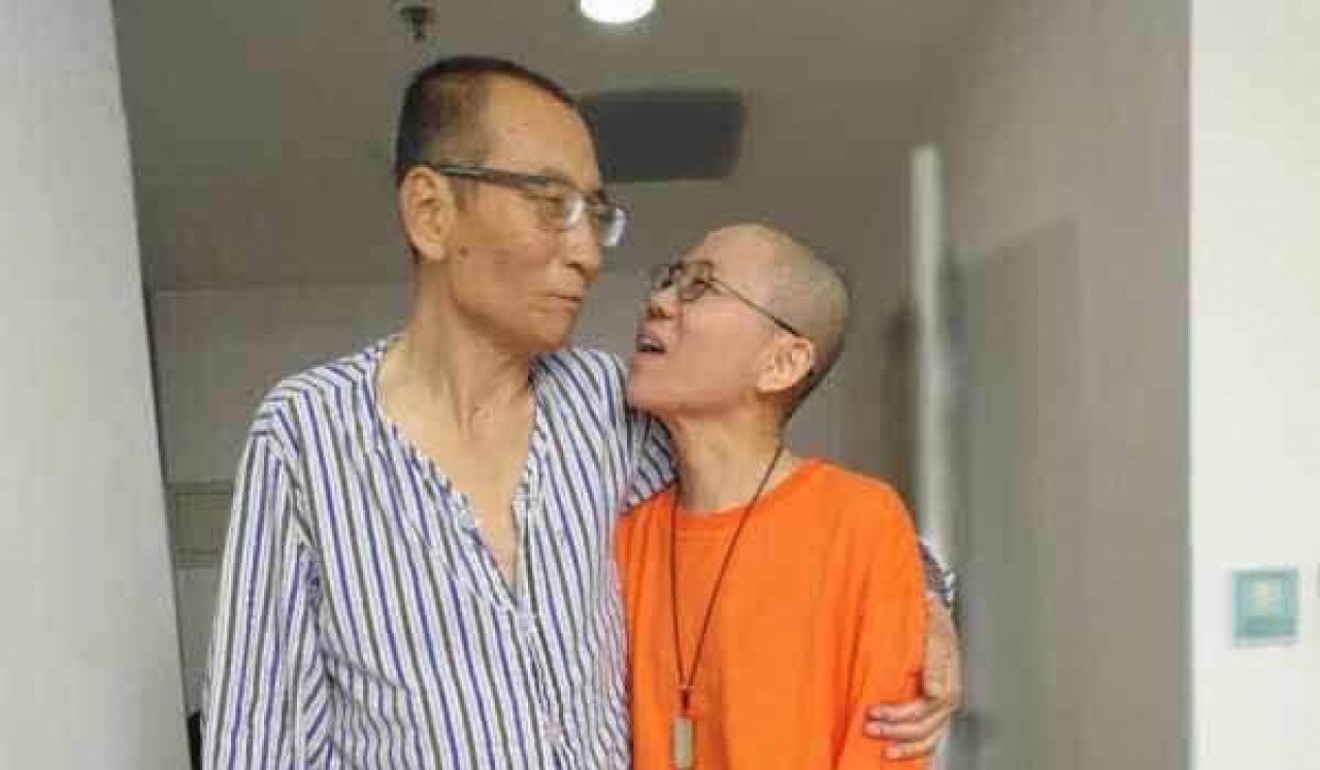 Chinese dissident Liu Xiaobo and his wife Liu Xia together in
a recently released undated photo. Photo: Handout
In a second statement released on Thursday afternoon, the hospital said: "Liu Xiaobo's liver function is worsening."
It said the level of bilirubin – a compound that is indicative of some diseases – was rising.
"A suspicious venous thrombosis has formed on his lower left limb and our hospital is providing treatment based on the advice of an expert medical panel," the statement said.
The Shenyang Bureau of Justice said on Wednesday that top cancer specialists from the United States and Germany had been invited to consult on Liu's case.
But US-based friend Yang Jianli tweeted on Thursday that Liu's kidney was also failing and time was running out.
"He is still being closely watched, and there is not even a single second of freedom," Yang tweeted.
"The US government is still waiting for official confirmation from the Chinese government and is in the process of preparing a medical team.
"Time is pressing; praying for Xiaobo. Every minute the Chinese government delays does tremendous damage to his health. This is an old score that needs to be settled some day."
Veteran activist Hu Jia also said there had been communication problems between the two authorities.
"The Chinese government invited the US and German experts but there has not been active and smooth communication to realise the plan," Hu said, refusing to elaborate.
Hu criticised the authorities for treating Liu in a remote part of the country rather than moving him to Beijing.
"Even though he is in one of the best hospitals in northeastern China, most of the medical experts on his case are based in Beijing and cannot be at his side immediately," he said.
"Preventing Liu from returning to Beijing is in itself delaying his treatment. How shameless is that?"
The US embassy in Beijing declined to comment on the case.
Germany's foreign ministry said it continued to "support a humanitarian solution and hope that he will receive the medical treatment in which he is in need of".
Liu, China's most famous political prisoner, was sentenced to 11 years behind bars in 2009 for "inciting subversion of state power". He had signed a petition known as "Charter 08" with other rights activists calling for sweeping political reforms in the country.
---
ChinaAid Media Team
Cell: (432) 553-1080 | Office: 1+ (888) 889-7757 | Other: (432) 689-6985
Email: media@chinaaid.org
For more information, click here