South China Morning Post
Mimi Lau
Published: 2:00am, 20 May, 2019
Memories of June 4, 1989, still seep into Chen's work, decades after he witnessed the crackdown as a young soldier
One image from Tiananmen Square has haunted Beijing-based artist Chen Guang for 30 years.
As he photographed the aftermath of the pro-democracy crackdown on June 4, 1989, the then 17-year-old People's Liberation Army soldier noticed a bundle of hair in a fuchsia elastic tie tangled in the wheel of a burning bicycle.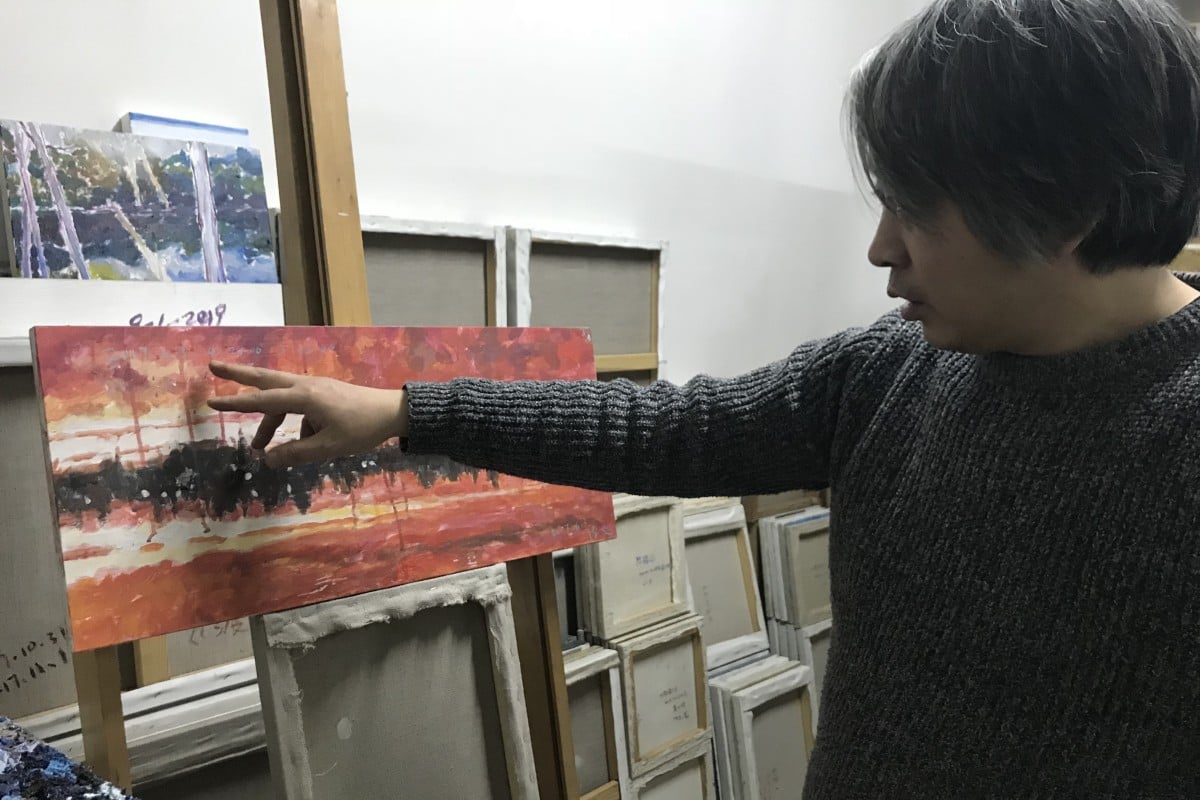 Artist Chen Guang reflects on the painting Blood
Red Anxiety at his studio in Beijing.
Photo: Mimi Lau
Chen, a member of the PLA's 65th Group Army, had been bused in to enforce martial law and was using his unit's only camera to record the scene. As a light rain fell on the sprawling square and smoke billowed from the torched remains of the protesters' belongings, the sight of the ponytail stopped the teen in his tracks.
"That bundle of hair, which probably belonged to a young girl, has left a deep mark on my memory and I can't forget it even to this day," Chen said.
"I have since become very sensitive about human hair and I get emotional whenever I see fallen hair on a bed or in a bathroom sink."
The image shadowed Chen after he left the military and became a full-time artist, specialising in performance art and oil painting.
Chen was just 16 and a small-town boy from Henan province when he joined the army. His ambition was to study painting but without money or influential relatives, the military was his best chance at advancement.
So he fudged his age, enlisted and was soon assigned to non-combat tasks such as making propaganda posters, taking photos and shooting film.
But he was also one of the many young PLA soldiers deployed in the Tiananmen Square crackdown, in which hundreds, if not more than 1,000, died.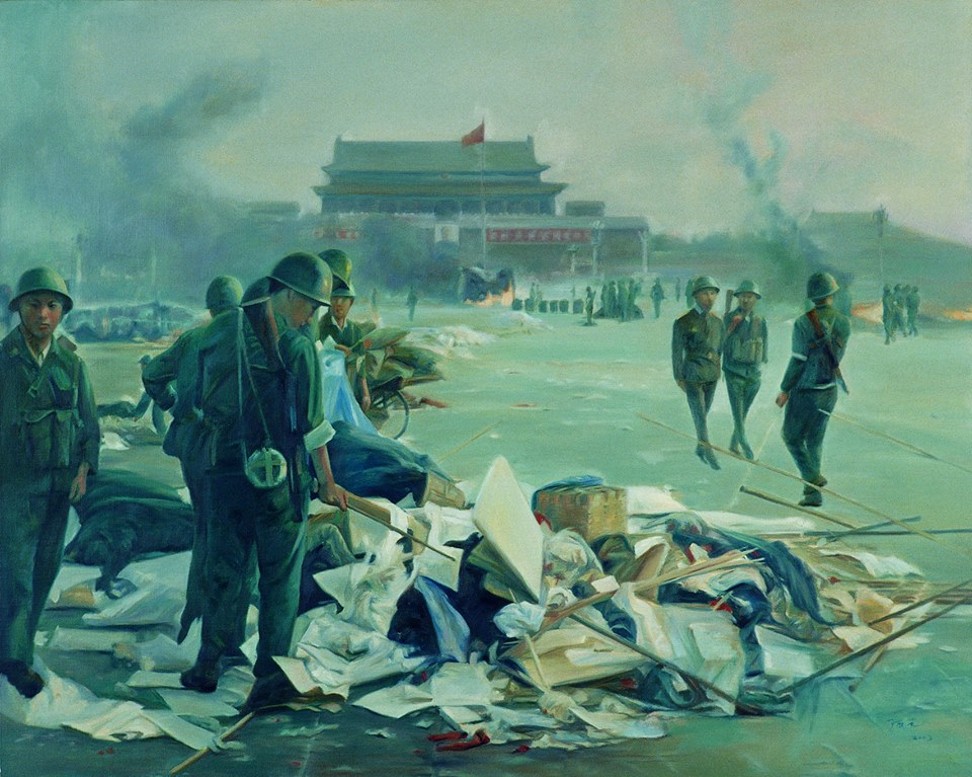 A painting from a series about Tiananmen Square
that Chen Guang painted between 2005 and 2009.
It was among 17 works seized with other documents
in 2014. Photo: Handout
According to a diary posted online by a friend a few years ago, one of Chen's jobs on the eve of the crackdown was to deliver rifles and ammunition to soldiers in the Great Hall of the People on the western edge of the square. At midnight on June 4, commanding officers issued a verbal order for the soldiers to clear the square.
"Soldiers began passing word to each other: 'This is an order, open fire if anyone stands in your way.' I was terrified," Chen wrote in the diary.
He left the army a year later and went on to graduate from the Central Academy of Fine Arts in 1997.
The memories of June 4 stayed with him but it was almost a decade into his career that he was able to process his feelings of the time and put them on canvas.
"[It was a] search for colours and feelings in my memories. I tried to see if I could express through my paintings and art what I understand about China's political and cultural structure," he said.
He largely stayed under the authorities' radar until May 2014 when a performance at his studio attracted attention. During the event, Chen wrote out the years from 1989 to 2014 in various colours and then covered the writing in white paint.
As a result, he was detained for 38 days and his diary, photos and 17 of his paintings related to the 1989 crackdown were seized.
Today, the 47-year-old is regarded as one of China's most controversial performance artists and continues to address the crackdown in his work.
In 2014, security officers seized 17 works Chen
Guang painted about the Tiananmen crackdown.
Photo: Handout
"I may not paint about it [June 4] directly now but it still lives in my artistic expressions," he said. "It has just gone deeper, become changed and transformed."
He said he still yearned to be able to take a more direct approach in his work.
"Without limitations from the authorities, I could have gone with a fuller artistic expression. Some content was not adequately conveyed because of the concerns and worries I had when I painted them."
He said he continued to be monitored by state security officials, who had visited him every year since 2014.
The anxiety and stress were taking a toll on his life. He also felt powerless to change the outside world, as if trying to shift an unmovable rock.
Nevertheless, Chen said, he would still mark the anniversary in his own way.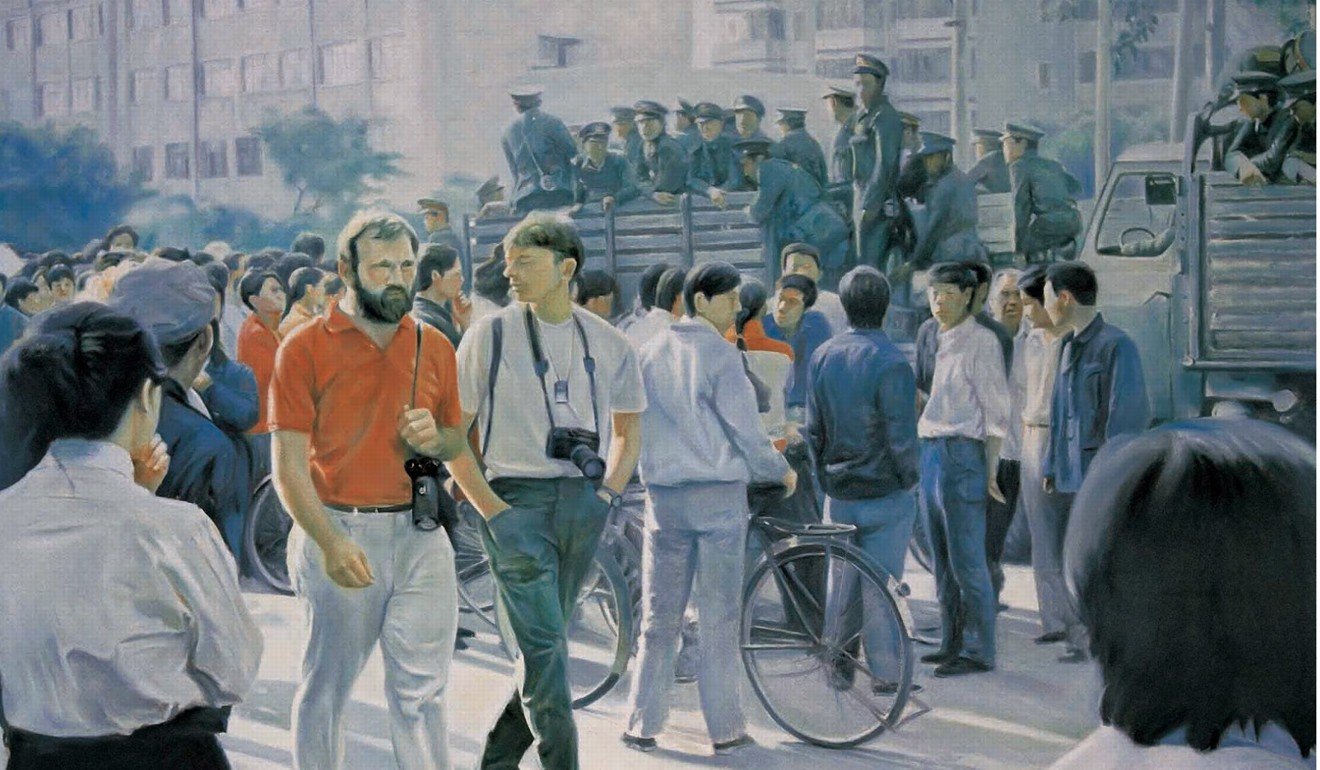 Chen says he is still monitored by state security
officials, who have visited him every year since
2014. Photo: Handout
"I spend every June 4 anniversary differently. I might do nothing at all or I might write, and think about the past and future … after all it is a special day. Then I might work on some paintings as a way to commemorate and express my feelings," he said.
On the eve of the June 4 anniversary in 2017, Chen filled a small canvas with red hues and titled it Blood Red Anxiety. He keeps the painting in his studio, a direct reference to the day.
But concerns about being behind bars again mean he is reluctant to talk about the crackdown.
"I don't want to talk about it now because I don't want to lose my freedom," he said.
"[The memories] still haunt me – it's like a tumour that will spread even if I try to remove it. I am not trying to escape but I have changed the way [of dealing with it].
"I also don't want my artistic expression to be frozen by one single historical event and hence become a puddle of stagnant water," he said.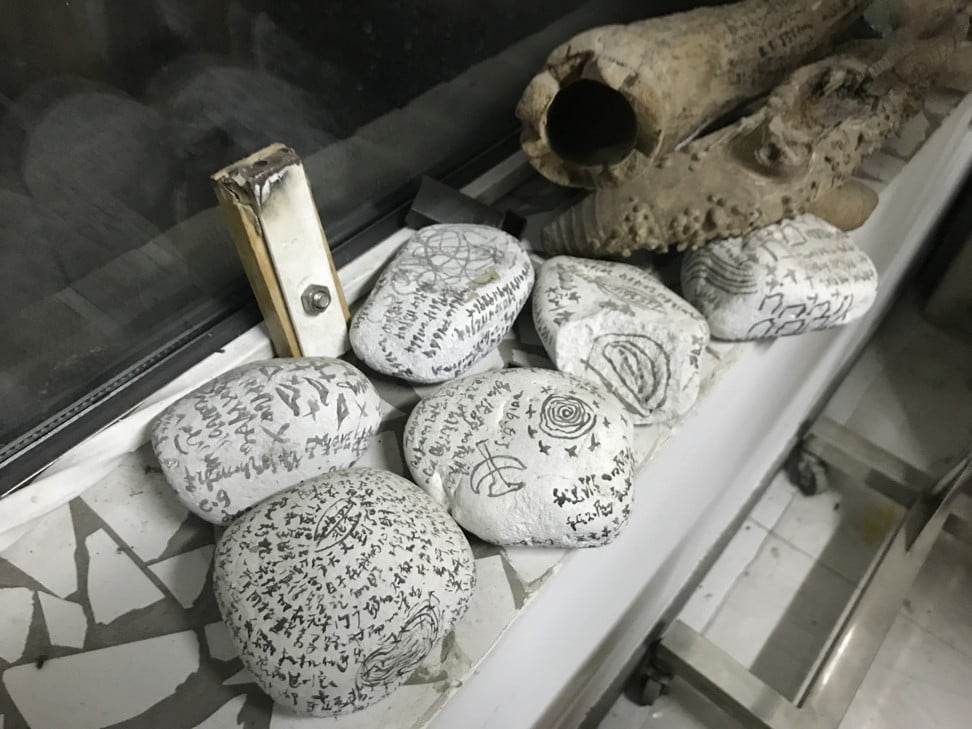 Chen Guang's Yiwanqianli, or Billion Pieces,
project is a reflection on bringing life back to
destroyed urban environments. Photo: Mimi Lau

"At the same time, I am not avoiding or running away from [my experience]. But it's important that I can transform it."
Glimpses of that transformation can be seen in one of his recent works was called Yiwanqianli, or Billion Pieces, a reflection on bringing life back to destroyed urban environments. The work is part-performance art and part-installation, and includes roughly 30,000 pieces of debris that Chen has collected from cities around the country. Chen writes a thought on each piece as way to add a touch of humanity to a dead object. He exhibits the pieces before burying them at different sites, recording the process for a documentary.
"I consider these broken pieces as stars … So I want to instil a sense of humanity to these junk pieces before returning them to nature. It's a way for dead objects to come to life via spiritual means.".
---
ChinaAid Media Team
Cell: +1 (432) 553-1080 | Office: +1 (432) 689-6985 | Other: +1 (888) 889-7757
Email: media@chinaaid.org
For more information, click here