China Change
China Change, published: November 27, 2015
■ On August 8, 2013, Guo Feixiong (郭飞雄, real name Yang Maodong [杨茂东]) was arrested and then indicted on charges of "gathering a crowd to disrupt order in a public place." The case stems from Guo's activism around the "
Southern Weekend
" incident, in which he made speeches outside the newspaper's offices, and later that year he initiated a campaign demanding that the National People's Congress ratify the International Covenant on Civil and Political Rights. On November 28 last year he and co-defendant Sun Desheng (孙德胜) were tried without a verdict. On Friday November 27, after three postponements over the course of 12 months, the Tianhe court in Guangzhou has pronounced its verdict, with Guo Feixiong sentenced to six years in prison.
Photo: New York Times
The heavy sentence came as shock to everyone following the case. More shockingly, the court added a charge right in the courtroom in order, apparently, to deliver a heavier sentence. Li Jinxing (李金星), one of Guo's two lawyers,
posted online
that, after the court had completed its questioning, judge Zheng Xin (郑昕) said that it is the opinion of the court that an additional charge should be added to the original "gathering a crowd to disrupt order of a public place"—that is, "picking quarrels and provoking trouble." He demanded that the lawyers immediately provide a defense of this charge. The four lawyers (including two of co-defendant Sun Desheng's counsel in the same case) objected in the strongest terms. "In terms of legal court procedure, when the Procuratorate has accused the defendant of one crime, the court can't simply add another one, and sentence the person for two crimes," Li Jinxing told Radio Free Asia in an
interview
. "I believe that the court's action was simply to increase the sentence in total disregard for the law. I see this as one of the most ugly and preposterous precedents in judicial history. It is uncloaked political vendetta, false charges, and persecution of human rights defenders."
After the sentence, Guo Feixiong's other lawyer
Zhang Lei
told RFA that Guo Feixiong was sentenced to four years imprisonment on the charge of "gathering a crowd to disrupt order in a public place" and four years on the charge of "picking quarrels and provoking trouble," which would be combined and commuted to six years. Sun Desheng was sentenced to 2.5 years on the latter charge. Both vowed to appeal. Guo Feixiong attempted to speak, believing that the decision was a case of naked political persecution of a democracy activist. Before he finished he was dragged out of the courtroom.
Police vehicles arriving at the courthouse.
Photo: Wang Yanfang
Zhang Lei
told RFA: "Our request for the judge to recuse himself was denied; our request for time to prepare our defense was denied; our request that the court restart its session and that discuss the matter with the Procuratorate was completely ignored; and any attempt to even speak on our part was quickly stifled." Before ten minutes were through, the judge declared that he'd heard the lawyers' opinions and sent them outside the courtroom to wait. About ten minutes later the court re-opened and Guo Feixiong and Sun Desheng were brought in."
While waiting for the verdict outside, Zhang Lei (张磊) wrote on social media: "I'm enraged! It's just too ugly! They pretended to ask lawyers' opinions, but did not let them speak. When any one of us spoke to provide a defense, judge Zheng Xin would forcibly cut us off and prevent us from speaking. Now he says that he's already listened to and taken in our defense, and directs us to wait here until the court goes back in session!"
Zhang Lei said to
RFA
, "When Guo came in, he requested a medical examination for his hand, because on the way to the court he had been very badly injured by bailiffs. The court ignored this. When the lawyers further demanded that court protect the basic human rights of Guo Feixiong, and that he not be harmed during the court procedures, the court also ignored this. The sentencing judge today was cruel and imperious; soon after dismissing these requests he directly announced the sentences."
Describing the
scene outside the court
, Zhang Lei told RFA that before they entered the courtroom they saw what looked like a few hundred police, including plainclothes officers. There were also diplomats and foreign journalists, but none were allowed into the courthouse. "We also saw other citizens gather around to observe, including [rights lawyer] Tang Jingling's wife Wang Yanfang (汪艳芳). They were waiting outside the court the whole time, about 200 meters away from the courthouse. The street leading to the court had been blocked by police."
Lawyer Zhang Lei added: "This is an extremely dark day in judicial history: when the prosecutors have not even brought the charge against the defendant, the court simply adds it to the crimes of the defendant, increasing their sentence length. This is a great scandal. It's simply toying with the law, blaspheming the law."
Diplomats barred from the court but stayed anyway, 200
meters away from the courthouse. Photo: Wang Yanfang,
wife of Tang Jingling (far right)
Guo Feixiong was a pioneer in the rights defense movement in China since the early 2000s. In the seminal
Taishi Village Incident
in 2005, he ushered in the model of calling together a coalition of defense lawyers, media, public intellectuals, and activists to tackle a case. For his leadership in the incident, he was sentenced to prison for five years on trumped up charges. He was released in September of 2011, but was arrested again on August 8, 2013. He has since spent over 800 days in a packed prison cell without yard time as the Chinese authorities have unlawfully and purposefully deprived him of this simple prison right. It is a deliberate attempt to slowly kill Guo Feixiong.
After the verdict was announced yesterday, dissident intellectual
Mo Zhixu remarked
: "Guo Feixiong united theory and practice. He has a lucid apprehension of totalitarian systems, and he's optimistic about the effect of market reform as manifested in the emerging social classes and a fledgling civil society. On the one hand, he does his best to strike a moderate stance in order to attract as many people as possible, including those inside the system; on the other hand, his stance is resolute, and he seeks to stir new groups to promote change. His platform is moderate but his actions radical. His strategy is founded in opposition to the regime that can nonetheless attract the most number of people, and is geared towards action—an approach that has proven to be inspirational and infectious."
Zhang Lei reported on social media that, after the sentence was handed down on November 27, he saw Guo Feixiong in the afternoon, and read his opinion on the verdict: "A Final
Response to the Sentence
" (《判决庭上的最后答复》) which he prepared in anticipation to the sentence but not the charge the court invented the last minute. "You have used judicial institutions that should have been applied to uphold justice and safeguard human rights to frame innocent citizens, crush human rights and trample on the core interest of the Chinese nation — the cause of constitutional democracy," he wrote.
Separately, he noted that in the list of "witnesses" in his judgements, a number were his friends, but there was nothing they said that was disadvantageous to his case, and he is grateful for their protecting him. To the friends who were implicated because of their association with Guo, he expressed his apologies.
Liu Yuandong, 37, and Sun Desheng, 32, were sentenced to 3 years and 2.5 years in prison respectively.
Roseann Rife, East Asia Research Director at
Amnesty International
, stated in reaction to the sentences: "Guo's imprisonment shows that when the authorities want to silence activists, all the Chinese laws, regulations, and the government's statements at the UN about guaranteeing human rights aren't worth the paper they're printed on."
---
China Aid Contacts
Rachel Ritchie, English Media Director
Cell: (432) 553-1080 | Office: 1+ (888) 889-7757 | Other: (432) 689-6985
Email: r.ritchie@chinaaid.org
Website: www.chinaaid.org
The New York Times
By Andrew Jacobs Nov. 26, 2015
■ Toronto — Clasping hands with youngsters in red Communist Youth League scarves, contestants from more than 110 nations descended on the southern Chinese island of Hainan this week for the 65th annual
Miss World
contest.
But one contestant was absent from the opening ceremony: Miss
Canada
, otherwise known as
Anastasia Lin
, a 25-year-old actress and classically trained pianist who has been denied a Chinese visa to attend the monthlong pageant, apparently because of her outspoken advocacy for human rights and religious freedom in
China
.
After waiting in vain for weeks, Ms. Lin packed up her Canadian-designed eveningwear on Wednesday and quietly boarded a Hong Kong-bound flight with the hope she might obtain an on-demand visa at the border and perhaps slip unnoticed into mainland
China
.
Miss Canada, Anastasia Lin, was denied a visa to
participate in the Miss World contest in China.
Credit Ian Willms for The New York Times
It was not to be.
The Chinese authorities, tipped off to her arrival, barred her from flying onward to Hainan.
Speaking by telephone from Hong Kong on Thursday, Ms. Lin said she was angry and disappointed but not entirely surprised. "I have every right to be at that event," she said. "It's kind of sad. I mean, I'm just an acting student and a beauty queen. What could they possibly be so afraid of?"Photo
The Chinese Embassy in Ottawa declined to comment on Ms. Lin's visa application but issued a statement on Thursday saying "China welcomes all lawful activities organized in China by international organizations or agencies, including the Miss World pageant. But China does not allow any persona non grata to come to China."
Ms. Lin, it turns out, has become a public-relations nightmare for Beijing. A Chinese émigré who moved to Canada as an adolescent, she is a practitioner of Falun Gong, the Buddhism-inspired spiritual movement that China has deemed an "
evil cult
." She is also charismatic, canny and media-savvy.
Anastasia Lin at the Hong Kong airport after she was barred
from continuing her journey to the Miss World contest.
Credit Kin Cheung/Associated Press
Despite what she says are
threats to family members
in China, she has refused to back away from her official pageant platform of speaking out about human-rights abuses in the country of her birth.
Her David-and-Goliath clash with the Chinese government has drawn sympathetic media attention and
legions of supporters
around the world, providing her an even bigger platform to speak out about the imprisonment and torture Falun Gong adherents face in China.
"If I don't speak out for what's right, it will send out a terrible message to those who experience China's fear and intimidation and don't have the ability to fight back," she said in a recent interview in Toronto.
Ms. Lin's confrontation with Beijing highlights the contradictory impulses of Chinese leaders: the desire to silence critics both influential and insignificant, and the yearning to be a respected world power.
China has sought to burnish its soft power by hosting scores of international conferences and sporting events, from the Formula One Grand Prix in Shanghai to the Olympics in Beijing — both the 2008 Summer Games and the coming 2022 Winter Games.
But the government has not hesitated to punish foreign celebrities, academics and religious figures who step over the red lines of what it considers politically heretical speech.
In recent years, the authorities have abruptly canceled concerts by Bon Jovi, Linkin Park and Oasis, among other acts, apparently because one or more band members had previously expressed sympathy for the Dalai Lama, the exiled Tibetan spiritual leader. Also on the putative blacklist are Brad Pitt, Christian Bale, Harrison Ford and Richard Gere, actors who have taken voluble stands on human rights.
Ms. Lin, it turns out, is not the first beauty queen to cross China. Last weekend in Austria, officials with the Miss Earth contest, acting on China's behest, ejected the contestant from Taiwan after she insisted on wearing a sash that said "Miss Taiwan ROC" and refused to wear the replacement that said "Miss Chinese Taipei" — an identity that Beijing often requires Taiwanese residents to adopt during international events to acknowledge its claim that the self-governed island is a part of China.
As China's economic and diplomatic stature has grown, so, too, has its ability to project its influence well beyond its borders. Hollywood, eager to gain access to China's vast market, has altered film scripts to please China's censors, and Prime Minister David Cameron of Britain has been widely criticized at home for seeking to curry favor with Beijing by avoiding public discussion of China's human-rights abuses.
Minxin Pei, an expert in Chinese politics at Claremont McKenna College in California, said Beijing had become increasingly successful in bending others to its will.
"Chinese leaders are realists and they know that people will hold their noses and continue to kowtow to them because they have a big checkbook," he said. "The way they are treating Anastasia Lin is part of a larger strategy for deterring would-be critics: the proverbial slaughter of the chicken that is killed to frighten all those monkeys."
Ms. Lin, however, refuses to be a chicken. Last May, days after winning the Miss Canada contest in Vancouver, she says security agents visited her father, who remains in China, and urged him to rein in his daughter's talk about human rights. When she reached him by phone, he refused to talk, hinting that the line was being monitored, but he threatened to sever ties with her if she did not comply.
Instead, Ms. Lin went public with the threats to her father, who owns a medical equipment company. She
wrote an op-ed
article in The Washington Post and testified at a Congressional hearing on human rights in China.
He subsequently cut off financial support.
She said her father was emblematic of the mind-set that hobbles many Chinese, who have been traumatized by the country's turbulent past and are too fearful to stand up for what they believe is right. "It's sad because my father thinks putting a picture of Mao in his office will bring him protection," she said. "But his support of the Communist Party isn't really about love, it's about fear."
Ms. Lin has had a taste of the government's ability to inspire both love and fear in its citizens. As the anointed leader of her middle-school class in Hunan, Ms. Lin was charged with demonizing Falun Gong by organizing viewings of a propaganda film and telling students they should report practitioners to the police.
Even after she and her mother emigrated to Canada in 2003, she developed a set of talking points to defend Communism during social-studies class. "It's hard to shed a lifetime of indoctrination," she said. "I mean one of the first songs we learn in kindergarten is 'The Communist Party is closer to me than my mother.' "
All that changed the day her mother handed her a book produced by Falun Gong supporters that detailed the persecution its practitioners endure in China.
Although Ms. Lin has earned widespread support from her fellow Canadians, she has been disappointed by the silence from the government of Justin Trudeau,
who was elected prime minister
last month. In an email, François Lasalle, a Foreign Affairs spokesman, said, "Canada is committed to constructive engagement with China on human rights," but he declined to comment on China's refusal to give Ms. Lin a visa.
The Miss World Organization, whose motto is "beauty with a purpose," has also refused to publicly advocate on her behalf, though Ms. Lin says pageant officials have offered to allow her to compete in next year's finals.
Officials with the London-based organization did not respond to phone messages and emails seeking comment. On Thursday, Ms. Lin's photo was conspicuously absent from the organization's online roster of Miss World contestants.
"They're just going to hang me out to dry," Ms. Lin said.
Ike Lalji, chief executive of Miss World Canada, has been more outspoken, saying he is disappointed by China's intransigence. "Some people don't respect pluralism and diversity," he said in a phone interview. "It would be a good thing, and help bring about peace in the world, if we were to embrace one another's cultures and beliefs."
An ethnic Indian whose family was expelled in the 1970s from the Democratic Republic of Congo when the country was known as Zaire, Mr. Lalji said he was proud of Ms. Lin's passion for human rights. Since taking over the Miss Canada organization five years ago, he has sought to channel the empty platitudes that contestants often utter during pageants into a more vigorous humanitarianism.
"We want to empower young women to be effective and powerful rather than having a queen who wanders around waving her hand," he said. "Because nowadays, people tend to listen to young women, especially if she is wearing a crown and a sash."
Despite her disappointment at missing the finals, Ms. Lin allowed herself to savor her newfound power to broadcast her message. "When I was told I'm persona non grata, I had to look it up on Wikipedia," she said by phone. "At first I was mad, but then I realized I've joined the ranks of such handsome men as Brad Pitt and Christian Bale. Now I realize it's a badge of honor."
---
China Aid Contacts
Rachel Ritchie, English Media Director
Cell: (432) 553-1080 | Office: 1+ (888) 889-7757 | Other: (432) 689-6985
Email: r.ritchie@chinaaid.org
Website: www.chinaaid.org
House churches in China are often
persecuted and are sometimes shut
down or demolished. This photo shows
members of the Zhongfu Wumin
Church, a house church in Guangdong,
attending a gathering.
(Photo: China Aid)
China Aid
Reported and written in Chinese by Qiao Nong. Translated by Brynne Lawrence. Edited in English by Ava Collins.
(Wenzhou, Zhejiang—Nov. 25, 2015) Authorities in China's coastal Zhejiang shut down a house church on Nov. 13 for "violating religious affairs regulations."
Officials from the Rui'an Municipal branch of the Wenzhou Municipal Religious Affairs Bureau issued an administrative penalty hearing notice to Zhang Renai, the leader of Yaochi Garden Christian Church, indicating that the church had never completed the procedures establishing a location for religious gatherings.
China Aid's reporter, Qiao Nong, spoke with a religious affairs bureau official regarding the incident who claimed it was "not convenient to talk about." The official said that, "If our bureau wrote this notice, it is the truth," and suggested the reporter speak with the Riu'an Municipal Propaganda Department.
The propaganda department did not answer the phone when called.
An employee from a different religious affairs bureau in Rui'an said that all illegal meetings would be suppressed. When asked for clarification on whether the suppression would be at the city or province level, the employee stated that question was "something [the reporter] needs to ask a specialized department."
Pastor Zhang Mingxuan, president of the Chinese House Church Alliance, spoke with the reporter on Nov. 17 about the current state of house churches in the area.
"[This case in] Rui'an is about a house church," Zhang said. "All of the churches that the officials want to crack down on are house churches. Government-sanctioned religion is very strict. Though there are some places that are more lenient, others are very severe. Currently, Christian churches face various degrees of coercion from the government in different locations. In some areas, believers dare not speak out, in others they do, and that is the current state of affairs."
China Aid works to
expose
instances of government persecution often faced by house churches like Yaochi Garden Christian Church.
---
China Aid Contacts
Rachel Ritchie, English Media Director
Cell: (432) 553-1080 | Office: 1+ (888) 889-7757 | Other: (432) 689-6985
Email: r.ritchie@chinaaid.org
Website: www.chinaaid.org
Officers detain members of the Daguan
House Church in a raid on May 24.
(Photo: China Aid)
China Aid
Reported and written in Chinese by Qiao Nong. Translated by Carolyn Song. Edited in English by Ava Collins.
(Daguan, Guizhou—Nov. 25, 2015) Three sisters from China's southwestern Guizhou province who were detained for 15 days in mid-October have been released as other members of their house church await final decisions in court.
An anonymous member of the
Daguan House Church
told China Aid's reporter Qiao Nong on Nov. 22 that Xu Guoying, Xu Guoyan and Xu Guoqiong were released from their administrative detention after serving a 15-day sentence. The only reasoning given for the detention, according to the church member, was that the sisters had "violated the public security administrative punishment law."
In October, Daguan police detained the three women, all sisters, who were worshipping in their home. The sisters were previously detained in June for "illegal assembly" and "organizing cult activities" and released after a short detention. Authorities detained Xu Guoying and Xu Guoqiong both twice during the summer for a total of 25 days.
The three sisters have a brother, Xu Guoqing, who is currently still detained with four other Daguan House Church members, Dai Xiaoqiang, Kang Chengiu, Huang Huaxin, and Tang Huanggui. Authorities detained these five across
two raids
on May 24 and June 7. The June raid took place during a church meeting in Xu Guoqing's home.
On Sept. 1, the Qianxi County Procuartorate officially arrested the five who are still in custody, although China Aid only recently received information indicating that Huang Huaxin and Tang Huanggui were also among the detained. More recently, the procuratorate decided that evidence provided by the public security bureau was insufficient and returned the case to the bureau for further investigation, which means no verdict has yet been determined for Xu Guoqing, Dai, Kang, Huang and Tang.
A Christian told the reporter that he believed the procuratorate would not be able to get the case settled for at least another month. "Xu Guoqing's situation is the most severe of these cases," he said. "[Xu] was the person in charge. If Xu Guoqing can be returned, the others will be too."
Daguan House Church, which was founded 13 years ago, has not gathered since the raids in May and June, for fear of retaliation. "We dare not meet," the Christian said. "We would get arrested immediately."
China Aid works to expose abuses of religious freedom and legal rights, such as those faced by the Daguan House Church.
---
China Aid Contacts
Rachel Ritchie, English Media Director
Cell: (432) 553-1080 | Office: 1+ (888) 889-7757 | Other: (432) 689-6985
Email: r.ritchie@chinaaid.org
Website: www.chinaaid.org
Voice of America
William Ide
November 24, 2015 6:51 AM
■ Beijing—Veteran Chinese journalist Gao Yu appeared in Beijing's high court on Tuesday to appeal a seven-year sentence for "leaking state secrets," a ruling that has been criticized by free speech advocates and foreign governments.
Security was tight outside the courthouse where the closed-door proceedings took place. Gao Yu's lawyer Shang Baojun could not provide any specific details about the proceedings, but says the 71-year-old journalists' health appeared to be stable.
Shang did not rule out the possibility that the sentence could be amended, saying a change in the verdict is possible.
A policeman stands guard next to portraits of Chinese
journalist Gao Yu during a demonstration calling for Gao's
release from a prison in China, outside the Chinese liaison
office in Hong Kong, April 17, 2015.
In an appeals case there are really only two options to either uphold or alter the previous ruling, he said, adding that if the original ruling is going to be upheld, there is typically no reason to hold an open hearing.
Shang says a ruling is expected at an open hearing on Thursday.
Earlier this year, Gao Yu was sentenced to seven-years in prison for allegedly leaking internal Communist Party documents to a foreign news organization. The document that Gao was accused of leaking warns of the threat that Western ideals such as democracy, human rights and freedom of the press pose to the Communist Party's grip on power.
Known for being outspoken, this is not the first time authorities have charged Gao Yu with leaking state secrets. She was also jailed for more than a year following the Tiananmen Square protests in 1989.
In her more recent case, she was detained around the time of the 25th anniversary of the Communist Party's bloody crackdown on the Tiananmen Square protests.
Since Chinese President Xi Jinping came to power he has been tightening controls on civil society, jailing and sentencing rights advocates and government critics. More recently, the effort has expanded to include a focus on lawyers, even as the country's Communist Party rulers seek to promote rule of law.
---
China Aid Contacts
Rachel Ritchie, English Media Director
Cell: (432) 553-1080 | Office: 1+ (888) 889-7757 | Other: (432) 689-6985
Email: r.ritchie@chinaaid.org
Website: www.chinaaid.org
China Aid
Translated by Brynne Lawrence. Written and edited in English by Ava Collins.
Updated at 8:42 a.m. on Nov. 25, 2015
(Wenzhou, Zhejiang—Nov. 20, 2015) On Nov. 11, authorities in China's coastal Zhejiang issued a demolition notice to a government-sanctioned Three-Self church, announcing the impending destruction of the church on Nov. 16.
Xialing Christian Church, located in the Lucheng District of Wenzhou, has faced demolition threats for more than a year. On numerous occasions, church members have gathered at the church to protect the building and its cross. On Oct. 9, 2014, authorities successfully destroyed the church's
outer wall
after church members prevented them from reaching the cross atop the building. Two months later, on Dec. 2, the church was
issued an ultimatum
to either disband or be demolished.
A translation of the demolition notice
sent to Xialing Christian Church is
available upon request.
(Photo: China Aid)
In response, Xialing Christian Church hired a team of human rights lawyers, including
Zhang Kai
, who, through a lawsuit, were able to temporarily halt the demolition. The success of Xialing's case helped Zhang gain distinction over the next year and by August 2015, he was representing nearly 100 other churches in the area.
Zhang and some of his assistants were living in Xialing Christian Church when authorities climbed the church walls and detained them just before midnight on
Aug. 25
. Zhang has since been accused of crimes that threaten national security and was extra-judicially sentenced to a
six-month detention
in a "black jail," which takes place in an undisclosed location. Chinese prisoners are often tortured in black jails, which are officially termed "residential surveillance in a designated location." Zhang's own lawyers have been unable meet with him or learn of his location.
An undated photo of Xialing Christian Church,
with debris from the demolished wall visible
on the steps. (Photo: WeChat)
The notice issued to Xialing Christian Church on Nov. 11 stated that the church violated construction regulations and failed to carry out the demolition themselves before a prescribed deadline. The notice warned that officials would carry out the demolition on Nov. 16, which "no group or individual [should] thwart."
"Right after their notice was sent out, I thought it was the same as before—threatening to strike the east to the west [Editor's Note: This Chinese idiom means to create a disturbance.]. If they really mean to demolish [the church], they would make use of a time when [church members] are unprepared instead of saying when they'll come to demolish it," one Xialing Church member told China Aid. The Christian also said that church members have been guarding the church from the threatened demolition.
At this time, China Aid has not received information indicating that the church has been demolished.
Radio Free Asia
2015-11-24
■ Authorities in the southern Chinese province of Guangdong have issued a summons to two sisters of rights activist Zhang Liumao after they spoke out over strong evidence that he was beaten to death in police custody.
Zhang Wuzhou and Zhang Weichu were issued with the summons in a telephone call from police in the provincial capital Guangzhou on Tuesday.
"I got a call from the Shijin police station today, summoning me and my sister for questioning on suspicion of 'picking quarrels and stirring up trouble,'" Zhang Wuzhou told RFA.
A delegation from Hong Kong prepares material on the human
rights situations in Hong Kong and China for the United
Nations Committee Against Torture report in Geneva,
Switzerland, Nov. 16, 2015.
(Photo courtesy of Democratic Party of Hong Kong)
"They accused me of hitting a police officer and they accused my sister of smashing their trash can," she said.
Zhang Liumao was reported dead by authorities in the police-run Guangzhou No. 3 Detention Center in the early hours of Nov. 4, prompting suspicions from his family that he was tortured.
Zhang Wuzhou said the sisters had reacted in an angry outburst during a visit to the police station on Nov. 6 after receiving no answers to their questions on the sudden death in custody of their brother.
The summons likely related to scuffles that broke out at the time, she said.
"We lost our cool, and I think my sister vented her frustration on the trash can, and a police officer came over to grab her, and I rushed and stood in between them," Zhang Wuzhou said.
"They said I hit him; I am not sure if I did or not, but I was [scolding him] and jabbing my finger at him, and now they're saying I hit him," she said.
"They kept lying to us that day, repeatedly, and we were so sick of waiting," she said, but added that she believes the charges are a form of retaliation after the family spoke to the media about Zhang Liumao's death.
"I think they are afraid that we will expose the truth, and that's why they want to detain us," Zhang Wuzhou said. "We plan to get ourselves a lawyer because they are just bullies trying to threaten us."
Since she spoke out about her suspicions surrounding her brother's death, Zhang Weichu has already lost her job, Zhang Wuzhou added.
The summons comes just days after Zhang Liumao's lawyer viewed his body, saying it showed multiple signs of severe physical assault.
China's record on torture
Chinese officials questioned at the United Nations, which last week reviewed Beijing's record on torture, said they were doing all they can to put safeguards in place amid reports that the use of torture, cruel and degrading treatment is endemic under Communist Party rule.
Lawyer Tan Chenshou told RFA after the identification process that there was bruising visible all over Zhang Liumao's body, including his chest and abdomen, adding that a swollen area on his client's arm suggested a bone had been broken.
Guangdong-based rights lawyer Chen Jinxue said on Tuesday he has already accepted instructions to act for the sisters in their case.
"So far, the police station has only made a phone call to Zhang Wuzhou to tell them to go to the police station, but there has been no formal summons issued," Chen said.
"I think they are just trying to frighten the family," he said.
The United Nations Committee against Torture last week reviewed China's compliance with the Convention against Torture and Other Cruel, Inhuman or Degrading Treatment amid widespread criticism of Beijing's record from U.S. politicians and rights groups.
According to the Congressional Executive Committee on China (CECC), and the New York-based groups Human Rights Watch and Human Rights in China, torture is widespread across China's judicial system, and Beijing's attempts to change the practice are merely cosmetic.
Activists said that a number of rights lawyers, activists and former victims of torture had been prevented from traveling to give evidence to the committee in Geneva by the Chinese authorities in recent weeks.
Chinese ambassador Wu Hailong told the 10 independent experts in Geneva on Tuesday that Beijing is "working to eliminate torture" by improving the training of police and prison guards, and audio and video recordings of interrogations.
But rights activists said China traditionally relies heavily on evidence from forced confessions across its judicial system, sometimes using it as the only evidence or the main evidence.
The CECC said it has gathered reports that torture and other human rights abuses "continue to be routine" in China, and include the denial of medical treatment and the use of forced hospitalization in psychiatric facilities.
The widespread use of unofficial detention centers, known as "black jails" and a lack of clear definition of torture in law ensures the practice goes unpunished, it said.
Reported by Yang Fan for RFA's Mandarin Service. Translated and written in English by Luisetta Mudie.
---
China Aid Contacts
Rachel Ritchie, English Media Director
Cell: (432) 553-1080 | Office: 1+ (888) 889-7757 | Other: (432) 689-6985
Email: r.ritchie@chinaaid.org
Website: www.chinaaid.org
Zhang Kai
China Aid
Translated by Brynne Lawrence. Edited in English by Ava Collins.
(Beijing—Nov. 23, 2015) The defense attorney for
Zhang Kai
, a Beijing-based human rights lawyer who was detained in August, issued two letters on Nov. 11 to the Wenzhou Municipal People's Procuratorate, demanding an investigation of the local public security bureau's handling of Zhang Kai's case.
Zhang Lei, who has served as Zhang Kai's defense attorney since Oct. 14, cited various grievances against the Wenzhou Municipal Public Security Bureau, including continued refusals to let Zhang Kai meet with lawyers and the lack of information released regarding Zhang Kai's whereabouts. Zhang Lei said that both he and Li Guisheng, another defense attorney working Zhang Kai's case, requested meetings with their client multiple times but were refused. Zhang Lei's letters can be read below.
Zhang Lei asked that the Wenzhou Municipal People's Procuratorate investigate the actions of the public security bureau and hold them accountable to the law. According to Zhang Lei, on Oct. 26, the procuratorate said that they had orally asked the public security bureau to correct "all law-violating actions" regarding the lack of released information.
"It is the duty of the national law to supervise the departments of the people's procuratorate to curb the occurrences of these types of circumstances," Zhang Lei said.
In China, the people's procuratorates are judicial bodies at the national, provincial, municipal and county levels, which operate independently of the people's courts to oversee the handling of criminal cases, supervise the rulings and activities of courts, investigative bureaus, and prosecute cases that involve treason and threats to national security. The Wenzhou Municipal People's Procuratorate is responsible for acting on complaints against the courts and public security of their area, including the Wenzhou Municipal Public Security Bureau.
Zhang Kai, a human rights lawyer representing various churches in demolition lawsuits, was originally detained in Wenzhou, Zhejiang, on Aug. 25 and extra-judicially sentenced to six months of "residential surveillance in a designated location." This is the official term for a "black jail," or a detention in an undisclosed location outside of established detention centers. Detainees in black jails, especially those whose lawyers are forbidden to meet with them, are often tortured.
China Aid often supports the
legal defense
of Chinese citizens in cases like this one, to encourage victims of religious freedom and human rights abuses. If you would like to show your support, please consider making a contribution
here
to the legal defense fund.
---
Lawyer's Opinions on Conducting an Inspection of Wenzhou Municipal Public Security Bureau's Handling and Filing Of Zhang Kai's and Other Cases
Wenzhou Municipal People's Procuratorate
I, Zhang Lei, together with all the lawyers from the Tongling Zhenghan Law Firm in Beijing, are all Zhang Kai's defense council. Zhang Kai was taken away by the Wenzhou Municipal Public Security Bureau and was afterwards placed under residential surveillance in a designated location, or a "black jail," by this bureau for "gathering a crowd to disturb social order" and "stealing, spying, buying and illegally providing state secrets and intelligence to entities outside of China," but this bureau has not notified Zhang Kai's relatives about the designated location of this surveillance.
I began to serve as Zhang Kai's defense lawyer on Oct. 14. On that day, I went to Wenzhou's public security bureau to get information and legally request that the public security bureau inform the defense lawyers of the already-investigated, initial facts of Zhang Kai's case, as is according to the law, but the Wenzhou Municipal Public Security Bureau employee responsible for receiving me as [Zhang Kai's] lawyer clearly and directly refused to inform us about the case. For these law-violating actions, this lawyer and Zhang Kai's other defense lawyer, Lawyer Li Guisheng, filed a lawsuit at the Wenzhou Municipal People's Procuratorate. The Wenzhou Municipal People's Procuratorate replied on Oct. 26 that they have already orally informed the Wenzhou Municipal Public Security Bureau to correct all law-violating actions, such as not having notified us.
On Nov. 4, I went again to the Wenzhou Municipal Public Security Bureau in order to understand everything legally related to the handling of Zhang Kai's case and other cases and encourage this bureau to legally inform [us] of the already-investigated primary facts of Zhang Kai's case. This [public security] bureau had already received Wenzhou Municipal People's Procuratorate's notice, urging them to correct the situation and was still persevering in illegal actions by directly and illegally refusing to give me, the defense lawyer, any details regarding Zhang Kai's case.
Because of this, I have reason to believe that the criminal facts of Zhang Kai's case and others' cases simply do not exist. Wenzhou's public security bureau simply did not investigate the facts behind [these] cases and have also not obtained factual evidence in the cases of Zhang Kai and others that confirms [the so-called "defendants"] committed these crimes. Therefore, the Wenzhou Municipal Public Security Bureau incorrectly investigated Zhang Kai and other people's cases. Zhang Kai and other people simply should not to be investigated.
Article 552 of the Criminal Procedure Regulations of the People's Procuratorate (trial implementation) stipulates that: "The People's Procuratorate shall implement supervision over the public security bureau department's registration activities." Article 564's provisions state: "If the People's Procuratorate conducts the supervision to the public security bureau legally…" After the first paragraph of Article 553, the provisions state: "[If] the involved party thinks the public security bureau filed a case when they should not and appeals to the People's Procuratorate, the People's Procuratorate should accept and inspect it…" Therefore, this lawyer currently proposes that the Wenzhou Municipal People's Procuratorate investigate whether or not the Wenzhou Municipal Public Security Bureau filed Zhang Kai's case when they should not have and if their action of inspection thoroughly [determined] whether or not legal supervision is lawful according to Articles 553, 555, and 565 of the Criminal Procedure Regulations of the People's Procuratorate (trial implementation).
First of all, please inspect Wenzhou Municipal Public Security Bureau and see whether or not the filing of Zhang Kai's case and the cases of others are "being used to carry out revenge, make false charges against, extort, blackmail, or other seeking of illegal benefits, etc. by unlawfully filing these cases."
Second, please make sure that the Wenzhou Municipal Public Security Bureau's investigative activities in regards to Zhang Kai and other cases are not situations of "false, misjudged legal cases of manufactured injustice."
Sincerely,
Zhang Kai's defense lawyer, Zhang Lei
Nov. 11, 2015
Attached: Wenzhou Municipal People's Procuratorate's reply letter concerning Lawyer Li Guisheng and Zhang Lei's lawsuits
---
Lawyer's Opinion on the Legality of the Wenzhou Municipal Public Security Bureau forbidding Defense Lawyers from Meeting with Zhang Kai
Wenzhou Municipal People's Procuratorate:
I, Zhang Lei, a lawyer from Beijing's Tongling Zhenghan Lawyer Affairs firm, am Zhang Kai's defense lawyer. Zhang Kai was taken away by Wenzhou Municipal Public Security Bureau on Aug. 25, 2015. Afterwards, this bureau placed him under "residence surveillance in a designated location" for "gathering a crowd to disturb social order" and "stealing, spying, buying and illegally providing state secrets and intelligence to entities outside of China" but did not notify Zhang Kai's family of his current designated location.
I received Zhang Kai's mother's commission to serve as Zhang Kai's defense attorney on Oct. 14, 2015. On the same day, I notified the Wenzhou Municipal Public Security Bureau and, at the same time, proposed to meet with Zhang Kai, but the Wenzhou Municipal Public Security Bureau receptionist refused, stating that meetings were prohibited, and, on Oct. 16, 2015, the Wenzhou Municipal Public Security Bureau distributed the "Prohibition of Meeting with Suspected Criminals Decision." Prior [the distribution of this prohibition,] Zhang Kai's other defense lawyer, Li Guisheng had already requested to meet with him three times, but he was prohibited from meeting Zhang Kai by Wenzhou Municipal Public Security Bureau three times.
Admittedly, the Criminal Procedure Law of the People's Republic of China, Article 37, Paragraph 3 states: "[In the case of] danger to national security, the defense lawyer meeting with the suspect under imprisonment should get the permission of inspecting institute." Paragraph 5 states: "A defense lawyer meeting or corresponding with a suspect or defendant under residence surveillance must apply for provisions [stated] in Paragraphs 1, 3, and 4." It then follows that, under the Criminal Procedure Law of the People's Republic of China, the assigned investigatory department's investigation can [cast] concern over whether people involved in cases "endangering national security" have the right to meet with lawyers but this does not at all imply that the investigatory departments are able to abuse this power, and does not at all imply that "not being allowed to meet [with a lawyer]" is fair.
The Public Security Bureau Procedural Provisions for the Handling of Criminal Cases, Article 49, states: "For cases of endangering national security, the defense lawyer asking to meet with the suspect under imprisonment or residential surveillance during the inspection, should propose the application and should be permitted, with the exception of circumstances risking the obstruction of inspection or the leaking of state secrets. Relation to one of the following can be regarded as obstructing inspection: (i) destroying or forging evidence, witness interference or collusion; (ii) aiding the suspect in self-harm, suicide, or escape; (iii) aiding the escape of accomplices; and (iv) the suspect's family members have been implicated in the crime..." According to these provisions, with the exception of four situations deemed to be "hindering investigations," defense lawyers are encouraged to meet with the people involved, and the investigating departments should make licensing decisions.
In this [legal] case, this lawyer requested to meet with Zhang Kai and there is no situation that would "hinder investigation:"
First, this lawyer cannot and does not have the power to destroy or forge the evidence in the case of Zhang Kai and the other cases. It is impossible and improbable that I would interfere with the witness's testifying or fabricate a story. If lawyers are all considered potential suspects of obstructing witnesses, that will be [used] to prevent all lawyers from participating in all "endangering national security" cases. But currently, Criminal Procedure Law does not have provisions preventing lawyers from participating in "endangering national security" cases.
Second, the inability of this lawyer to meet with Zhang Kai may lead Zhang Kai to self-harm, commit suicide, or flee. A lawyer meeting with Zhang Kai can only help him feel his legal rights have been safeguarded, can only help him believe the investigation department has not stripped him of his legal rights, can only increase his faith [in the legal system], rather than leading him to self-harm or commit suicide. On the contrary, if he is not allowed to meet with a lawyer for a prolonged period of time, it might lead to his mood becoming unstable, so much so that it could lead to his resistance and trigger him using every method to fight for his rights to a lawsuit. As for escaping, I believe the actuator of "residential surveillance," the Wenzhou Municipal Public Security Bureau, has carried out long-term, close "surveillance" of him with no risk of "escape." Beyond this, I think that before the investigatory department makes a clear decision [in his case], Zhang Kai would refuse to be released even if invited, not to mention an "escape."
Third, [these cases regarding] Zhang Kai and the other people are one case. The Wenzhou Municipal Public Security Bureau and subordinate security bureaus detained 15 people in Wenzhou in one fell swoop. There crimes were "gathering a crowd to disturb social order" and "stealing, spying, buying and illegally providing state secrets and intelligence to entities outside of China." It has already been more than two months with no other arrest operations. If there are no other fish that have slipped from the net [Editor's note: This Chinese idiom means that there are no other so-called "criminals" to be caught.], it would be impossible for a lawyer meeting with Zhang Kai to lead to "the escape of accomplices or hindering investigation."
Fourth, Zhang Kai's mother lives far away in Inner Mongolia. Zhang Kai's wife and sister both have their own jobs unrelated to Zhang Kai's previous jobs. It is impossible for them to have any connection to Zhang Kai's case. After more than two months' time of carrying out forcible measures against Zhang Kai, the investigatory department did not give any legal documents to Zhang Kai's family or carry out any interrogation or inquiry.
As for "the possibility of divulging state secrets," that cannot be a reason for forbidding defense lawyers to meet with Zhang Kai, either. Because, if this case is said to be a matter of "national security," it is not possible for secrets to be divulged because of meetings with a lawyer. Like the investigation personnel, lawyers also participate in criminal lawsuits for many of the same reasons, but they discover that related situations will inevitably fulfill their duties. In regards to urging lawyers to protect secrets, they have pertinent stipulations, such as the Law of the People's Republic of China for Guarding State Secrets, the Criminal Procedure Law of the People's Republic of China, the Law of the People's Republic of China for Lawyers. If defense lawyers have violated these legal stipulations, they will be responsible for their conduct, but this cannot be the reason for the inspecting institute to forbid the lawyers to meet with the party, because they have the same reasoning. When investigation personnel handled the case's processes, they are also certainly informed of relevant "state secrets." So long as the secrets are known, they can be "leaked," but this possibility would not become a reason for the investigation personnel to not investigate a case. For the same reason, if definite evidence hasn't been made known that indicates that a defense lawyer might "divulge state secrets," one absolutely must not abuse these grounds by not permitting lawyers to meet [with clients].
Our nation's Criminal Procedure Law is unceasingly modified in an attempt to improve it and has many people investing meticulous care [into its revisions]. Achieving these improvements is extremely difficult. This is the general trend: the Criminal Procedure Law of the People's Republic of China has still had some improvement in regards to safeguarding human rights, but that little improvement came only because many people invested a great amount of energy. However, it is completely possible that the investigatory department, by their practiced abuse of a clause, will make a "human rights black hole" and allow these improvements to be eclipsed. The judicial idea of safeguarding human rights will be dimmed by dense shadows, so much so that it causes the person involved [in a case]'s legally-stipulated and ensured right to a lawsuit to become completely devoid of meaning. It is the duty of the national law to supervise the departments of the People's Procuratorate to curb the occurrences of circumstances like these.
Therefore, I hope you recognize the value of these points and are moved to a timely response.
Zhang Kai's defense lawyer, Zhang Lei
2015/11/04
Attached: The decision statement from the Wenzhou Municipal Public Security Bureau forbidding me to meet with Zhang Kai
---
China Aid Contacts
Rachel Ritchie, English Media Director
Cell: (432) 553-1080 | Office: 1+ (888) 889-7757 | Other: (432) 689-6985
Email: r.ritchie@chinaaid.org
Website: www.chinaaid.org
Christian Examiner
by
Kelly Ledbetter |
16 November, 2015
■ Yulin, China (Christian Examiner) – The human rights lawyer Gao Zhisheng has again been prevented from traveling to attain medical care for his teeth, which have been damaged by malnutrition and torture in the seven years he has been systematically persecuted by the Chinese government for speaking out about injustice.
In a Nov. 3 letter to Bob Fu, founder and president of China Aid, Gao writes that he is "emotional" about the government frustrating his most recent attempt to travel to Xi'an to treat his "few famously damaged teeth."
Chinese human rights lawyer Gao Zhisheng is seen in Beijing
in this January 6, 2006 photo.
Reuters/Stringer (China)
He thanks Fu for his inquiry and says, "I am very sorry that I have always not been able to give those who love me good news!"
The authorities cancelled and refunded his train ticket for the second time since his Aug. 7, 2014, release from prison, where Gao writes he was sometimes hit dozens of times per day in the face and mouth.
About the political reasons cited preventing his travel, which he calls "deep and mysterious," Gao tells Fu his desire to look after his teeth is apparently a matter of national security.
"I still hope you as a [Christian] brother will not be sad or dispirited about this matter or about the outcome of my damaged teeth. This attempt to look after my teeth unexpectedly raised the issue of 'national security,' which is not easy to stand up against. Local authorities presumed I would act afraid this time," he writes. His translated
letter
appears in full at China Aid.
Agonizing torture
With feeling, Gao writes about the dental trauma he has endured. "If teeth have emotions, then being my teeth is really unbearable. Especially in 2009, these teeth experienced surprising and startling pain." He details his torture, which often consisted of being beaten in the head while hooded. "At that time, my body could no longer feel pain. My awareness was also fuzzy and too much to bear, but I still remember hot mucus flowing out from my mouth. The pain my teeth were subjected to was great."
In prior writings, Gao spoke about his ability to dissociate himself from the pain of torture. He says God saved his life when he tried to kill himself to escape torture in 2007; now, his calling is to share his testimony.
Gao believes this present persecution comes from Beijing. "Being barbarous and violent is the bones of the totalitarian system; shameless lying is their skin and bones," he says, adding that this type of cruelty is characteristic of his treatment by Beijing authorities.
He sounds alternately amazed and resigned at Beijing's continued restriction of his movement. "When, just a short while ago, a common person's teeth are destroyed and lost, [the attempt to correct the damage] is deemed a matter of 'national security,' persisting for seven years. Dauntlessness like this never diminishes."
Yet he predicts the Chinese Communist Party will fall from power within two years as its lies become more exposed.
Gao's optimism
"Brother Fu," Gao writes, "the outside world can speculate that because I cannot treat my teeth, I must always be in a mood of personal, bitter hardship and torture. This is not entirely true."
Gao finds consolation in spending time with his family and especially in reading. Gao's wife and children reside in the United States.
"To me, it is incredibly precious that I now have books to read. Generally speaking, I know I will disappear immediately again after my book is published. So I am determined to try my best to read more books. This is something I need to do before this happens. This is very crucial to me."
The book Gao references is the one he wrote in the year after his latest release from prison, detailing his treatment and denouncing corruption. He has claimed that he will be kidnapped and secretly imprisoned upon the publication of his book.
"My relatives rose up early this morning and my family members suffered when they went to the train station to refund my ticket. I write this because I am so emotional about the incident. Don't let it bother you!"
Gao ends his letter on a personal note. He writes, "I wish you well! May the Lord's peace be with you!"
---
China Aid Contacts
Rachel Ritchie, English Media Director
Cell: (432) 553-1080 | Office: 1+ (888) 889-7757 | Other: (432) 689-6985
Email: r.ritchie@chinaaid.org
Website: www.chinaaid.org
Independent
■ It is clear that large-scale oppression by China of the Uighurs has been under way for years
The killing this week of Fan Jinghui, a Chinese hostage, has brought the world's most populous nation on board the increasingly crowded anti-Isis bandwagon. "Terrorism is the common enemy of human beings," President Xi Jinping declared. "China will resolutely crack down on any terrorist crime that challenges the bottom line of human civilisation."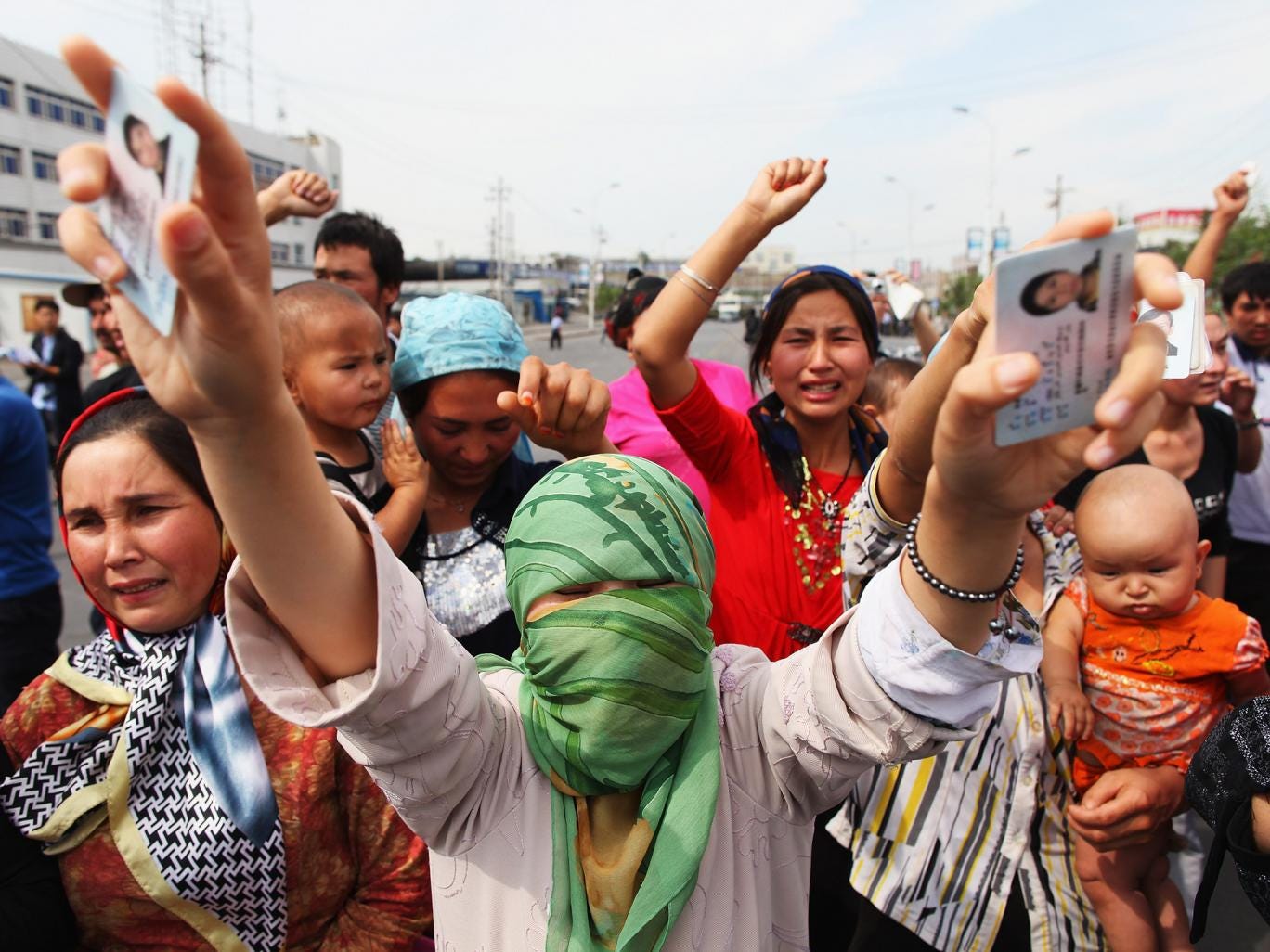 Uighur women protest against the Chinese government in
Urumqi, the capital of Xinjiang Uighur autonomous region
Getty
Sceptical Chinese quickly demanded to know how that might happen. "May I ask how the Chinese government plans to bring the perpetrators to justice?" wrote one user of Weibo, the People's Republic's answer to Twitter. "Such a strong condemnation," wrote another. "That should scare them to death."
China is the world's fastest-growing naval power, and has established a string of bases between its south coast and the Gulf of Aden, but it is unlikely to offer much of military value to the coalition. The closest it has come to gunboat diplomacy was in anti-piracy missions off Somalia. Nor does its army have any practical experience in the Middle East. But if the
assets
China can bring to the anti-Isis coalition are impalpable, the benefits it hopes to derive from the association are clear.
First and foremost, it hopes to get the West to shut up about the Uighurs. Today, state media reported the killing of 28 "terrorists", allegedly members of a group that was said to have killed 16 people at a coalmine in Xinjiang, the huge, sparsely populated region in the far-west of China where the largely Muslim Uighurs, a 10 million-strong Turkic race, are concentrated.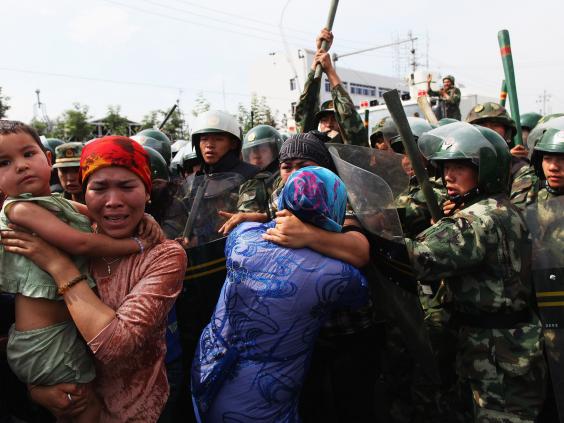 Chinese policemen push Uighur women during a 2009 protest
It was the latest in a string of incidents for which China often blames the "East Turkestan Islamic Movement" – a group that many experts believe no longer exists. The most garish of those crimes in recent years was the killing of 29 commuters in Kunming, in the Yunnan province far from Xinjiang, by knife-wielding Uighurs in March 2014.
We know little about any of these attacks besides what the state media chooses to report, because access to Xinjiang is tightly restricted. But from the information that does filter out, it is clear that large-scale oppression of the Uighurs has been under way for years. "Since 2012, law enforcement forces have killed hundreds of Uighurs in what authorities claimed were counter-terrorism operations," Sophie Richardson, China director of Human Rights Watch, has written. "But whether those killed or convicted were actually responsible for the violence...will remain unknown to the outside world."
The parallels with that other oppressed region, Tibet, where the Dalai Lama's pacific voice has kept violent resistance to a minimum, are strong. The Chinese may tar all Muslims who protest against its rule with the "jihadi" brush, but there is little evidence of Uighurs making the long trek to fight in Syria. Last year, more than 200 of them fled China and made it as far as the Thai town of Songkhla, before Thai police arrested them. China claimed they were terrorists bound for Syria but presented no evidence. It's more likely they were fleeing their homeland in search of a better life just about anywhere. In July, after intense diplomatic pressure, more than 100 of them were deported from Thailand back to China.
China now supports the coalition against Isis: does that mean we must keep quiet about its relentless, counter-productive repression of the Uighurs? It's yet another indication of the damage this war is doing to our political morality.
---
China Aid Contacts
Rachel Ritchie, English Media Director
Cell: (432) 553-1080 | Office: 1+ (888) 889-7757 | Other: (432) 689-6985
Email: r.ritchie@chinaaid.org
Website: www.chinaaid.org
Radio Free Asia
2015-11-23
■ Authorities in the southern Chinese province of Guangdong are expected to announce the verdict in the long-delayed case of a prominent human rights activist later this week after holding him in conditions described by his family as 'slow torture,' his lawyer said on Monday.
Yang Maodong, better known by his pseudonym Guo Feixiong, will attend a verdict hearing in the provincial capital Guangzhou along with two co-defendants on Friday.
Guo Feixiong in a file photo.
Photo courtesy of Guo Feixiong
Guo is awaiting the verdict on charges of "gathering a crowd to disrupt public order" following a trial at Guangzhou's Tianhe District People's Court on Nov. 28, 2014.
"The court messaged us to tell us that there will be a verdict and sentencing hearing after all this time," his defense lawyer Zhang Lei told RFA. "It is pretty clear that Guo Feixiong and the others are innocent."
"But we have no reason to be optimistic about either a not guilty verdict, nor about a light sentence," he said.
According to his wife Zhang Qing, now based in the United States, Guo has been held in cramped solitary confinement in the police-run Tianhe Detention Center since August 2013, and denied the opportunity to move around or to take exercise outdoors.
And Dublin-based rights group the Frontline Defenders, which this year presented Guo with an award, said in a recent statement that Guo is considered at risk because his "memory, speech, and mental awareness all showed signs of damage."
Guo's sister Yang Maoping said she expects her brother to go to jail, but called for his release nonetheless.
"I have just got back from Guangzhou, where the tone of the officials [I met with] indicated that they are definitely going to find him guilty," Yang said.
She said she is concerned about Guo's well-being in detention.
"Even if he is transferred from the detention center to a prison, it's not going to be a good environment, because he will still have lost his freedom," she said.
Liu Zhengqing, defense lawyer for co-defendant Liu Yuandong, who faces the same charges along with fellow activist Sun Desheng, said he expects sentence to be passed during the hearing on Friday.
"The [ruling] Chinese Communist Party doesn't act on the basis of reason, but arbitrarily, so I have no way of guessing the outcome," Liu Zhengqing said.
"The longest sentence they could give [Liu Yuandong] would be 10 years."
According to the indictment, the charge against Guo was based on his participation in anti-censorship demonstrations outside the cutting-edge Southern Weekend newspaper offices in Guangzhou in early 2013, where he held up a placard and made a speech in favor of press freedom.
In January 2013, activists, journalists and academics faced off with the authorities after the Southern Weekendnewspaper was forced to change a New Year's editorial calling for political reform into a tribute praising Communist Party rule.
Guo's placards called on officials to publicly disclose their assets, and for the Chinese government to ratify the International Covenant on Civil and Political Rights, which it signed in 1998.
Sun was also accused of holding up placards and inciting crowds to disturb the order of a public place in "flash mob" activities.
Sentence appeal
Meanwhile, jailed veteran journalist Gao Yu is scheduled to have her appeal against her sentence for "leaking state secrets overseas" heard by the High People's Court in Beijing behind closed doors on Tuesday, her lawyer said.
Gao, 71, was sentenced to a seven-year jail term by the Beijing No. 3 Intermediate People's Court in April, but has repeatedly denied breaking Chinese law, saying that a televised "confession" on which the prosecution based its case was obtained under duress.
"Gao Yu's case will come before the Beijing High Court on appeal tomorrow," Gao's defense lawyer Mo Shaoping told RFA on Monday.
He said the court has three options: to uphold the original verdict and sentence, to order a retrial, and to adjust her sentence.
"If they alter her sentence, it can only be to reduce it, because sentences can't be increased on appeal," Mo said. "The worst they can do is to uphold the original sentence."
Gao, who has had heart attacks in detention, also suffers from high blood pressure, and has signs of a lymph node growth that could be malignant, her lawyers say.
Rights campaigners say that she is being held in a place where only the most basic medical facilities are available, and have repeatedly called for her release on medical parole, which is allowed under Chinese law.
Rights groups have cited the deaths in custody of rights activist Cao Shunli and popular Tibetan monk Tenzin Delek Rinpoche as examples of the "cruel disregard" shown by the government for the health of prisoners of conscience.
Reported by Lin Jing and Hai Nan for RFA's Cantonese Service, and by Qiao Long for the Mandarin Service. Translated and written in English by Luisetta Mudie.
---
China Aid Contacts
Rachel Ritchie, English Media Director
Cell: (432) 553-1080 | Office: 1+ (888) 889-7757 | Other: (432) 689-6985
Email: r.ritchie@chinaaid.org
Website: www.chinaaid.org
Christians in China's southern Yunnan province pray during
their training session with Bo Ai in early November 2015.
(Photo: China Aid)
China Aid
Translated and written in English by Brynne Lawrence.
(Jiujiang, Jiangxi— Nov. 20, 2015) Chinese Christians in China's southern Jiangxi and Yunnan provinces learned of their legal rights through a series of Faith and Law
training camps
conducted by Bo Ai, the camp's founder, in late October and early November, respectively.
In response to six Christians simultaneously splitting off from the Three-Self Church and forming their own churches throughout the Jiujiang, Jiangxi, local religious affairs bureau officials and police launched a series of attacks. Christians from these congregations hired Bo Ai to teach a Faith and Law training camp, which would teach the church members how to defend their right to religious freedom from unjust persecution. From Oct. 14-28, Bo Ai traveled to four towns, conducting three-day trainings in each area.
After learning of the persecution these churches faced, he went to the local religious affairs bureau and asked the bureau chief what they had done to break the law. The official responded that their infraction was "…leaving the Three-Self Church."
On Nov. 4, shortly after the trainings in Jiangxi concluded, Bo Ai traveled to Yunnan province to provide similar training to a house church in Fumin County. This church, which consists primarily of people from the Miao ethnic minority group, was previously administered by the Three-Self Church. A few days before Bo's arrival, the church received a notice from the local religious affairs bureau, stating that officials would be visiting the church service on Nov. 10. Due to the tense relationships between the government and other house churches, the Fumin County church grew apprehensive and hired Bo Ai to teach them about their legally-mandated rights. The Christians reported that, as their awareness of the law improved, so did their courage.
---
China Aid Contacts
Rachel Ritchie, English Media Director
Cell: (432) 553-1080 | Office: 1+ (888) 889-7757 | Other: (432) 689-6985
Email: r.ritchie@chinaaid.org
Website: www.chinaaid.org
Radio Free Asia
2015-11-19
■ Two Chinese activists who publicly supported last year's pro-democracy Umbrella Movement in Hong Kong stood trial for subversion at a court in the southern province of Guangdong on Thursday, their lawyers said.
Xie Wenfei and Wang Mo appeared at the Guangzhou Intermediate People's Court on Thursday charged with "incitement to subvert state power" in a trial that closed after only one day.
Xie shouted "Abolish the one-party dictatorship, build a democratic China!" repeatedly all the way from the detention center and throughout the hearing, Wang's defense lawyer Tan Chenshou told RFA.
Chinese activists Xiewen Fei (L) and Wang Mo (R) are
pictured in an undated photo.
(Photo courtesy of activists)
He was carried into the court chamber after refusing to attend the trial in protest at the detention of his lawyer, Xie Yang, Tan said.
Wang, for his part, shouted "Down with the Communist Party!" when he was brought into the court.
"Neither of them pleaded guilty. They said in their final statements that the government should be constituted through regular elections and respond to the demands of the people, and continually prove its legitimacy," Tan said.
The indictment against Wang lists his holding up of a placard in support of the Occupy Central movement in Hong Kong, as well as "sensitive" tweets on Twitter.
"They probably think [even his tweets] amount to incitement to overthrow the government," Tan said.
But he rejected the charges against his client.
"This was a symbolic expression of his views; he used his actions to make his thoughts and ideas known, which is protected in law," Tan said, citing the 1948 Universal Declaration of Human Rights and international human rights covenants, as well as China's own constitution.
"The defense team will be arguing that they are not guilty."
Xie, who is also known as Xie Fengxia, was also detained in October 2014 amid a nationwide roundup of at least 100 mainland Chinese supporters of Occupy Central.
He was wearing a black T-shirt and holding a banner in support of the 79-day pro-democracy movement on the streets of Guangzhou.
'Very brave'
Guangzhou-based rights activist Jia Pin, who was held under criminal detention for a month around the same time, said he is a good friend of both men.
"Xie Wenfei ... is a very brave person, and his rights activism and protest actions have had a big impact," Jia told RFA ahead of the trial. "He has carried out a number of street protests, carrying banners and placards, including those in support of other activists."
"Wang Mo has also shown great courage in his activism; one time in 2012 I remember him handing out leaflets in Nanjing about June 4, 1989," he said.
"Also, he was constantly trying to raise awareness of [the Twitter-like service] Sina Weibo, where his account was always being shut down."
Jia said he believes both Xie, 38, and Wang, 43, are innocent.
"All we did last year was to hold up banners, nothing more," he said. "There was no negative effect on society whatsoever; we didn't block traffic, nor did we hurt anyone."
"It was all totally within the law."
Hong Kong's Umbrella Movement, so named after thousands of protesters used umbrellas to stave off pepper spray and tear gas in clashes with riot police on Sept. 28, 2014, brought hundreds of thousands of people onto the city's streets at its height amid widespread calls for fully democratic elections.
A decree from China's parliament, the National People's Congress (NPC), which activists and pan-democratic politicians dismissed as "fake universal suffrage," would have required any candidates running for chief executive in 2017 to be approved by Beijing.
However, the NPC's reform package was eventually voted down in the city's Legislative Council last June, and the current system of election by a pro-Beijing committee still stands.
Reported by Yang Fan for RFA's Mandarin Service, and by Hai Nan for the Cantonese Service. Translated and written in English by Luisetta Mudie.
---
China Aid Contacts
Rachel Ritchie, English Media Director
Cell: (432) 553-1080 | Office: 1+ (888) 889-7757 | Other: (432) 689-6985
Email: r.ritchie@chinaaid.org
Website: www.chinaaid.org
Radio Free Asia
2015-11-20
As the ruling Chinese Communist Party elite marked the centenary of a late ousted premier famed for reversing many of the injustices of the regime, police on Tiananmen Square detained a blind activist from Shanghai after he handed out leaflets protesting against government corruption.
In the highest-level public recognition of Hu Yaobang since his death sparked the 1989 Tiananmen Square protests, China's leaders marked the 100th anniversary of the former premier's birth on Friday at the Great Hall of the People in Beijing, official media reported.
Hu was ousted from the top job as general secretary of the Communist Party amid accusations of "bourgeois liberalism" in his handling of the 1989 student-led protests on Tiananmen Square.
Crowds watch the unveiling of a statue of Hu Yaobong in
Taizhou, Zhejiang province, in a file photo.
AFP
His death of a heart attack in 1989 prompted a massive public outpouring of grief on Tiananmen Square, sparking several weeks of student-led pro-democracy protests and hunger strikes that were later ended amid a bloody military crackdown by the People's Liberation Army on the night of June 3 that year.
President Xi Jinping on Friday spoke of the former premier as "a loyal communist soldier, great proletarian revolutionist and statesman," and "an outstanding political worker of the military and prominent leader of the party," the official Xinhua news agency reported.
"To commemorate Hu Yaobang is to learn from his noble character, which was based on keeping the faith and being dedicated," Xi told the memorial event, adding: "The highest ideal is communism."
Meanwhile, just outside the venue, police were detaining blind Shanghai activist Chen Yongcheng, who said he was trying to "get the leaders' attention" by handing out leaflets.
Chen and fellow activists Hu Yizhong, Bao Changxing and Chen Rongda have been handing out leaflets in central Beijing for the past four days, he told RFA.
"Tiananmen Square is a symbol of the nation, and there are a lot of people around ... so that's why we wanted to come here; to make the leadership pay attention," said Chen who has taken part in previous public protests against official corruption, and who also campaigns for the separation of powers, an idea rejected out of hand by late supreme leader Deng Xiaoping, who toppled Hu Yaobang.
"I have been detained many times, and kidnapped eight times ... the government uses its power to commit crimes," Chen said. "That's why we wanted to come to where the real power is."
Heavy security
Gong Xinhua, a rights activist based in the eastern province of Jiangxi, said he had visited Hu's grave in Jiujiang city on Friday morning, but had left soon after arriving amid heavy police security.
"A couple of bus-loads of armed police came [to the cemetery] just after 10:00 a.m., maybe 60 or 70 of them," Gong told RFA. "Then a taxi-driver told me that maybe some important official was coming, maybe a leader from the central government, and that's why security was so tight."
He said around 50 people had gathered to leave offerings at the grave on Friday, and that they had all left quickly when they saw the armed police arrive.
Gong said Hu is still kindly remembered by many people
"We recognize Hu Yaobang as the conscience of the party," Gong said. "He actually served the people, so that the Communist Party would do a good job of governing China, and tried to make their lives better"
"Xi Jinping would do well to learn from his attitude," he added.

'Rehabilitation likely'
China on Friday also released an official TV documentary series and a photo album to commemorate Hu Yaobang, Xinhua reported.
Song Ligong, a former professor at Hong Kong's City University, who has a special interest in Hu Yaobang, said Xi likely wants to assert his connection to the older generation of revolutionary elders within the party.
"This recognition means that a rehabilitation of Hu Yaobang is likely, and it might be an indicator of a reappraisal of June 4, 1989, but I think that's probably further away," Song said.
"I think that such a high-level memorial for Hu Yaobang isn't necessarily linked to [that] possibility."
The Communist Party currently bans public memorials marking the June 4 massacre, and has continued to ignore growing calls in China and from overseas for a reappraisal of the 1989 student protests, which it once styled a "counterrevolutionary rebellion."
The number of people killed when People's Liberation Army tanks and troops entered Beijing on the night of June 3-4, 1989, remains a mystery.
Beijing authorities once put the death toll at "nearly 300," but the central government has never issued an official toll or list of names, in spite of repeated calls by the Tiananmen Mothers victims' group.
Reported by Xin Lin for RFA's Mandarin Service, and by Wong Lok-to for the Cantonese Service. Translated and written in English by Luisetta Mudie.
---
China Aid Contacts
Rachel Ritchie, English Media Director
Cell: (432) 553-1080 | Office: 1+ (888) 889-7757 | Other: (432) 689-6985
Email: r.ritchie@chinaaid.org
Website: www.chinaaid.org