The Epoch Times
By
Luo Ya
,
Epoch Times
and
Larry Ong
,
Epoch Times
|
July 26, 2016 AT 1:27 pm
Last Updated:
July 26, 2016 4:19 pm
■ Zheng Enchong, a lawyer in Shanghai with political connections, recently experienced a strange form of detention and coerced luxury: He was abducted by local police, taken to a three-storey villa on an island in Shanghai's "Angel Bay Vacationland," and plied with the finest of food and drink.
It was all part of an elaborate attempt, he said, to have him change his political allegiances — or at least stop talking to the overseas Chinese media about his political nemeses: the clan of
Jiang Zemin
, the former Party leader, who have run the city of Shanghai like a fief for several decades.
Zheng spent five days in the villa, from July 11 to July 15, under the watchful eye of Shanghai security forces. His wife, Jiang Meili (no relation to Jiang Zemin), was also present. Between the meals, they were confined to separate quarters.
Renowned Chinese human rights lawyer Zheng Enchong in his
Shanghai home in Sept. 2014. (Epoch Times)
Fourteen security personnel—policemen, domestic security agents, public security bureau officers—watched over the couple. Of course, their duties included partaking in the sumptuous meals meant to impress Zheng: there was lamb, pork, lobster, seasonal vegetables, and fine wines—top grade reds, huangjiu (a type of Chinese grain wine), and even a bottle of expensive Maotai Chinese liquor. The villa had faux French windows that afforded a view of the Yangtze River.
Zheng, seeing the ruse, "didn't drink a drop with them," he said in an interview after the strange ordeal. Instead, he reminded them of Party leader Xi Jinping's new ban on officials consuming alcoholic beverages while on duty, and chastised his minders for wasting public funds.
He opted for soft noodles, rice porridge, and dumplings.
The reason for the lavish treatment was quickly made clear: Zheng's silence was being bid upon.
Because he has tangled with Party elements in Shanghai for so long—he was jailed in 2003 for trading "state secrets" merely for faxing information about protests to a labor NGO—Zheng, 66, has a network of informants who keep him apprised of the latest in Communist Party factional struggles. Over the last six months, he has been active in writing and speaking critically against Jiang Zemin and his family members, including giving detailed interviews to the Chinese-language version of this newspaper.
(L-R) Chinese human rights lawyer Zheng Enchong and his
wife Jiang Meili. (Epoch Times)
If he would simply shut up, a series of other perquisites would be provided, the security agents said.
First, Zheng's wife Jiang Meili would be allowed to visit their daughter who is living in the United States. Second, Zheng would receive a monthly stipend of 1,500 yuan (about $225). Finally, the police are looking to stop surveilling him and return his freedom; a security detail currently watches over Zheng for 24 hours in three shifts.
The agents had to report on the "negotiations" to their superiors daily, Zheng said. Also, a domestic security official and other senior police had sailed out in a ferry when there was heavy wind and rain on one of the days just to "inspect" the situation at the villa.
The Shanghai security authorities have reason to want Zheng muffled, given the sensitive nature of the information he has been providing.
Zheng had told Epoch Times that he had learned from "extremely reliable" channels that former Party leader Jiang Zemin and his son Jiang Mianheng have had their movements restricted. Old classmates had also invited Zheng to a gathering to celebrate "the fact that Jiang Zemin's finished," Zheng told international broadcaster Sound of Hope Radio in June.
Jiang was Party leader from 1989 to 2002, and continued to wield power from behind the scenes through his sprawling political network for over a decade after stepping down. Under Jiang's reign, China's environment was sacrificed for rapid economic growth; crony capitalism was entrenched; and Party cadres grew immensely rich through corruption.
Jiang is perhaps best known for having ordered the persecution of Falun Gong, a Chinese meditation practice. The persecution has included forced ideological conversion, torture, and organ harvesting. Researchers estimate that the Chinese regime performed 1.5 million transplants over the last 15 years, the bulk of which are believed to have come from Falun Gong practitioners killed in the process.
Zheng and his wife have refused to be bought off. "To give an example, you steal 10,000 yuan from me, and return me 500 yuan, then 1,000 yuan. I won't thank you," Zheng said.
During mealtimes, Zheng even starting "exposing the Shanghai clique, exposing Jiang Zemin's son, and exposing the conduct and deeds of Jiang Zemin" to his interlocutors. "They didn't have the slightest response," he said, and appeared dejected, despite the food on offer.
Later, Zheng learned that his guards were in fact resentful of their superiors.
"One cop was only two months away from retiring," Zheng said. "He has been standing watch over me for over 7 years. In the villa, he once had too much to drink, and said drunkenly: 'I've mixed with miserable company! Frankly, I've been sold out by my leader.'"
The policeman's outburst shocked Zheng, but several others on the detail also expressed their discontent. "They felt that they were carrying out an important job for their superiors by watching over me all these years," Zheng said.
But now that Jiang Zemin's influence appears to be distinctly on the wane, the sort of pointed bullying of Jiang's opponents, like Zheng, will no longer be called for.
The failed villa episode seemed to be an attempt by Shanghai security officers to sever the relationship on agreeable terms.
"Now they're feeling that their superiors have betrayed them," Zheng said. "I feel that this is a good thing."
---
China Aid Media Team
Cell: (432) 553-1080 | Office: 1+ (888) 889-7757 | Other: (432) 689-6985
Email: media@chinaaid.org
For more information, click here
As persecution in China escalates,
raids, such as this one in Guizhou
province, are becoming more common.
(Photo: China Aid)
China Aid
Reported in Chinese by Qiao Nong. Translated by Carolyn Song. Written in English by Brynne Lawrence.
(Hetian, Xinjiang—July 26, 2016) Persecution in China's northwestern Xinjiang province spiked earlier this month as authorities raided several house churches, detained numerous Christians and confined an entire family to their residence.
In Hetian, one of the province's southernmost cities, officials raided several churches throughout a single county on July 7 and took many Christians to the police station for interrogation about their church's religious affairs. They were released at 8 a.m. the next day, but received a summons for further questioning hours later and were held at the police station until late that evening.
The affected church members attested that local authorities interviewed Christians with no connection to their church. On the night of July 10, the Cele County police station dispatched officers to the home of Pastor Zhong Shuguang, who evaded detention because he happened to be traveling at the time. However, they took his wife, Lü Yingli, into custody. She was released the next day.
The raid occurred after Zhong posted an online message declaring Christians have no religious freedom in Xinjiang.
In 2012 and 2013, authorities detained and fined Zhong three times for organizing religious gatherings and confiscated his property. Even though his church lacks a formal meeting place, it still experiences constant government interference.
In a prayer, Zhong expressed his desire that officials throughout Hetian come to a better understanding of Christianity, so that Christians could live without fear. He also prayed for persecuted Christians to be endowed with confidence, tenderness, eloquence and a loving heart so that they may defend their faith.
Christian persecution is occurring elsewhere throughout Xinjiang, as evidenced by the recent blacklisting of the entire family of Pastor Lou Yuanqi, who lives in the Ili Kazakh Autonomous Prefecture. They were prevented from buying train tickets even after displaying their ID cards, and a police checkpoint refused to grant them entrance. Additionally, officials confined them to their home. According to Lou, "The day before yesterday, [the officials] called and asked our children to return. Our children do not live at home; only one daughter lives at home. The rest of our children are in Urumqi. The public security bureau called us and asked us to tell them to come home. I asked why, and they said to gather their information, take their pictures and conduct blood tests. I said they have all married and started their careers … this is too unreasonable to do. A while ago, they even took away my ID card and returned it later."
Local Christians are uncertain why authorities are targeting house churches with such renewed intensity.
China Aid exposes cases of religious freedom abuse, such as those experienced by Christians in Xinjiang, in order to stand in solidarity with persecuted Christians in China.
---
China Aid Media Team
Cell: (432) 553-1080 | Office: 1+ (888) 889-7757 | Other: (432) 689-6985
Email: media@chinaaid.org
For more information, click here
The Guardian
Monday 25 July 2016 01.02 EDT
■ Mysterious confession fuels fears of Beijing's influence on Hong Kong's top newspaper
The South China Morning Post is being asked to explain how it obtained an interview with a young activist who was detained by Chinese authorities
Hong Kong's most prestigious English-language newspaper is facing calls to explain how it obtained a controversial interview with a young Chinese activist amid fears of Beijing's influence on the 113-year-old broadsheet.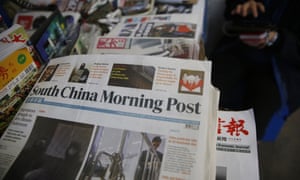 Within days of Zhao Wei's reported release, the South China
Morning Post managed to contact her despite the fact that her
own lawyer and husband said they had been unable to do so.
Photograph: Kin Cheung/AP
The calls, from activists, media experts and former and current journalists at the South
China
Morning Post, come after the newspaper published a story in which a 24-year-old legal assistant, who had spent nearly a year in secret detention, claimed she regretted her activism.
Zhao Wei was seized in July 2015
at the start of a major government crackdown on human rights lawyers and was released on bail earlier this month, according to Chinese police.
Within days of that reported release the South China Morning Post managed to contact her despite the fact that Zhao's own lawyer and husband said they had been unable to do so and suspected she was still under some form of custody.
The Guardian understands that the newspaper talked to Zhao Wei with the help of a mysterious intermediary whose identity has not been revealed to staff.
"It's just so sad. A newspaper that used to be one of the best in Asia is now becoming a mouthpiece," one former employee told the Guardian this week.
Criticism of the South China Morning Post, or SCMP as it is widely known, comes
after the newspaper was bought
by one of China's wealthiest business tycoons, the founder of Alibaba, Jack Ma.
Ma, a tech billionaire some call
China's Steve Jobs
, brushed off concerns that the broadsheet's editorial independence was at risk after the deal was announced last December.
"
Trust us
," said Ma, scoffing at fears that under his watch editors at the SCMP might buckle to political pressure from the Communist party.
But, seven months later, there is anger in the Post's newsroom and among readers and claims that what was once Hong Kong's newspaper of record has lost its way.
That anger has been brought into relief after the publication of the mysterious interview with Zhao.
Zhao was the youngest target of what activists describe as
an unprecedented crackdown
on human rights lawyers in mainland China.
The interview with her was conducted by telephone on 10 July, just three days after Zhao's release was announced, and was published the following day under the headline:
'Young Chinese legal activist 'regrets' civil rights activism'
.
"I have come to realise that I have taken the wrong path," Zhao was quoted as saying in the article. "I repent for what I did. I'm now a brand new person."
The story did not make clear how the SCMP had managed to make contact with Zhao and activists, media experts and Zhao's husband and lawyer
suspect the interview was set up by mainland authorities and conducted against her will
.
They are demanding answers from the newspaper about the circumstances in which its reporter – who it has not named – was able to contact her.
"To be honest, I feel odd as well," Zhao's lawyer, Yan Huafeng, told the Guardian. "Even though I am her defence lawyer … I don't know how they got in touch with each other."
Murong Xuecun, an outspoken Chinese novelist, wrote on Twitter: "The South China Morning Post must explain its exclusive interview with Zhao Wei."
David Bandurski, a respected Hong Kong media analyst,
urged the newspaper to "come clean"
about the "perplexing" episode, which he said raised "serious questions about the newspaper's commitment to editorial independence" under Ma.
The interview looked "eerily" like the kind of
forced media confession
that has become common since the Chinese president, Xi Jinping, took power in 2012, Bandurski added.
Former and current employees at the SCMP have also expressed concern over the interview.
"People are upset and angry," one newsroom insider, who spoke on the condition of anonymity, said of the episode.
A former SCMP editor, who also asked not to be named, said: "This one does smell very, very fishy."
Another former journalist, who also declined to be named, said they suspected the interview "was somehow planted by the Chinese authorities", adding: "That's why the Post got the scoop on that."
In an emailed statement, signed by "the editors" of the SCMP, the newspaper said it was "tempted to conclude" that questions being raised over its interview with Zhao were an attempt "to paint the South China Morning Post in a negative light".
The editors noted that
their newspaper's story
had stated it had been unable to ascertain where Zhao was speaking from or if she was under surveillance.
However, the SCMP repeatedly declined to explain how it had been able to arrange an interview with a woman whose own
husband and lawyer have not been able to contact her
. It also declined to address claims that the interview had been handed to it by Chinese authorities.
"Like the Guardian and other principled news organisations, the South China Morning Post treats the protection of confidential sources as sacrosanct," the SCMP's editors said. "We therefore fail to understand why the Guardian is attempting to impugn our professionalism for maintaining a policy on sources that the Guardian follows as well."
Founded in 1903, when
Hong Kong
was still under British rule, the SCMP was once one of the most profitable newspapers on earth; an award-winning broadsheet famed for chasing stories the Communist party forbade its state-run competitors over the border in mainland China from touching.
The newspaper, which claims a readership of nearly 350,000 and a print circulation of about 100,000, continues to market itself as a flag-bearer of the
"gold standard of news publishing in the region"
.
Its website was
blocked by Communist party censors
in March this year and remains inaccessible in mainland China without the use of a virtual private network.
Yet persistent doubts over the SCMP's commitment to independent journalism resurfaced last December after Ma announced
a $266m takeover
of the newspaper.
Those behind the deal said they hoped to use the SCMP
to paint a more positive picture of China
and provide a counterbalance to the western media's "too ideological and biased" coverage.
Willy Lam, a former SCMP editor who left the paper in 2000
claiming its bosses wanted to "depoliticise" coverage
, said that since the takeover he had noticed an increase in the number of "very positive [articles] about the Chinese economy and the Chinese leadership" in the pages of the SCMP.
"Even before Jack Ma took over it had progressively become more pro-establishment," Lam told the Guardian. "But I think after the Alibaba takeover it has become progressively worse."
In interviews after the Zhao interview, journalists who have worked at the Post at different points over the last decade echoed that analysis.
They described an increasingly politicised working environment where senior editors were often reluctant to publish stories that might upset Beijing.
Most believed the editorial stance had become markedly less critical of Beijing since
Wang Xiangwei
and
Tammy Tam
– the broadsheet's first mainland editor-in-chiefs – took over in 2012 and 2016 respectively.
Early in his four-year tenure Wang faced accusations –
which he rejected
– that he had
deliberately downplayed the suspicious death of a Chinese dissident
and become a form of
"in-house censor"
who shied away from sensitive stories.
Others pinpointed Hong Kong's 2014
"umbrella movement"
pro-democracy street protests as a turning point.
The newspaper's management celebrated the spike in online traffic the demonstrations had brought as the world's eyes turned on Hong Kong – "They were thrilled by the figures," said one former journalist – but were concerned the SCMP's coverage had been seen as too supportive of the protesters.
"I could feel a tension after Occupy," said one reporter who said they believed the newspaper's coverage had become "more ideological" and hostile to Hong Kong's pro-democracy movement after the 79-day street occupation.
Paul Mooney,
a veteran American journalist
who worked for the SCMP until 2012 and has won multiple awards for his work on human rights issues in China, said the newspaper continued to produce good stories on sensitive issues.
"They realise they can't become a Xinhua or a China Daily; they have to kind of maintain the semblance of being objective," said Mooney,
who has claimed he was forced from the newspaper
for political reasons.
But Mooney and other former and current employees said it had become common in recent years to see stories heavily rewritten, re-crafted or scrapped entirely to remove aspects that might displease Beijing.
"It seems the whole paper has been co-opted by Beijing or people that are loyal to Beijing and they have destroyed a paper that has been around for many years," Mooney said.
A former SCMP editor, who spoke on the condition of anonymity, agreed the paper still produced major scoops and critical stories that Beijing would see as "very, very unwelcome".
As examples, the editor pointed to recent articles about
a group of booksellers
thought to have been abducted by Chinese security agents,
coverage of the umbrella movement protests
and political scoops about the downfall of Communist party high-fliers including the
former security chief Zhou Yongkang
.
But the editor added: "The owners and the top editors have to at least maintain the facade of editorial independence. They couldn't turn overnight into a Hong Kong edition of China Daily. But the whole balance seems to be tipping, for sure. Not overnight but gradually."
Two former employees said
Voices From Tiananmen
, a multimedia project marking 25 years since the 1989 massacre, faced resistance from editors but was eventually published one day before its anniversary, on 3 June 2014.
But those involved in the award-winning project have all now left the newspaper, they said. "One by one we were forced to leave or it was made pretty clear to us that anybody who had [played] any part in that story would never be welcome again at the Post," said one member of the team.
A second person with knowledge of the Tiananmen project gave a less dramatic account of the departures but said they were the result of "a general conflict of two visions for our China coverage". The conflict was between those hoping to pursue more critical journalism against those apparently less inclined to offend Beijing.
A third SCMP journalist said they had been shocked by its coverage of
the Panama Papers
revelations in April.
The journalist claimed editors had largely buried reports that
members of China's Communist elite
had been found to have concealed their wealth with offshore companies.
"They are most nervous about people or articles pointing fingers at the leadership. You cannot really criticise the leadership," the journalist said, adding: "It is so demoralising."
The SCMP has rejected claims it downplayed revelations about the Communist party in the Panama Papers, with one senior editor blaming such criticism on
"butthurt ex-Post employees with axes to grind"
.
The former editor said it would be wrong to blame all of the newspaper's problems on self-censorship but admitted "there is a wider trend towards more control and a more positive line towards the Chinese government and that is hard to deny".
"I think there is a sense that this is the new normal," the editor added. "People have accepted that this is a different type of publication now, being published under different circumstances. It's a different paper – and not for the better."
The same journalist claimed SCMP journalists were now "fleeing" in their droves and said the Alibaba takeover –
and its executives' comments on their vision for the newspaper
– had done nothing to staunch the outflow. "The paper already had a mixed reputation under the old ownership and under Wang Xiangwei's editorship. Now it's only getting worse in terms of self-censorship."
My friend Li Heping, a man China thinks is 'more dangerous than Bin Laden'
Terence Halliday
Fears over shrinking press freedom in the former colony – which has far greater political liberties than the mainland thanks to the "one country, two systems" framework agreed before handover in 1997 – were voiced in a recent report by the Hong Kong Journalists Association.
The report, called
One country, two nightmares
, noted that Beijing had been fighting to gain control of Hong Kong's newsrooms ever since the Tiananmen massacre in 1989.
"The relative success of this policy is seen in the fact that the Chinese government or mainland corporations now have direct control or stakes in eight out of 26 mainstream media outlets – 31% of the total," the report said. Pointing to Alibaba's acquisition of the SCMP, it added: "The upward trend of mainlanders investing in the Hong Kong media is worrying."
Last week Reporters Without Borders, the international rights group, questioned Alibaba's acquisition of "one of the last champions of the free press in Hong Kong".
"Now that it has been snared by Jack Ma, what fate awaits the South China Morning Post?" the group asked in
a new report about media ownership
.
In a statement, the SCMP's editors accused the Guardian of "selective bias" in its choice of interviewees.
They said: "Our stand has not changed before or after we changed ownership and it is this: the South China Morning Post's future will continue to depend on independent, critical journalism.
"We continue to be able to attract the talented and committed professionals we need to do that job. Thus, unlike you, we are not inclined to take the doomsday scenarios you have painted too seriously.
"[We] hope you aspire and live up to the same standards of critical independent journalism you demand of us."
Not all of those interviewed were critical of the broadsheet's direction during their time at its Causeway Bay headquarters.
While one journalist described a "poisonous atmosphere" inside the SCMP newsroom other former employees said the editorial team was a tight-knit group that was still fighting to push the envelope with their journalism.
"There are lots of very good people," said one serving journalist. "There's a lot of camaraderie. Lots of people are trying to do a good job."
David Lague, the newspaper's managing editor between 2009 and 2011, said he had never felt the chill of censorship. "We had a tremendously free hand," he said.
All the former Post journalists who spoke to the Guardian were at pains to praise their colleagues still working there,
who continue to pick up awards
for their reporting on social, environment, human rights and business issues.
"There are still professional people working there who want to do everything in their power – even though this ends them up in their bosses' bad favour all the time – [to] challenge things, to argue for things at news meetings," the former editor said.
But few retained any faith in the newspaper's future as a speaker of truth to power.
"I'm sure they are trying to get out any chance they can," the editor said. "They are so tired of this whole thing. So disgusted."
Additional reporting by Christy Yao
---
China Aid Media Team
Cell: (432) 553-1080 | Office: 1+ (888) 889-7757 | Other: (432) 689-6985
Email: media@chinaaid.org
For more information, click here
A cross being destroyed in Zhejiang
province. (Photo: China Aid)
China Aid
Written in Chinese by China Aid Correspondent Guo Baosheng. Translated by Carolyn Song. Edited in English by Ava Collins.
As seen in a video that was recently distributed domestically, students singing the national anthem was a significant part of the graduation ceremony at Zhejiang Theological Seminary. This is an inevitable product of the authorities forcibly destroying crosses in the Zhejiang area since 2014, spreading the Sinicization of Chrisitanity, and vigorously pushing [churches] to fly the national flag.
The president of the seminary, Pan Xingwang, is a pastor and leader who supports the authorities in their cross demolition campaign and has repeatedly spoken out in support of the authorities' Sinicized Christianity and "Five Entries and Five Transformations" Movement [Editor's note: the movement is a systematic procedure being used in Zhejiang to force Christianity to be more in line with state values]. Pan played an unfortunate role in the persecution of Christians by authorities. Under his leadership, Zhejiang Theological Seminary has become a base which creates only Red pastors.
The 2016 Undergraduate Admissions Guide of the Theological Seminary states: "The seminary's training objectives are: to cultivate preachers who consciously accept the leadership of the Party and the government, safeguard national unification and ethnic unity, adhere to the principle of an independent [from foreign influence] and self-managing Church that is politically reliable, knowledgeably accomplished, of a moral character that will convince the public, useful in critical moments and will keep closely in touch with believers and adapt to the trend of the times." The main courses offered are: "Religious Policy, Patriotism Tutorials, Tutorials in Christian Patriotism, Deng Xiaoping Theory, Legal Knowledge, and Current Affairs Lectures." The subject and range of examinations include: "3, Politics, including: 1. Newsletter (February 2015-January 2016); 2. Religious laws [exam candidates may refer to the policies and regulations made by State Council Religious Affairs Bureau's Religious Work and the Booklets (Beijing: Religious culture Publishing House)]; 3. Economic common sense; 4. Philosophical common sense; 5. Political and legal knowledge." (Note: 3-5 are primarily based on a trial version of the full-time regular senior high school textbook, Political Thought, a total of five).
At the 2016 spring semester opening ceremony, Pan Xingwang said, "Over the past year, within the Christian churches of Zhejiang, something took place that we do not want to see, and we do not want to hear. Please learn this lesson and pray for the churches, remind students to be more alert, make a clear faith, care for the churches, respect the law and be good shepherds of the new era." [Pan continued, saying,] "Students need to know how to behave appropriately within boundaries and determine their place, not do criminal things, say false words or speak in ways which cause disputes."
It is obvious the seminary has degenerated into absolute obedience to the Communist Party's so-called Christian pastors' education base, becoming a Communist Party school dressed in the cloak of Christianity. In this way, they submit to Caesar and [operate] contrary to God. They distort the true way [to God], and [these actions] will certainly accelerate the demise of the Three-Self Church and its seminary.
[
Editor's note: Man De's original article included an appendix with the full 2016 Undergraduate Admissions Guide of Zhejiang Theological Seminary. A translation of this document is available upon request.
]
---
China Aid Media Team
Cell: (432) 553-1080 | Office: 1+ (888) 889-7757 | Other: (432) 689-6985
Email: media@chinaaid.org
For more information, click here
Christianity Daily
Jul 24, 2016 11:12 pm EDT
■ China has banned churches in and around Hangzhou city in the eastern Zhejiang province ahead of G-20 summit in order to "create a safe environment" for world leaders when they attend the conference.
The G20 meeting is scheduled for September 4 to 5, but Hangzhou will observe a public holiday until four days after the summit, effectually closing the city for a whole week.
All the large-scale prayers and other religious activities will not be permitted in Xiaoshan district in south-east Hangzhou during those six days, to reduce heavy traffic and
congestion
in the city.
Also, all religious places in the bordering city of Jinhua are
forbidden
to hold any activities between July 1 and September 9.
House churches have been shut down before the summit.
"During their preparations for the G20 summit, all houses and offices are required to register with the government and report how many people are living in the residence and for what purpose," a pastor told Global Times on the condition of anonymity.
The city's underground churches have also been told to not assemble.
"I cannot understand why they have done this... Worshiping God has nothing to do with the G20 summit," Li Guisheng, a Christian human rights lawyer, told The Guardian.
Zhejiang province has the highest concentration of Christians in the country, and Wenzhou city in the province is also called the "Jerusalem of the East."
(Photo : shizhao/Flickr/CC) Religious places have been shut
down ahead of the G20 summit in China.
Recently, the local government in Zhejiang province adopted a new law which made it mandatory for some churches to hand over their income and donations to the authorities.
The measures were enforced in Pingyang County, Wenzhou, and the members were asked to give all their tithes and donations to authorities.
"The government officials will interfere with church affairs, managing our donations and some large-scale projects. We have to obtain their (the government's) permission if we would like to buy equipment or decorate the church. We will have to ask for permission for any expenses more than a few thousand yuan," a source told
China Aid
.
The government crackdown on churches in China in the recent years have led to demolition of about 1,700 churches and over 2,000 crosses since 2014 under the "beautification" campaign known as "Three Rectifications and One Demolition," which the authorities say is directed against "illegal construction" in Zhejiang.
---
China Aid Media Team
Cell: (432) 553-1080 | Office: 1+ (888) 889-7757 | Other: (432) 689-6985
Email: media@chinaaid.org
For more information, click here
Radio Free Asia
2016-07-22
■ Prominent jailed rights activist Guo Feixiong has requested a transfer to another prison following more than 70 days of hunger strike and ongoing abuse from cellmates, his sister has said.
Guo, who has been subjected to forced feeding after beginning his hunger strike in protest at the treatment of political prisoners, is chronically sleep-deprived by abusive cell-mates and routinely subjected to torture by prison guards, his sister Yang Maoping said.
Yang, who visited Guo on Wednesday, said her brother now weighs just 51 kilograms (112 lb), and has been subjected to verbal and physical abuse by both fellow inmates and prison guards, she said in an online statement.
Calls to Yang's cell phone rang unanswered on Friday.
But rights activist Wu Yuhua, who is among those engaging in a relay hunger strike in Guo's support, said Yang had spoken to her about the recent visit.
"[Guo] said during his sister's visit on Thursday that he was willing to end the hunger strike," said Wu, who goes by the online nickname Aiwu.
"He has a number of serious medical problems, for which he has received no treatment, and he has been subjected to continual verbal abuse."
"He asked his sister to speak to prison leaders and to request a transfer to another jail, but I don't know if his request was granted."
Guo Feixiong in a file photo.
Photo courtesy of Guo Feixiong
She said that Guo will still need medical treatment even if he stops refusing food and water.
"We really hope that he decides to call off the hunger strike," Wu said.
It is unclear whether a request from Guo's lawyer for a visit next week will be granted by the prison, she added.
Overseas-based poet and activist Bei Ling said he is very concerned about Guo, whose birth name is Yang Maodong.
"Back in the days when Guo Feixiong went by the name Yang Maodong, he was a literary critic and a keen participant in cultural events," Bei told RFA. "I am extremely worried about him right now."
"As a fellow literature lover, I strongly urge the Chinese prison authorities to grant him his request, so he can get away from these dregs that are the worst of prison life," he said.
"I also call on the prison guards to extend him the most basic humanity in their treatment of him, whether it's to allow him to transfer to another prison, or to allow him out on medical parole," he said.
"This man isn't fit to be in prison."
Guo, 49, has previously refused to end the hunger strike he began in early May, as the New York-based Human Rights Watch (HRW) called on the ruling Chinese Communist Party to order an end to his force feeding by guards at Yangchun Prison in the southern province of Guangdong.
Prison authorities began in mid-May to force-feed Guo once a day, then twice every other day since mid-June, in a painful procedure that involves forcing a feeding tube into his nostrils and down his throat into his stomach, delivering a liquid nutritional supplement, HRW said.
The procedure is risky, and can lead to major infections, pneumonia, collapsed lungs, heart failure, post-traumatic stress disorder, and other psychological trauma, and goes against international standards for the humane treatment of prisoners.
Guo began his hunger strike calling on President Xi Jinping to implement democratic reforms, end the use of electric shocks in prison, improve the treatment of political prisoners, and ratify a United Nations covenant on civil and political rights.
During pretrial detention, Guo was held in a cell for two-and-a-half years without being allowed out for exercise, contrary to prison regulations.
According to HRW, Yangchun Prison twice admitted him to hospital between April and May, but only for check-ups. No diagnosis nor medical treatments were offered.
Guo began his hunger strike after being subjected to a forced rectal cavity search at the instigation of state security police, as well as forced head shaving and verbal abuse from prison guards.
Guo was sentenced last November for "picking quarrels and stirring up trouble" and "gathering a crowd to disrupt social order" after a prolonged period in pretrial detention.
During his sentencing hearing, Guo shouted in protest at his treatment while in police custody, where he was held in solitary confinement in a small, dark cell and denied permission to exercise outdoors since August 2013.
Reported by Qiao Long for RFA's Mandarin Service. Translated and written in English by Luisetta Mudie.
---
China Aid Media Team
Cell: (432) 553-1080 | Office: 1+ (888) 889-7757 | Other: (432) 689-6985
Email: media@chinaaid.org
For more information, click here
Christian Today
By
Carey Lodge
21 July 2016
■ China's president Xi Jinping, who has been accused of implementing draconian laws against religion since taking office in 2012, today spoke directly to Chinese Muslims – signifying a possible crackdown on a group that has so far avoided his harsh measures.
While visiting a mosque in the northwestern autonomous region of Ningxia, home to more than two million Muslims, Xi urged Chinese Muslims to practise their religion as part of Chinese society and "carry forward the patriotic tradition".
According to state newspaper China Daily, Xi said: "Religions in our country, the endemic ones and those from abroad, have become deeply embedded in the Chinese civilisation, whose history covers more than 5,000 years.
"They will continue to flourish while taking root here."
However, he also called on Muslims to "resolutely oppose illegal religious infiltration activities" and promote religious and social harmony.
Ningxia, home to more than two million Muslims, the
majority of whom are Hui. Reuters
It's all language he's used before; the ruling Chinese Communist Party (CPC) is committed to maintaining absolute power, and religion is perceived as a threat. In 2014, it announced plans to nationalise Christian theology, and only allows state-recognised religious institutions to operate. Encouraging religious groups to engage with "patriotic tradition" can be seen as a means by which to remind Chinese citizens "
that their allegiance is to the country, and the Party, first.
"
Concerns about "religious infiltration" aren't new either. In May 2014, a report from China's University of International Relations and the Social Science Academic Press said that religion posed a serious threat to Chinese identity. Religious infiltration was listed as one of four challenges to China's national security.
But what is new is that the Hui Muslim community is the target of Xi's warnings.
Wai Ling Yeong, head of Chinese Studies at Curtin University of Technology in Perth,
warned in May
that China may be moving to restrict religious freedom among Hui Muslims. This is notable, she said, because "this fourth largest national minority group has been the poster child of China's ethnic policy".
"It epitomises the benefits of ethnic autonomy as an arrangement that promotes social stability. It highlights the success of a policy that allows ethnic minorities the freedom to maintain their language, customs, and religion. Most importantly, it helps negate the negative publicity that the Chinese government is receiving due to its draconian policies in Tibet and Xinjiang."
A report by the
New York Times
in February revealed that Hui Muslims have been able to practise their religion freely with minimal intervention by the government. Traditionally, they have enjoyed far greater freedoms than the Uyghur Muslims, the majority of whom live in Xinjiang in China's far-western corner.
In January last year, severe restrictions were imposed on Uyghur Muslims. Thousands were detained in security sweeps, some with deadly force, and jail sentences were given out for wearing religious attire. Men's beards and women's face veils were denounced as "extremist", and some local authorities threatened action against Muslim business owners if they chose not to sell alcohol and cigarettes due to their religious beliefs.
Some Uyghur Muslims were imprisoned for taking part in religious gatherings or activities, and were forbidden from fasting during the holy month of Ramadan.
Until now, however, Hui Muslims have been protected from such restrictions.
Another scholar who has warned the tide might be turning against the Hui community is James Leibold, an associate professor in politics and Asian studies at La Trobe university in Melbourne.
Last month,
he predicted
a "troubling extension of often irrational fears over the "Islamization" (伊斯兰化) of Chinese society."
Traditionally, Leibold said, China has divided its Muslim population "into two camps: the 'good Muslims,' like the Hui, who speak the Chinese language, abide by core elements of its culture, and thus can be trusted; and the 'bad Muslims,' like the Uyghurs, who continue to resist the inevitable process of assimilation". However, "recently the mood has darkened in the Hui areas," he warned.
On Twitter today, Leibold said Xi's three-day tour of Ningxia was a "clear sign Party leaders are concerned about religious extremism among the Hui".
It remains to be seen if these warnings will play out in reality, but if China's Hui Muslims are to face a similar fate to their Uyghur counterparts, the freedoms they have so far enjoyed are likely to be swiftly curtailed.
---
China Aid Media Team
Cell: (432) 553-1080 | Office: 1+ (888) 889-7757 | Other: (432) 689-6985
Email: media@chinaaid.org
For more information, click here
The Guardian
By
Tom Phillips
Friday 22 July 2016 06.07 EDT
Last modified on Friday 22 July 2016 06.45 EDT
■ Residents of Hangzhou told they could be banned from holding religious gatherings while world leaders attend summit
Chinese authorities have reportedly ordered the closure of churches in the eastern city hosting the
G20
summit later this year to "create a safe environment" for world leaders when they meet.
Heads of state will fly into Hangzhou, the capital of Zhejiang province, in early September for
the two-day meeting
hosted by the Chinese president, Xi Jinping.
Churchgoers attend mass near the city of Taiyuan, Shanxi
province. Christian groups have criticised authorities after
reports of a plan to ban religious worship near the G20 summit.
Photograph: Jason Lee/Reuters
In an effort to reduce congestion, local officials have declared a week-long public holiday to coincide with the G20 summit and are reportedly
trying to convince thousands of residents to leave town
.
Now reports have emerged that authorities are also banning religious worship during the annual summit.
The Global Times, a Communist party-run tabloid, said Xiaoshan, a district in south-east Hangzhou where the G20 meeting will be held, had outlawed large-scale religious activities until four days after the event. It said the move was an attempt "to create a safe environment for the meeting".
One Hangzhou pastor
told the newspaper
authorities had shut down a number of underground "house churches" in the city.
Another report
, by the US-backed news service Radio Free Asia, said the city's unofficial churches had been ordered to stop gathering.
"They have been forcing house churches not to meet ahead of the G20 summit," said Zhang Mingxuan, the outspoken president of China's House Church Alliance.
Li Guisheng, a Christian human rights lawyer, criticised the move and said it had no basis in Chinese law.
"I cannot understand why they have done this… Worshipping God has nothing to do with the G20 summit."
Zhejiang province is known as the most Christian region in
China
, an officially atheist country that is home to tens of millions of churchgoers.
Since late 2013 the coastal province has been the setting for a controversial
Communist party cross removal campaign
.
Demolition teams armed with sledgehammers, blowtorches and cranes have removed crosses from more than 1,200 places of worship, activists say.
Several churches have been completely torn down and bloody clashes have broken out between congregants fighting to defend the symbol of their faith and truncheon-wielding security guards sent to enforce the demolitions.
Opponents of the campaign have faced government retribution.
Gu Yuese
, a prominent pastor from one Hangzhou mega-church who had spoken out against the cross removal campaign, was detained in January for allegedly misusing church funds and only recently released.
Zhang Kai, a Christian lawyer who also fought the removals, spent months in secret detention and was
forced to make a televised "confession"
.
On Friday,
a Foreign Office report
on the deteriorating human rights situation in China highlighted the plight of the country's Christian community.
The report pointed to the destruction of a large number of Chinese churches, the disappearance of Catholic priests and the detention of Protestant pastors and their parishioners.
Chinese house churches were facing a period of "sustained pressure" from Beijing, the Foreign Office said.
Additional reporting by Christy Yao
---
China Aid Media Team
Cell: (432) 553-1080 | Office: 1+ (888) 889-7757 | Other: (432) 689-6985
Email: media@chinaaid.org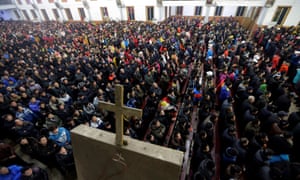 Churchgoers attend mass near the city of Taiyuan, Shanxi
province. Christian groups have criticized authorities after
reports of a plan to ban religious worship near the G20 summit.
Photograph: Jason Lee/Reuters
For more information, click here
China Aid
Translated by Carolyn Song. Written in English by Brynne Lawrence.
(Guiyang, Guizhou—July 21, 2016) A pastor imprisoned in China's central Guizhou province on a falsified "divulging state secrets" charge penned a letter to his wife on June 30, thanking God for the chance to rest after serving as a pastor for 23 years.
"This is a good place to rest, where I am cut off from the rest of the world and brought closer to God," Li Guozhi, a pastor at
Huoshi Church
who goes by the pseudonym
Yang Hua
, wrote of his jail cell. "I can no longer hear the clamorous noise, but can better listen to the Lord's voice."
Government personnel took Yang into police custody on Dec. 9, 2015, after he attempted to prevent them from confiscating one of the church's hard drives. They sentenced him to five days in administrative detention a day later for "the crime of obstruction of justice." On Dec. 15, authorities charged him with "gathering a crowd to disturb social order" and extended his sentence five more days.
When his wife came to collect him on Dec. 20, she saw officials herding him into an unlicensed vehicle as he donned a black hood. Upon inquiry, she learned that his charge had changed, and that he was being transferred to criminal detention for "illegally possessing state secrets." On Jan. 22, his relatives received a notice that he had been formally arrested for "divulging state secrets."
In an
interview
with his lawyers, Chen Jiangang and Zhao Yonglin, Yang disclosed methods the prosecutors used to torture him when he refused to confess to his charges, including standing on his toes and threatening to kill him and bring harm to his family. As a result, Chen and Zhao sued the prosecutors for "using torture to extort a confession" and asked that they be dealt with according to the law.
Despite these circumstances, Yang writes, "Genuine rest has nothing to do with the environment. No matter if the waves are quiet or the sea roars, our hearts rest in [God], just as a weaned child sleeps in its mother's arms. I want to thank God for using this special method to give this special gift to our household. Let us accept and enjoy it with a thankful heart."
A full translation of the letter can be read below, with breaks added for legibility.
China Aid launched a campaign to free Yang Hua to confront the unjust incarceration and expose abuses he and his family have suffered. To learn more about Yang's case, sign the petition for his release and donate to support the persecuted and their families, please visit
www.freeyanghua.org
.
______________________________________________________________________________
Dear wife: Everything's fine!
I received your letter on June 30. I am thankful. Suddenly, I thought of a song, but I couldn't recall all the lyrics. There's a part that goes like this: "The path we walk has laughter and tears; this is the Lord's grace." You can sing it. [It's] Sheng Xiaomei's "Marks of Grace."
The first page of Yang Hua's letter to his wife.
(Photo: China Aid)
About our friends' concern and desire to establish a website to write articles, I don't think they should consider it at this time. You can tell them that it's my opinion. Thank them for being so caring and concerned. I remember a section from the Bible that even the young, strong lions are still starving.
You don't have to go to photo studio since I have already got your photos. It is not necessary [for you to go].
Don't be too thrifty. Buy some meat, chicken and fish for our sons to eat. They are currently growing; buy some suitable snacks for them. The money I have can support me until October. There are many newly-built convenience stores near me. I have enough to eat. I just received 800 Yuan [U.S. $120]. You don't have to come to the detention center twice a month. Once a month is enough. Don't transfer too much money. 600 Yuan [U.S. $90] a month is more than enough. Psalm 23 says, "The Lord is my shepherd; I shall not want." You should copy the whole chapter.
I want to share what I've received with you. God has given me a year of rest after 23 years of hard work. Previously, when I was out of [jail], things were always coming down incessantly, because there were many different kinds of affairs [to attend to]. The Israelites worked every year for six years and rested on the seventh. This is a good place to rest, where I am cut off from the rest of the world and brought closer to God. I can no longer hear the clamorous noise, but can better listen to the Lord's voice. "The LORD sits enthroned over the flood; the LORD is enthroned as King forever" [Psalm 29:10] ("You Sit on the Throne," a hymn). Genuine rest has nothing to do with the environment. No matter if the waves are quiet or the sea roars, our hearts rest in [God], just as a weaned child sleeps in its mother's arms. I want to thank God for using this special method to give this special gift to our household. Let us accept and enjoy it with a thankful heart.
After this period of time, my spiritual life will be even more distinctive from the song that says "A crowd flooded into my kingdom, but they did not want to bear the cross." You can sing the song.
The second page of Yang's letter to his wife.
(Photo: China Aid)
"Rejoice always, pray continually, give thanks in all circumstances; for this is God's will for you in Christ Jesus" [1 Thessalonians 5:16-18]. You must always pray. Think of when Peter called out in John 21. Three times the disciples showed their weakness and three times they answered Jesus. The apostles were full of the Holy Spirit and witnessed for the Lord, leading people back to him. Do not live in weakness and confusion; this is Satan's scheme. Be full of the Holy Spirit and leave spiritual predicaments. Seek [to fulfill] all of the Lord's decrees. Remove all of the negative thoughts and voices from your life. Amen.
Listen to more of Pastor Wang's preaching. It will help a lot. Let the words of God make you stronger. This is incomparably good; that you encourage each other with the words of God. Thank my mother and aunt for me. They are our family's angels, always helping us. Say hello to everyone for me. God's decrees will certainly be fulfilled. Let's talk next time. Keep the letters. Don't throw them away. In regards to Xiangen practicing his musical instrument: he should study lightly. He shouldn't have pressure, either from you or from himself. Don't participate in any examinations. Any amount of studying is fine. He can improvise an accompaniment. Let Mu'en practice his instrument half an hour a day after school ends so as not to forget. You can eat and have fun with Xinde's mother. Be happy. Good night! Mail a photo of my aunt. It'll be useful.
Jehovah-nissi, Emmanuel [Editor's Note: These two phrases are Hebrew for "The Lord is my banner" and "God with us"]
Your husband, who received the favor of God with you:
Li Guozhi
The evening of June 30
---
China Aid Media Team
Cell: (432) 553-1080 | Office: 1+ (888) 889-7757 | Other: (432) 689-6985
Email: media@chinaaid.org
For more information, click here
Radio Free Asia
2016-07-21
■ Three leaders of the 2014 pro-democracy movement in Hong Kong have been found guilty of public order charges linked to a mass sit-in that kicked off the 79-day Occupy Central campaign for fully democratic elections.
Former student leaders Joshua Wong and Alex Chow, and legislative election candidate Nathan Law, were found guilty of taking part in an unlawful assembly at the city's Eastern Magistrates Court on Thursday.
All three had pleaded not guilty to the charges, which carry a maximum sentence of three years' imprisonment. However, presiding judge June Cheung acquitted Wong of a charge of inciting others to take part in the illegal assembly. Law was found guilty of the same charge.
The three activists remained defiant after their bail was extended pending sentencing on Aug. 15.
Joshua Wong, Nathan Law, and Alex Chow speak to reporters
outside Hong Kong's Eastern Court, July 21, 2016. RFA
"Apart from respecting judicial independence and the rule of law, I still disagree with the final result from the court, because I think that everyone should ensure and gain the right to organize and participate in any kind of assembly," Wong told reporters outside the court.
"I think that is the human right of every citizen who lives in Hong Kong."
"We may need to go to prison," he said. "But whatever the penalty or the price we have to pay, we will continue to fight against suppression from the government."
Wong said the fight for democracy under the ruling Chinese Communist Party is "a long-term battle."
Less room for dissent
Law said the case shows that there is less and less room for dissent in Hong Kong, which was promised the continuation of its traditional freedoms of speech and assembly for 50 years, under the terms of the1997 handover to China.
"We are not afraid of any repression, and when it gets stronger, we will also get stronger," said Law, who recently tendered his nomination papers to run in September's Legislative Council (LegCo) elections for the fledgling political party Demosisto.
"This case will be a very important case [that shows] the attitude of the Hong Kong government towards peaceful assembly is ... getting tightened, and they will use whatever tools they can to repress people who fight for their rights," he said.
The charges were brought after the three activists climbed into a cordoned-off area in front of city government headquarters, an area known as Civic Square, at the start of the Occupy Central movement in September 2014.
Rights groups hit out at Thursday's verdict, saying it sent a "chilling warning" on freedom of expression in the formerly freewheeling city.
"The prosecution of student leaders on vague charges smacks of political payback by the authorities," Mabel Au, director of Amnesty International Hong Kong, said in a statement.
"The continued persecution of prominent figures of the Umbrella Movement is a blow to freedom of expression and peaceful assembly in Hong Kong," she said.
Vague wording
Police handling of the initial protest and the arrests of the student leaders at that time were a crucial factor in tens of thousands of pro-democracy supporters taking to the streets in the days immediately afterwards, the group said.
It hit out at "vague" wording in public order legislation, which has been repeatedly criticized by the UN Human Rights Committee for failing to fully meet international human rights law and standards on the right of peaceful assembly.
"The authorities must stop using vague laws in an attempt to intimidate people from exercising their right to peaceful assembly," Au said. "Prosecutions aimed at shutting down participation in peaceful protests must be dropped."
The group cited police figures showing that more than 1,000 people were arrested in connection with the Occupy Central, or Umbrella, movement, of whom 216 people have been prosecuted,or continue to face charges for their alleged involvement in the protests.
The Occupy movement campaigned for Beijing to withdraw an Aug, 31, 2014 electoral reform plan, which it rejected as "fake universal suffrage," and to allow publicly nominated candidates to run for chief executive in 2017.
The plan, which offered a one-person, one-vote in 2017 elections for chief executive,but required candidates to be vetted by Beijing, was voted down on June 18, 2015 by 28 votes to eight in Hong Kong's Legislative Council, leaving the city with its existing voting arrangements still in place.
Reported by Lam Kwok-lap for RFA's Cantonese Service, and by RFA's Mandarin Service. Translated and written in English by Luisetta Mudie.
---
China Aid Media Team
Cell: (432) 553-1080 | Office: 1+ (888) 889-7757 | Other: (432) 689-6985
Email: media@chinaaid.org
For more information, click here
Associated Press
By Haven Daley and Kristin J. Bender
■ Hayward, Calif. (AP) -- The pregnant wife of a prominent Chinese dissident has arrived in the San Francisco Bay Area with their 4-year-old son to live as refugees for at least a year, an activist said Wednesday.
Liu Xiaodong, 40, the wife of Zhao Changqing, arrived with the boy Tuesday from Bangkok. She was escorted by Yang Jianli, president of Initiatives for China/Citizen Power for China, a grassroots movement dedicated to a peaceful transition to democracy.
Yang said Liu will live with supporters in suburban Hayward and take care of her children. Her baby is due Aug. 23.
"My husband is a political activist and fights for freedom and democracy, which puts him in the position of being the enemy of a totalitarian state," Liu said. "We have seen that the government is likely to use the family as a hostage against activists like my husband. That's why we left and will be safe here."
The 47-year-old Zhao has been a leading defender of human rights and democracy in China since the 1989 Tiananmen Students Movement. As a former student leader and a prominent political "prisoner of conscience," he has been imprisoned five times in 27 years.
Liu said her husband was released a week ago and is living in China under heavy surveillance.
She said she spoke to him while traveling and he is doing fine physically but having difficulty finding a permanent home. She said he will stay in China to continue his work.
In 2005, Zhao refused to participate in a flag-raising ceremony or sing the national anthem. He was put into solitary confinement for more than a month. He was later returned to solitary confinement for refusing to take part in military drills and for receiving Falun Gong members, according to published reports.
Zhao was part of a loose network of grassroots activists known as the New Citizens Movement who in 2013 were targeted by Chinese authorities as part of a broad crackdown on dissent.
The movement was known in China's beleaguered community of activists for staging small protests to call for education equality or the disclosure of public officials' assets to curb corruption.
Chinese authorities found Zhao and three other activists guilty of "gathering a crowd to disturb order in a public" for planning street protests and sentenced Zhao in April 2014 to two years and six months' imprisonment.
His wife and son left China in May for Bangkok. She says she no longer felt safe in Thailand.
"I knew the stories. That's why I was anxious. I was afraid they'd kidnap me and take me back like they had done to other people," Liu said.
---
Bender reported from San Francisco.
---
This story has been corrected to use Liu and Zhao on second reference, and to correct a name to Yang Jianli.
---
China Aid Media Team
Cell: (432) 553-1080 | Office: 1+ (888) 889-7757 | Other: (432) 689-6985
Email: media@chinaaid.org
For more information, click here
The Epoch Times
By
Leo Timm
,
Epoch Times
and
Juliet Song
,
Epoch Times
|
July 19, 2016 AT 8:19 am
Last Updated:
July 19, 2016 10:30 am
■ Washington—Wearing large glasses with her hair tied in a ponytail, 29-year-old Patricia Li looks like an average Chinese university student. Last year, she arrived in the U.S. from her home in northern China to complete her graduate program in film and theatrical production design.
Patricia Li takes part in a candlelight vigil for those who have
died during the persecution in China, in Washington, D.C., on
July 14, 2016. This year marks the 17th year of the persecution
inside China (Benjamin Chasteen/Epoch Times)
But Patricia's story is more than her academic pursuits. Central in her life is the traditional spiritual practice of Falun Gong, which has been subject to severe persecution and vilification by the Chinese Communist Party since 1999. Having learned Falun Gong as a child, Patricia spent her teenage years during the most intensive years of repression. Her mother has been locked in brainwashing centers twice.
July 20 marks the 17th year since the communist regime began the campaign against Falun Gong, with practitioners detained by the tens of thousands in the first few days and constant propaganda attacking the practice as a "deviant religion."
Now studying in Savannah, Georgia, Patricia went to participate in the annual rally, parade, and candlelight vigil in the nation's capital that memorializes the known and unknown thousands of Falun Gong practitioners who have lost their lives at the hands of the Chinese authorities.
"I am really touched that there is a place to voice our feelings," she said. "To be able to come overseas help those being persecuted in China, to speak out for them, I think this is an obligation for all of us abroad."
Falun Gong practitioners march in a parade in Flushing, New
York, on April 23, 2016, calling for an end to the persecution of
Falun Gong in China and celebrating over 230 million people
who have quit the Chinese Communist Party since 2004.
(Larry Dye/Epoch Times)
While the overwhelming majority of Falun Gong practitioners are Chinese or ethnically Chinese, the practice has been taken up by people in over a hundred nations.
Art therapist Liza Brkovich and her sister Frida Kats came from Uzbekistan and now live in New Jersey. Liza has practiced Falun Gong since 1998; since 1999, she has attended every year's candlelight vigil in the American capital.
"It was beautiful music," she said, recalling how she had first come across the Chinese meditation. "I asked, 'What are you doing?' They said 'Okay, you can start doing the exercises with us if you like.'"
Though skeptical at first, Frida eventually learned Falun Gong, also known as Falun Dafa, from her sister. Both of the middle-aged women found that the practice improved their health and helped them lead better lives.
"Dafa changed me," Frida said, using a shorthand reference to the discipline's other name, Falun Dafa, favored by practitioners. "I was selfish, I was a person who was interested only in material things, I never looked for anything spiritual, I thought material things were more important. … I started to think about other people."
(L-R) Liza Brkovich and her sister, Frida Kats, at the Lincoln
Memorial, Washington D.C. on July 14.
(Juliet Song/Epoch Times)
The sisters often participate in Falun Gong events in New York. In parades, they take part in a group of performers who march while playing Chinese waist drums.
"I hope that we are going to play in Tiananmen Square one day," Frida said. "People will know that the truth is, Dafa is wonderful, and will say Falun Dafa Hao [Chinese for 'Falun Dafa is good']."
Frida values the opportunity to raise awareness about the persecution of Falun Gong. "I try to talk about Falun Dafa and explain why we are here. A lot of people are asking, what are you doing here? What is going on here in Washington D.C.? I hope this is the last time we come here, and that the persecution will end."
---
China Aid Media Team
Cell: (432) 553-1080 | Office: 1+ (888) 889-7757 | Other: (432) 689-6985
Email: media@chinaaid.org
For more information, click here
Radio Free Asia
2016-07-20
■ Authorities in the eastern Chinese city of Hangzhou have warned an unofficial Protestant "house church" with around 2,000 members that they are hosting "illegal gatherings," church members told RFA.
The church, which currently occupies premises on the ninth floor of the Xingye Mansions building in Hangzhou's Jianghan district, received a notification from the religious affairs bureau of the local government warning it to "reform its illegal gathering activities."
Lawyer Li Guisheng said he had been asked by the church to offer legal advice during a recent business trip to Hangzhou.
"They arranged a meeting with me to ask for legal advice, because the local government and police station had banned them from meeting, on the grounds that they were carrying out illegal gatherings," Li said.
"This church has a particularly long history, and the government has been trying to get them to join the Three-Self Patriotic Association," Li said, in a reference to the state-sponsored official body regulating Protestant Christians in China.
"But they don't want to, so the government is stopping them from meeting at all," he said.
'No end to government power'
The church has held unofficial worship ceremonies for more than 40 years, dating back to before nationwide purges of religious beliefs and practice during the political turmoil of the Cultural Revolution (1966-1976), according to U.S.-based Christian rights group China Aid.
Since the notice was issued, the local government has sent officials around to the church premises to tear down a large cross displayed on a wall, Li said.
Authorities tear down a cross from a Protestant church in
Hangzhou's Dingqiao township, Dec. 19, 2014.
Photo courtesy of China Aid
"A lot of people are saying that there seems to be no end to government power at the moment," Li said. "They also have no idea how to pursue and stand up for their own rights."
An official who answered the phone at the Sijiqing neighborhood committee offices, which sent officials to remove the church's cross, declined to comment.
"I don't really know the details," the official said. "You'll have to speak to religious affairs chief Gao.
But repeated calls to the number provided resulted in a fax tone on Wednesday.
Government clamp down
Zhang Mingxuan, president of the Chinese House Church Alliance, similar treatment has been meted out to other Protestant churches in Hangzhou ahead of the city's hosting of the G20 summit in September.
"They have been forcing house churches not to meet ahead of the G20 summit," Zhang said. "They have also been forcing them to join the Three-Self Association in the past couple of years."
"The government has been clamping down on house churches in recent years, trying to manage them more closely, but they are a bit amorphous sometimes, so they have just told them they can't meet for worship," he said. "But the Bible teaches that we can't stop meeting."
The move to stop house churches meeting follows a prolonged cross demolition program in the past year or so by authorities in Zhejiang province, of which Hangzhou is the capital.
The demolition of "illegal" Christian crosses from the roofs of churches came amid growing resistance from local believers, but was billed as a civic pride and building safety campaign in official media.

Reported by Qiao Long for RFA's Mandarin Service. Translated and written in English by Luisetta Mudie.
---
China Aid Media Team
Cell: (432) 553-1080 | Office: 1+ (888) 889-7757 | Other: (432) 689-6985
Email: media@chinaaid.org
For more information, click here