Radio Free Asia
2016-07-22
■ Prominent jailed rights activist Guo Feixiong has requested a transfer to another prison following more than 70 days of hunger strike and ongoing abuse from cellmates, his sister has said.
Guo, who has been subjected to forced feeding after beginning his hunger strike in protest at the treatment of political prisoners, is chronically sleep-deprived by abusive cell-mates and routinely subjected to torture by prison guards, his sister Yang Maoping said.
Yang, who visited Guo on Wednesday, said her brother now weighs just 51 kilograms (112 lb), and has been subjected to verbal and physical abuse by both fellow inmates and prison guards, she said in an online statement.
Calls to Yang's cell phone rang unanswered on Friday.
But rights activist Wu Yuhua, who is among those engaging in a relay hunger strike in Guo's support, said Yang had spoken to her about the recent visit.
"[Guo] said during his sister's visit on Thursday that he was willing to end the hunger strike," said Wu, who goes by the online nickname Aiwu.
"He has a number of serious medical problems, for which he has received no treatment, and he has been subjected to continual verbal abuse."
"He asked his sister to speak to prison leaders and to request a transfer to another jail, but I don't know if his request was granted."
Guo Feixiong in a file photo.
Photo courtesy of Guo Feixiong
She said that Guo will still need medical treatment even if he stops refusing food and water.
"We really hope that he decides to call off the hunger strike," Wu said.
It is unclear whether a request from Guo's lawyer for a visit next week will be granted by the prison, she added.
Overseas-based poet and activist Bei Ling said he is very concerned about Guo, whose birth name is Yang Maodong.
"Back in the days when Guo Feixiong went by the name Yang Maodong, he was a literary critic and a keen participant in cultural events," Bei told RFA. "I am extremely worried about him right now."
"As a fellow literature lover, I strongly urge the Chinese prison authorities to grant him his request, so he can get away from these dregs that are the worst of prison life," he said.
"I also call on the prison guards to extend him the most basic humanity in their treatment of him, whether it's to allow him to transfer to another prison, or to allow him out on medical parole," he said.
"This man isn't fit to be in prison."
Guo, 49, has previously refused to end the hunger strike he began in early May, as the New York-based Human Rights Watch (HRW) called on the ruling Chinese Communist Party to order an end to his force feeding by guards at Yangchun Prison in the southern province of Guangdong.
Prison authorities began in mid-May to force-feed Guo once a day, then twice every other day since mid-June, in a painful procedure that involves forcing a feeding tube into his nostrils and down his throat into his stomach, delivering a liquid nutritional supplement, HRW said.
The procedure is risky, and can lead to major infections, pneumonia, collapsed lungs, heart failure, post-traumatic stress disorder, and other psychological trauma, and goes against international standards for the humane treatment of prisoners.
Guo began his hunger strike calling on President Xi Jinping to implement democratic reforms, end the use of electric shocks in prison, improve the treatment of political prisoners, and ratify a United Nations covenant on civil and political rights.
During pretrial detention, Guo was held in a cell for two-and-a-half years without being allowed out for exercise, contrary to prison regulations.
According to HRW, Yangchun Prison twice admitted him to hospital between April and May, but only for check-ups. No diagnosis nor medical treatments were offered.
Guo began his hunger strike after being subjected to a forced rectal cavity search at the instigation of state security police, as well as forced head shaving and verbal abuse from prison guards.
Guo was sentenced last November for "picking quarrels and stirring up trouble" and "gathering a crowd to disrupt social order" after a prolonged period in pretrial detention.
During his sentencing hearing, Guo shouted in protest at his treatment while in police custody, where he was held in solitary confinement in a small, dark cell and denied permission to exercise outdoors since August 2013.
Reported by Qiao Long for RFA's Mandarin Service. Translated and written in English by Luisetta Mudie.
---
China Aid Media Team
Cell: (432) 553-1080 | Office: 1+ (888) 889-7757 | Other: (432) 689-6985
Email: media@chinaaid.org
For more information, click here
Christian Today
By
Carey Lodge
21 July 2016
■ China's president Xi Jinping, who has been accused of implementing draconian laws against religion since taking office in 2012, today spoke directly to Chinese Muslims – signifying a possible crackdown on a group that has so far avoided his harsh measures.
While visiting a mosque in the northwestern autonomous region of Ningxia, home to more than two million Muslims, Xi urged Chinese Muslims to practise their religion as part of Chinese society and "carry forward the patriotic tradition".
According to state newspaper China Daily, Xi said: "Religions in our country, the endemic ones and those from abroad, have become deeply embedded in the Chinese civilisation, whose history covers more than 5,000 years.
"They will continue to flourish while taking root here."
However, he also called on Muslims to "resolutely oppose illegal religious infiltration activities" and promote religious and social harmony.
Ningxia, home to more than two million Muslims, the
majority of whom are Hui. Reuters
It's all language he's used before; the ruling Chinese Communist Party (CPC) is committed to maintaining absolute power, and religion is perceived as a threat. In 2014, it announced plans to nationalise Christian theology, and only allows state-recognised religious institutions to operate. Encouraging religious groups to engage with "patriotic tradition" can be seen as a means by which to remind Chinese citizens "
that their allegiance is to the country, and the Party, first.
"
Concerns about "religious infiltration" aren't new either. In May 2014, a report from China's University of International Relations and the Social Science Academic Press said that religion posed a serious threat to Chinese identity. Religious infiltration was listed as one of four challenges to China's national security.
But what is new is that the Hui Muslim community is the target of Xi's warnings.
Wai Ling Yeong, head of Chinese Studies at Curtin University of Technology in Perth,
warned in May
that China may be moving to restrict religious freedom among Hui Muslims. This is notable, she said, because "this fourth largest national minority group has been the poster child of China's ethnic policy".
"It epitomises the benefits of ethnic autonomy as an arrangement that promotes social stability. It highlights the success of a policy that allows ethnic minorities the freedom to maintain their language, customs, and religion. Most importantly, it helps negate the negative publicity that the Chinese government is receiving due to its draconian policies in Tibet and Xinjiang."
A report by the
New York Times
in February revealed that Hui Muslims have been able to practise their religion freely with minimal intervention by the government. Traditionally, they have enjoyed far greater freedoms than the Uyghur Muslims, the majority of whom live in Xinjiang in China's far-western corner.
In January last year, severe restrictions were imposed on Uyghur Muslims. Thousands were detained in security sweeps, some with deadly force, and jail sentences were given out for wearing religious attire. Men's beards and women's face veils were denounced as "extremist", and some local authorities threatened action against Muslim business owners if they chose not to sell alcohol and cigarettes due to their religious beliefs.
Some Uyghur Muslims were imprisoned for taking part in religious gatherings or activities, and were forbidden from fasting during the holy month of Ramadan.
Until now, however, Hui Muslims have been protected from such restrictions.
Another scholar who has warned the tide might be turning against the Hui community is James Leibold, an associate professor in politics and Asian studies at La Trobe university in Melbourne.
Last month,
he predicted
a "troubling extension of often irrational fears over the "Islamization" (伊斯兰化) of Chinese society."
Traditionally, Leibold said, China has divided its Muslim population "into two camps: the 'good Muslims,' like the Hui, who speak the Chinese language, abide by core elements of its culture, and thus can be trusted; and the 'bad Muslims,' like the Uyghurs, who continue to resist the inevitable process of assimilation". However, "recently the mood has darkened in the Hui areas," he warned.
On Twitter today, Leibold said Xi's three-day tour of Ningxia was a "clear sign Party leaders are concerned about religious extremism among the Hui".
It remains to be seen if these warnings will play out in reality, but if China's Hui Muslims are to face a similar fate to their Uyghur counterparts, the freedoms they have so far enjoyed are likely to be swiftly curtailed.
---
China Aid Media Team
Cell: (432) 553-1080 | Office: 1+ (888) 889-7757 | Other: (432) 689-6985
Email: media@chinaaid.org
For more information, click here
The Guardian
By
Tom Phillips
Friday 22 July 2016 06.07 EDT
Last modified on Friday 22 July 2016 06.45 EDT
■ Residents of Hangzhou told they could be banned from holding religious gatherings while world leaders attend summit
Chinese authorities have reportedly ordered the closure of churches in the eastern city hosting the
G20
summit later this year to "create a safe environment" for world leaders when they meet.
Heads of state will fly into Hangzhou, the capital of Zhejiang province, in early September for
the two-day meeting
hosted by the Chinese president, Xi Jinping.
Churchgoers attend mass near the city of Taiyuan, Shanxi
province. Christian groups have criticised authorities after
reports of a plan to ban religious worship near the G20 summit.
Photograph: Jason Lee/Reuters
In an effort to reduce congestion, local officials have declared a week-long public holiday to coincide with the G20 summit and are reportedly
trying to convince thousands of residents to leave town
.
Now reports have emerged that authorities are also banning religious worship during the annual summit.
The Global Times, a Communist party-run tabloid, said Xiaoshan, a district in south-east Hangzhou where the G20 meeting will be held, had outlawed large-scale religious activities until four days after the event. It said the move was an attempt "to create a safe environment for the meeting".
One Hangzhou pastor
told the newspaper
authorities had shut down a number of underground "house churches" in the city.
Another report
, by the US-backed news service Radio Free Asia, said the city's unofficial churches had been ordered to stop gathering.
"They have been forcing house churches not to meet ahead of the G20 summit," said Zhang Mingxuan, the outspoken president of China's House Church Alliance.
Li Guisheng, a Christian human rights lawyer, criticised the move and said it had no basis in Chinese law.
"I cannot understand why they have done this… Worshipping God has nothing to do with the G20 summit."
Zhejiang province is known as the most Christian region in
China
, an officially atheist country that is home to tens of millions of churchgoers.
Since late 2013 the coastal province has been the setting for a controversial
Communist party cross removal campaign
.
Demolition teams armed with sledgehammers, blowtorches and cranes have removed crosses from more than 1,200 places of worship, activists say.
Several churches have been completely torn down and bloody clashes have broken out between congregants fighting to defend the symbol of their faith and truncheon-wielding security guards sent to enforce the demolitions.
Opponents of the campaign have faced government retribution.
Gu Yuese
, a prominent pastor from one Hangzhou mega-church who had spoken out against the cross removal campaign, was detained in January for allegedly misusing church funds and only recently released.
Zhang Kai, a Christian lawyer who also fought the removals, spent months in secret detention and was
forced to make a televised "confession"
.
On Friday,
a Foreign Office report
on the deteriorating human rights situation in China highlighted the plight of the country's Christian community.
The report pointed to the destruction of a large number of Chinese churches, the disappearance of Catholic priests and the detention of Protestant pastors and their parishioners.
Chinese house churches were facing a period of "sustained pressure" from Beijing, the Foreign Office said.
Additional reporting by Christy Yao
---
China Aid Media Team
Cell: (432) 553-1080 | Office: 1+ (888) 889-7757 | Other: (432) 689-6985
Email: media@chinaaid.org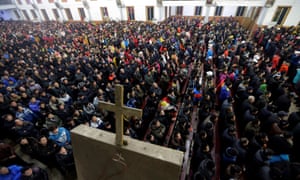 Churchgoers attend mass near the city of Taiyuan, Shanxi
province. Christian groups have criticized authorities after
reports of a plan to ban religious worship near the G20 summit.
Photograph: Jason Lee/Reuters
For more information, click here
China Aid
Translated by Carolyn Song. Written in English by Brynne Lawrence.
(Guiyang, Guizhou—July 21, 2016) A pastor imprisoned in China's central Guizhou province on a falsified "divulging state secrets" charge penned a letter to his wife on June 30, thanking God for the chance to rest after serving as a pastor for 23 years.
"This is a good place to rest, where I am cut off from the rest of the world and brought closer to God," Li Guozhi, a pastor at
Huoshi Church
who goes by the pseudonym
Yang Hua
, wrote of his jail cell. "I can no longer hear the clamorous noise, but can better listen to the Lord's voice."
Government personnel took Yang into police custody on Dec. 9, 2015, after he attempted to prevent them from confiscating one of the church's hard drives. They sentenced him to five days in administrative detention a day later for "the crime of obstruction of justice." On Dec. 15, authorities charged him with "gathering a crowd to disturb social order" and extended his sentence five more days.
When his wife came to collect him on Dec. 20, she saw officials herding him into an unlicensed vehicle as he donned a black hood. Upon inquiry, she learned that his charge had changed, and that he was being transferred to criminal detention for "illegally possessing state secrets." On Jan. 22, his relatives received a notice that he had been formally arrested for "divulging state secrets."
In an
interview
with his lawyers, Chen Jiangang and Zhao Yonglin, Yang disclosed methods the prosecutors used to torture him when he refused to confess to his charges, including standing on his toes and threatening to kill him and bring harm to his family. As a result, Chen and Zhao sued the prosecutors for "using torture to extort a confession" and asked that they be dealt with according to the law.
Despite these circumstances, Yang writes, "Genuine rest has nothing to do with the environment. No matter if the waves are quiet or the sea roars, our hearts rest in [God], just as a weaned child sleeps in its mother's arms. I want to thank God for using this special method to give this special gift to our household. Let us accept and enjoy it with a thankful heart."
A full translation of the letter can be read below, with breaks added for legibility.
China Aid launched a campaign to free Yang Hua to confront the unjust incarceration and expose abuses he and his family have suffered. To learn more about Yang's case, sign the petition for his release and donate to support the persecuted and their families, please visit
www.freeyanghua.org
.
______________________________________________________________________________
Dear wife: Everything's fine!
I received your letter on June 30. I am thankful. Suddenly, I thought of a song, but I couldn't recall all the lyrics. There's a part that goes like this: "The path we walk has laughter and tears; this is the Lord's grace." You can sing it. [It's] Sheng Xiaomei's "Marks of Grace."
The first page of Yang Hua's letter to his wife.
(Photo: China Aid)
About our friends' concern and desire to establish a website to write articles, I don't think they should consider it at this time. You can tell them that it's my opinion. Thank them for being so caring and concerned. I remember a section from the Bible that even the young, strong lions are still starving.
You don't have to go to photo studio since I have already got your photos. It is not necessary [for you to go].
Don't be too thrifty. Buy some meat, chicken and fish for our sons to eat. They are currently growing; buy some suitable snacks for them. The money I have can support me until October. There are many newly-built convenience stores near me. I have enough to eat. I just received 800 Yuan [U.S. $120]. You don't have to come to the detention center twice a month. Once a month is enough. Don't transfer too much money. 600 Yuan [U.S. $90] a month is more than enough. Psalm 23 says, "The Lord is my shepherd; I shall not want." You should copy the whole chapter.
I want to share what I've received with you. God has given me a year of rest after 23 years of hard work. Previously, when I was out of [jail], things were always coming down incessantly, because there were many different kinds of affairs [to attend to]. The Israelites worked every year for six years and rested on the seventh. This is a good place to rest, where I am cut off from the rest of the world and brought closer to God. I can no longer hear the clamorous noise, but can better listen to the Lord's voice. "The LORD sits enthroned over the flood; the LORD is enthroned as King forever" [Psalm 29:10] ("You Sit on the Throne," a hymn). Genuine rest has nothing to do with the environment. No matter if the waves are quiet or the sea roars, our hearts rest in [God], just as a weaned child sleeps in its mother's arms. I want to thank God for using this special method to give this special gift to our household. Let us accept and enjoy it with a thankful heart.
After this period of time, my spiritual life will be even more distinctive from the song that says "A crowd flooded into my kingdom, but they did not want to bear the cross." You can sing the song.
The second page of Yang's letter to his wife.
(Photo: China Aid)
"Rejoice always, pray continually, give thanks in all circumstances; for this is God's will for you in Christ Jesus" [1 Thessalonians 5:16-18]. You must always pray. Think of when Peter called out in John 21. Three times the disciples showed their weakness and three times they answered Jesus. The apostles were full of the Holy Spirit and witnessed for the Lord, leading people back to him. Do not live in weakness and confusion; this is Satan's scheme. Be full of the Holy Spirit and leave spiritual predicaments. Seek [to fulfill] all of the Lord's decrees. Remove all of the negative thoughts and voices from your life. Amen.
Listen to more of Pastor Wang's preaching. It will help a lot. Let the words of God make you stronger. This is incomparably good; that you encourage each other with the words of God. Thank my mother and aunt for me. They are our family's angels, always helping us. Say hello to everyone for me. God's decrees will certainly be fulfilled. Let's talk next time. Keep the letters. Don't throw them away. In regards to Xiangen practicing his musical instrument: he should study lightly. He shouldn't have pressure, either from you or from himself. Don't participate in any examinations. Any amount of studying is fine. He can improvise an accompaniment. Let Mu'en practice his instrument half an hour a day after school ends so as not to forget. You can eat and have fun with Xinde's mother. Be happy. Good night! Mail a photo of my aunt. It'll be useful.
Jehovah-nissi, Emmanuel [Editor's Note: These two phrases are Hebrew for "The Lord is my banner" and "God with us"]
Your husband, who received the favor of God with you:
Li Guozhi
The evening of June 30
---
China Aid Media Team
Cell: (432) 553-1080 | Office: 1+ (888) 889-7757 | Other: (432) 689-6985
Email: media@chinaaid.org
For more information, click here
Radio Free Asia
2016-07-21
■ Three leaders of the 2014 pro-democracy movement in Hong Kong have been found guilty of public order charges linked to a mass sit-in that kicked off the 79-day Occupy Central campaign for fully democratic elections.
Former student leaders Joshua Wong and Alex Chow, and legislative election candidate Nathan Law, were found guilty of taking part in an unlawful assembly at the city's Eastern Magistrates Court on Thursday.
All three had pleaded not guilty to the charges, which carry a maximum sentence of three years' imprisonment. However, presiding judge June Cheung acquitted Wong of a charge of inciting others to take part in the illegal assembly. Law was found guilty of the same charge.
The three activists remained defiant after their bail was extended pending sentencing on Aug. 15.
Joshua Wong, Nathan Law, and Alex Chow speak to reporters
outside Hong Kong's Eastern Court, July 21, 2016. RFA
"Apart from respecting judicial independence and the rule of law, I still disagree with the final result from the court, because I think that everyone should ensure and gain the right to organize and participate in any kind of assembly," Wong told reporters outside the court.
"I think that is the human right of every citizen who lives in Hong Kong."
"We may need to go to prison," he said. "But whatever the penalty or the price we have to pay, we will continue to fight against suppression from the government."
Wong said the fight for democracy under the ruling Chinese Communist Party is "a long-term battle."
Less room for dissent
Law said the case shows that there is less and less room for dissent in Hong Kong, which was promised the continuation of its traditional freedoms of speech and assembly for 50 years, under the terms of the1997 handover to China.
"We are not afraid of any repression, and when it gets stronger, we will also get stronger," said Law, who recently tendered his nomination papers to run in September's Legislative Council (LegCo) elections for the fledgling political party Demosisto.
"This case will be a very important case [that shows] the attitude of the Hong Kong government towards peaceful assembly is ... getting tightened, and they will use whatever tools they can to repress people who fight for their rights," he said.
The charges were brought after the three activists climbed into a cordoned-off area in front of city government headquarters, an area known as Civic Square, at the start of the Occupy Central movement in September 2014.
Rights groups hit out at Thursday's verdict, saying it sent a "chilling warning" on freedom of expression in the formerly freewheeling city.
"The prosecution of student leaders on vague charges smacks of political payback by the authorities," Mabel Au, director of Amnesty International Hong Kong, said in a statement.
"The continued persecution of prominent figures of the Umbrella Movement is a blow to freedom of expression and peaceful assembly in Hong Kong," she said.
Vague wording
Police handling of the initial protest and the arrests of the student leaders at that time were a crucial factor in tens of thousands of pro-democracy supporters taking to the streets in the days immediately afterwards, the group said.
It hit out at "vague" wording in public order legislation, which has been repeatedly criticized by the UN Human Rights Committee for failing to fully meet international human rights law and standards on the right of peaceful assembly.
"The authorities must stop using vague laws in an attempt to intimidate people from exercising their right to peaceful assembly," Au said. "Prosecutions aimed at shutting down participation in peaceful protests must be dropped."
The group cited police figures showing that more than 1,000 people were arrested in connection with the Occupy Central, or Umbrella, movement, of whom 216 people have been prosecuted,or continue to face charges for their alleged involvement in the protests.
The Occupy movement campaigned for Beijing to withdraw an Aug, 31, 2014 electoral reform plan, which it rejected as "fake universal suffrage," and to allow publicly nominated candidates to run for chief executive in 2017.
The plan, which offered a one-person, one-vote in 2017 elections for chief executive,but required candidates to be vetted by Beijing, was voted down on June 18, 2015 by 28 votes to eight in Hong Kong's Legislative Council, leaving the city with its existing voting arrangements still in place.
Reported by Lam Kwok-lap for RFA's Cantonese Service, and by RFA's Mandarin Service. Translated and written in English by Luisetta Mudie.
---
China Aid Media Team
Cell: (432) 553-1080 | Office: 1+ (888) 889-7757 | Other: (432) 689-6985
Email: media@chinaaid.org
For more information, click here
Associated Press
By Haven Daley and Kristin J. Bender
■ Hayward, Calif. (AP) -- The pregnant wife of a prominent Chinese dissident has arrived in the San Francisco Bay Area with their 4-year-old son to live as refugees for at least a year, an activist said Wednesday.
Liu Xiaodong, 40, the wife of Zhao Changqing, arrived with the boy Tuesday from Bangkok. She was escorted by Yang Jianli, president of Initiatives for China/Citizen Power for China, a grassroots movement dedicated to a peaceful transition to democracy.
Yang said Liu will live with supporters in suburban Hayward and take care of her children. Her baby is due Aug. 23.
"My husband is a political activist and fights for freedom and democracy, which puts him in the position of being the enemy of a totalitarian state," Liu said. "We have seen that the government is likely to use the family as a hostage against activists like my husband. That's why we left and will be safe here."
The 47-year-old Zhao has been a leading defender of human rights and democracy in China since the 1989 Tiananmen Students Movement. As a former student leader and a prominent political "prisoner of conscience," he has been imprisoned five times in 27 years.
Liu said her husband was released a week ago and is living in China under heavy surveillance.
She said she spoke to him while traveling and he is doing fine physically but having difficulty finding a permanent home. She said he will stay in China to continue his work.
In 2005, Zhao refused to participate in a flag-raising ceremony or sing the national anthem. He was put into solitary confinement for more than a month. He was later returned to solitary confinement for refusing to take part in military drills and for receiving Falun Gong members, according to published reports.
Zhao was part of a loose network of grassroots activists known as the New Citizens Movement who in 2013 were targeted by Chinese authorities as part of a broad crackdown on dissent.
The movement was known in China's beleaguered community of activists for staging small protests to call for education equality or the disclosure of public officials' assets to curb corruption.
Chinese authorities found Zhao and three other activists guilty of "gathering a crowd to disturb order in a public" for planning street protests and sentenced Zhao in April 2014 to two years and six months' imprisonment.
His wife and son left China in May for Bangkok. She says she no longer felt safe in Thailand.
"I knew the stories. That's why I was anxious. I was afraid they'd kidnap me and take me back like they had done to other people," Liu said.
---
Bender reported from San Francisco.
---
This story has been corrected to use Liu and Zhao on second reference, and to correct a name to Yang Jianli.
---
China Aid Media Team
Cell: (432) 553-1080 | Office: 1+ (888) 889-7757 | Other: (432) 689-6985
Email: media@chinaaid.org
For more information, click here
The Epoch Times
By
Leo Timm
,
Epoch Times
and
Juliet Song
,
Epoch Times
|
July 19, 2016 AT 8:19 am
Last Updated:
July 19, 2016 10:30 am
■ Washington—Wearing large glasses with her hair tied in a ponytail, 29-year-old Patricia Li looks like an average Chinese university student. Last year, she arrived in the U.S. from her home in northern China to complete her graduate program in film and theatrical production design.
Patricia Li takes part in a candlelight vigil for those who have
died during the persecution in China, in Washington, D.C., on
July 14, 2016. This year marks the 17th year of the persecution
inside China (Benjamin Chasteen/Epoch Times)
But Patricia's story is more than her academic pursuits. Central in her life is the traditional spiritual practice of Falun Gong, which has been subject to severe persecution and vilification by the Chinese Communist Party since 1999. Having learned Falun Gong as a child, Patricia spent her teenage years during the most intensive years of repression. Her mother has been locked in brainwashing centers twice.
July 20 marks the 17th year since the communist regime began the campaign against Falun Gong, with practitioners detained by the tens of thousands in the first few days and constant propaganda attacking the practice as a "deviant religion."
Now studying in Savannah, Georgia, Patricia went to participate in the annual rally, parade, and candlelight vigil in the nation's capital that memorializes the known and unknown thousands of Falun Gong practitioners who have lost their lives at the hands of the Chinese authorities.
"I am really touched that there is a place to voice our feelings," she said. "To be able to come overseas help those being persecuted in China, to speak out for them, I think this is an obligation for all of us abroad."
Falun Gong practitioners march in a parade in Flushing, New
York, on April 23, 2016, calling for an end to the persecution of
Falun Gong in China and celebrating over 230 million people
who have quit the Chinese Communist Party since 2004.
(Larry Dye/Epoch Times)
While the overwhelming majority of Falun Gong practitioners are Chinese or ethnically Chinese, the practice has been taken up by people in over a hundred nations.
Art therapist Liza Brkovich and her sister Frida Kats came from Uzbekistan and now live in New Jersey. Liza has practiced Falun Gong since 1998; since 1999, she has attended every year's candlelight vigil in the American capital.
"It was beautiful music," she said, recalling how she had first come across the Chinese meditation. "I asked, 'What are you doing?' They said 'Okay, you can start doing the exercises with us if you like.'"
Though skeptical at first, Frida eventually learned Falun Gong, also known as Falun Dafa, from her sister. Both of the middle-aged women found that the practice improved their health and helped them lead better lives.
"Dafa changed me," Frida said, using a shorthand reference to the discipline's other name, Falun Dafa, favored by practitioners. "I was selfish, I was a person who was interested only in material things, I never looked for anything spiritual, I thought material things were more important. … I started to think about other people."
(L-R) Liza Brkovich and her sister, Frida Kats, at the Lincoln
Memorial, Washington D.C. on July 14.
(Juliet Song/Epoch Times)
The sisters often participate in Falun Gong events in New York. In parades, they take part in a group of performers who march while playing Chinese waist drums.
"I hope that we are going to play in Tiananmen Square one day," Frida said. "People will know that the truth is, Dafa is wonderful, and will say Falun Dafa Hao [Chinese for 'Falun Dafa is good']."
Frida values the opportunity to raise awareness about the persecution of Falun Gong. "I try to talk about Falun Dafa and explain why we are here. A lot of people are asking, what are you doing here? What is going on here in Washington D.C.? I hope this is the last time we come here, and that the persecution will end."
---
China Aid Media Team
Cell: (432) 553-1080 | Office: 1+ (888) 889-7757 | Other: (432) 689-6985
Email: media@chinaaid.org
For more information, click here
Radio Free Asia
2016-07-20
■ Authorities in the eastern Chinese city of Hangzhou have warned an unofficial Protestant "house church" with around 2,000 members that they are hosting "illegal gatherings," church members told RFA.
The church, which currently occupies premises on the ninth floor of the Xingye Mansions building in Hangzhou's Jianghan district, received a notification from the religious affairs bureau of the local government warning it to "reform its illegal gathering activities."
Lawyer Li Guisheng said he had been asked by the church to offer legal advice during a recent business trip to Hangzhou.
"They arranged a meeting with me to ask for legal advice, because the local government and police station had banned them from meeting, on the grounds that they were carrying out illegal gatherings," Li said.
"This church has a particularly long history, and the government has been trying to get them to join the Three-Self Patriotic Association," Li said, in a reference to the state-sponsored official body regulating Protestant Christians in China.
"But they don't want to, so the government is stopping them from meeting at all," he said.
'No end to government power'
The church has held unofficial worship ceremonies for more than 40 years, dating back to before nationwide purges of religious beliefs and practice during the political turmoil of the Cultural Revolution (1966-1976), according to U.S.-based Christian rights group China Aid.
Since the notice was issued, the local government has sent officials around to the church premises to tear down a large cross displayed on a wall, Li said.
Authorities tear down a cross from a Protestant church in
Hangzhou's Dingqiao township, Dec. 19, 2014.
Photo courtesy of China Aid
"A lot of people are saying that there seems to be no end to government power at the moment," Li said. "They also have no idea how to pursue and stand up for their own rights."
An official who answered the phone at the Sijiqing neighborhood committee offices, which sent officials to remove the church's cross, declined to comment.
"I don't really know the details," the official said. "You'll have to speak to religious affairs chief Gao.
But repeated calls to the number provided resulted in a fax tone on Wednesday.
Government clamp down
Zhang Mingxuan, president of the Chinese House Church Alliance, similar treatment has been meted out to other Protestant churches in Hangzhou ahead of the city's hosting of the G20 summit in September.
"They have been forcing house churches not to meet ahead of the G20 summit," Zhang said. "They have also been forcing them to join the Three-Self Association in the past couple of years."
"The government has been clamping down on house churches in recent years, trying to manage them more closely, but they are a bit amorphous sometimes, so they have just told them they can't meet for worship," he said. "But the Bible teaches that we can't stop meeting."
The move to stop house churches meeting follows a prolonged cross demolition program in the past year or so by authorities in Zhejiang province, of which Hangzhou is the capital.
The demolition of "illegal" Christian crosses from the roofs of churches came amid growing resistance from local believers, but was billed as a civic pride and building safety campaign in official media.

Reported by Qiao Long for RFA's Mandarin Service. Translated and written in English by Luisetta Mudie.
---
China Aid Media Team
Cell: (432) 553-1080 | Office: 1+ (888) 889-7757 | Other: (432) 689-6985
Email: media@chinaaid.org
For more information, click here
The Gospel Herald
By
Leah Marieann Klett
Jul 19, 2016 11:44 am EDT
■ In an effort to stifle the growth of Christianity in the country, officials in China's southern Guangdong province shut down and sealed one branch of a house church, threatening to take action if the church attempted to reopen.
According to a
report
from China Aid, an organization dedicated to exposing religious persecution and human rights abuse and equipping Christian and church leaders in China, government officials from the local Public Security Comprehensive Management Commission last month placed a seal over the doors to Taihe County branch of Guangfu Church, also known as Taihe Hall, and cut off power and water to the building.
Government officials claimed the church was shut down because the landlord of the building did not have the proper certificates. However, over the past year, government officials have repeatedly pressured the landlord to terminate the church's ten-year contract prematurely and evict the congregation without cause.
Believers take part in a weekend mass at an underground
Catholic church in Tianjin, China, November 10, 2013.
Photo Credit: Reuters
Another Guangfu Church branch in the Baiyun District of Guangzhou has recently experienced
similar persecution
at the hands of government officials, facing evictions, raids, threats and other forms of pressure.
In addition to closing down the church building, authorities also told Ma "Mark" Chao, who's in charge of Guangfu church and had previous altercations with authorities, to refrain from any church-related activities. In an effort to protect the church from permanent closure, Mark spent approximately $75,000 refurbishing the location.
"I want to tell them that they have to use their power according to proper procedures, even if we have actually violated laws," Mark said. "We will not only refuse to follow orders, but also sue officers if they don't do things the right way."
The church's closure is only one of the latest in the government's attempts to clamp down on Christianity as the Communist Party grows increasingly suspicious of the influence of Christianity, which is experiencing significant growth in the country.
"The Chinese Communist Party is violently allergic to non-party organizing vehicles, whether they're nonprofits, libraries or churches," Sophie Richardson, China director at Human Rights Watch, told theWashington Post of the government's obvious discomfort with Christianity.
Over the past year, up to 1,700 churches have been demolished or had their crosses removed in Zhejiang alone province, and a significant number of pastors and human rights lawyers have been arrested and imprisoned.
However Christianity continues to thrive in China: the Chinese government generally puts the number of Protestants (a group it calls "Christians") at
23 million
and the number of Catholics at more than
5 million
.
The country is number 33 on Open Door USA's
World Watch List
of 50 countries where Christians face the most persecution.
"The government's goal of maintaining power and social harmony includes the control of all religions, including the quickly growing Christian minority," reads the
report.
---
China Aid Media Team
Cell: (432) 553-1080 | Office: 1+ (888) 889-7757 | Other: (432) 689-6985
Email: media@chinaaid.org
For more information, click here
Vox
Updated by James Palmer on July 15, 2016, 8:30 a.m. ET
■ For devout Muslims,
Ramadan
, the lunar month when they fast from dawn to dusk, is a time for self-discipline, reflection, and deepening their relationship with God and others. But for the Chinese authorities in the Xinjiang autonomous ethnic region, the far-western Chinese province governed tightly by Beijing, the fast isn't a devotion but a political weapon.
As in
previous
years
, there are
numerous
reports
that Muslims in Xinjiang have been
forced
to eat during the day. Restaurants have been forbidden from closing, mosques are closely monitored or shut, and government workers and students have been expressly banned from fasting. Not showing up to a midday college meal or village feast can get your name put on the kind of list you don't want to be on.
In other parts of China, though, fasting Muslims face little more than the
thoughtless questions
from colleagues that Muslims in the West frequently encounter. So why, then, is an act that's private and religious in Xi'an or Beijing viewed in Xinjiang as public, political, and dangerous?
The answer is that for Xinjiang's Muslim residents, who are deeply resentful about rule from Beijing, religious piety is increasingly a signal of resistance to Chinese domination. And even when it isn't, local Chinese officials will treat it as if it is anyway.
Wait, China has Muslims?
Chinese riot police watch a Muslim ethnic Uighur woman
protest in Urumqi in China's far west Xinjiang province on
July 7, 2009. Peter Parks/AFP/Getty Images
A lot of people might be surprised to learn that China has any Muslims, let alone a substantial Muslim population. But in fact, Muslims have been settling in China since the foundation of the faith more than 1,400 years ago. Many came during the Yuan Dynasty (1271–1368), when whole populations shifted across the
vast Mongol
E
mpire
.
Today there are more than 20 million Muslims in China. (For comparison, there are
an estimated 3.3 million
Muslims in the United States, and the entire population of Saudi Arabia is around 29 million,
nearly all of whom are Muslim
). Ten out of China's 55 officially recognized ethnic minorities are Sunni Muslims.
One such group is the Uighur (pronounced WEE-gur), a Turkic-speaking ethnic group native to China's vast far western Xinjiang region (officially called the Xinjiang autonomous ethnic region).
Muslim worshipers attend Friday prayers at a mosque in
Beijing on November 1, 2013. Ed Jones/AFP/Getty Images
Although Chinese empires have often ruled parts of Xinjiang throughout history, their control over it was only ever shaky at best: Even when claimed by Chinese rulers, it was often independent in practice. The Qing Empire changed its name to Xinjiang ("New Frontier") when it annexed the region as an official Chinese province in 1884, after reconquering the territory from local warlords and rebels.
The idea of a distinct ethnic group that identifies as "Uighur" is also relatively new, dating back to 1921 when locals adopted the term from Russia. The Russian government had itself borrowed the term from a medieval Turkic empire that had once seriously threatened Chinese power — a connection that appealed to the modern Uighur.
But while the Uighur name is new, the people's sense of themselves as a separate ethnic group different from their neighbors — and determinedly non-Chinese — is much, much older.
The "three evil forces": terrorism, religious extremism, and separatism
For this reason, many Uighur today passionately believe their region should be its own independent country, like their Central Asian neighbors. The proposed name for this country is
"
East Turkestan
,"
which harks back to ideas of pan-Turkic unity that were popular in the 1920s. Like many aspiring countries, it even has a
flag
, left over from a short-lived and unrecognized republic formed by rebels in 1933–'34.
Javier Zarracina, Vox
Many Uighur still keep the flags — secretly. That's because for Beijing, talk of East Turkestan is criminal sedition: an attempt to break up China and throw the country into chaos. (The concept of a single, unified China with unchanging borders is historical nonsense, but it has a powerful grip on Chinese.) Indeed, separatism is grouped in Chinese propaganda with terrorism and religious extremism as the "three evil forces" that threaten the region.
Since the founding of the People's Republic of China in 1949, any ideas of independence, especially in border areas such as Tibet, Mongolia, and Xinjiang, have been rigorously suppressed. Uighur have been encouraged to think of themselves as one ethnicity among many in China, all contributing to the nation. But with language, culture, and politics dominated by the Han Chinese majority, that's a hard pill for the Uighur to swallow.
Ethnic tensions in Xinjiang between the Uighur, who are the majority population in Xinjiang, and the Han Chinese, who are China's majority ethnicity but are in the minority in Xinjiang — have grown in recent decades as more and more newcomers (mostly Han) have begun settling in the oil-rich province since the beginning of China's economic reforms in 1979. Energy has created new jobs, but most of these are limited to Mandarin speakers, which excludes the majority of Uighur.
In 2009, those tensions exploded in a
vicious pogrom
by young Uighur men against Han, in which at least 197 people were killed. (Though the violence was primarily directed against Han, other Muslim groups and ethnic minorities were also targets, since they were seen as intruders threatening Uighur businesses and culture.)
The pogrom, crushed by China's paramilitary units, kicked off a wave of counter-violence from Han communities. Beijing reined in the Han communal violence but instituted a new wave of repression that further fueled Uighur resentment.
Demonstrators hold up East Turkestan flags in support of
China's Uighur minority during a rally in Istanbul on July 12,
2009, to protest the deadly riots in China's northwestern region
of Xinjiang. Bulent Kilic/AFP/Getty Images
As a result, Xinjiang today is essentially locked in a low-level insurgency, with dozens dying every month. However, the immense scale of the territory (the province is
approximately 635,900 square miles
— for comparison, the state of
Texas is just 268,596 square miles
), coupled with the inability of journalists to visit many areas, makes it hard to tell
who's killing whom
. What the Chinese authorities call a terrorist attack, exiled Uighur groups will describe as a massacre of protesters by the police.
China blames every incidence of violence on the
"
East Turk
e
stan Islamic Movement
,"
a supposed Islamist terrorist group founded by militant Uighur separatists with ties to global Islamic terrorist networks.
However, much of what is known about the group comes from the Chinese authorities and press, who are eager to label
any opposition
to Beijing as terrorism. Indeed, many analysts think it's more likely there are a number of splinter groups operating in the region, with different agendas and varying degrees of ties to global Islamist terrorism.
Uighur woman protests in front of policemen and riot vehicles
on July 7, 2009, in Urumqi, the capital of Xinjiang.
Guang Niu/Getty Images
But there is growing evidence of
jihadist propaganda
spreading among an angry Uighur population, mixed in among the hugely popular Turkish and Central Asian music and videos exchanged on DVDs and memory sticks.
There have also been verifiable terrorist attacks, as the violence — which had previously been largely confined to Xinjiang — has begun to spill over into the rest of China. In 2014, a small Uighur group armed with knives attacked a crowd at a railway station in Kunming, hundreds of miles from Xinjiang, killing 29 innocent victims and sparking
widespread horror and rage
.
For many Uighur, especially young men, the cycle of violence and repression has caused them to become more
anti-Chinese
than ever.
Why is the Ramadan fast so important?
In this heated context, Ramadan fasting, as well as many other outward expressions of Islamic piety and identity, has become a potent political symbol. Uighur observance of Ramadan has sometimes been spotty in the past, especially outside of Xinjiang, but many Uighur have become more religiously observant in recent years.
Starting around the 1990s, displays of public piety became more common, historian Rian Thum, an assistant professor at Loyola University in New Orleans, told me, as many Uighur began reasserting their Islamic identities in deliberate opposition to the Chinese state.
The official Chinese position is that Muslims in Xinjiang enjoy "greater religious freedom than at any time in history," according to a
w
hite
p
aper
the Chinese government released just before Ramadan this year. The paper claims that any restrictions are the result of existing regulations against Chinese Communist Party members, who must voluntarily pledge atheism, or because of regulations that forbid the religious indoctrination of minors.
In practice, however, while private fasting is possible, attempts at communal piety are strictly restricted in Xinjiang. Mosques are closed during the day, while restaurants are forced to remain open. Students' and government workers' names are checked for attendance at mandated daytime meals, and the individuals are called in for questioning if they fail to eat. Repeated offenses can mean being expelled from school or fired from a government job.
A Uighur woman begs as armed Chinese paramilitary police
march past on a street in Urumqi on July 5, 2010, the first
anniversary of deadly unrest that laid bare deep-seated ethnic
tensions in the far-western Xinjiang region.
Peter Parks/AFP/Getty Images
According to
one Chinese expert
who interpreted the white paper, the policy is essentially that Muslims "without political obligations" are welcome to fast. But what these "political obligations" actually are is kept deliberately vague, allowing the state the flexibility to punish as it pleases. And in Xinjiang, even the course of the sun can be political.
Officially, the region is in the same single, Beijing-centered time zone that every other part of China is in. Even though the country spans roughly as much territory as the continental US, which has four different time zones, the whole of China sticks to the same clock, thanks to a 1949 policy implemented by Mao Zedong in an effort to promote national unity.
In reality, though, Xinjiang is so far west that it's two hours behind the capital. Since Muslims determine when to begin and end their fasts each day based on the position of the sun, this means that Uighur keep
"
local time
"
whenever possible. But as far as the Chinese state authorities in Beijing are concerned, letting the sun, rather than Beijing, decide when you eat implies defiance.
A Uighur family gathers for a meal to celebrate Eid al-Fitr,
marking the end of Ramadan, on July 29, 2014, in old Kashgar,
Xinjiang. Kevin Frayer/Getty Images
The fasting restrictions are just one aspect of a raft of religious constraints applied tightly in Xinjiang, although the details vary from area to area. Schoolchildren are forced to
recite atheistic
pledges. Public prayer is often forbidden, and even parents teaching the Quran to their children at home can be punished by authorities claiming this constitutes "illegal religious schools."
Uighur are often harassed for visible symbols of faith, with long beards and the veil
singled out
as signs of the "three evil forces" of separatism, terrorism, and extremism.
Propaganda posters
throughout the region extol the virtues of ditching religious symbols. In some regions, street patrols harass veil-wearing women, while businesses are "asked" to sign pledges that they won't allow the hirsute or veiled onto their premises. Refusing to shave can mean
prison time
.
Good Muslims, bad Uighur
It might be tempting to attribute this to Chinese state policy aimed at suppressing religious sentiment in general and promoting communist-style atheism. And indeed, that's how the Communist Party defends the policy: It claims that Uighur simply have to follow the same rules that apply to everyone, such as requiring Communist Party members to be atheists and forbidding the religious education of minors.
But while religious groups are often
squeezed tightly
in China, the restrictions on the Uighur are far tighter than for anyone else. It's not just party members who can't fast, but all government workers. It's not just minors who are forced to eat in the daytime, but college students too.
And it's not religion by itself that worries Beijing most, but the potential religion offers for resistance — especially among a fiercely independent people sitting on a critical strategic border region.
The restrictions placed on Uighur are not generally applied to members of other religions, especially those seen as indigenously Chinese, such as (accurately) Daoism and (
inaccurately
) Buddhism. Buddhist monasteries regularly run schools, and temples in Beijing fill up every year with party members praying for their children's examination success.
This photo taken on April 17, 2015, shows a propaganda poster
that reads, "Participating in extremist activities is playing
with fire," on a street in Awat, in Xinjiang.
Greg Baker/AFP/Getty Images
And, perhaps even more telling, the restrictions aren't even applied to most otherMuslims in China. Outside of Xinjiang, restrictions on Ramadan fasting or other Islamic religious practices are relatively uncommon. And when they do occur, they're more on a scale with the occasional persecutions of Christian or Buddhist sects — nothing close to the concerted repression campaign against the Uighur.
For the Chinese authorities, forcing Uighur to publicly deny their own traditions serves multiple purposes, as asking Christians to
trample the cross
once did in Japan or pushing Catholics to attend Protestant mass did in Elizabethan England. It directly asserts the authority of Beijing over everyday life. It allows potential dissidents and militants to be singled out and monitored or arrested. And it puts pressure on young Uighur, in particular, to accept the official Chinese Communist Party narrative.
The pressure is exceptionally harsh when it acts as a
gate closing off
potential education and future possibilities. Since access to good jobs, especially outside of Xinjiang, depends on receiving a Chinese-language education, adhering to even the most basic Islamic religious practices requires a huge personal sacrifice by young Uighur enrolled in the state education system, as they risk being kicked out if they disobeying restrictions.
By pushing them to deny their own practices, officials hope that young Uighur will internalize the party's values in order to justify their own submission.
Anti-Muslim sentiment is on the rise in China — but the government has an incentive to keep it in check
The past decade has seen distrust of Muslims spread beyond Xinjiang to a much wider swath of China, as James Leibold, a political scientist and senior lecturer at Australia's La Trobe University, recently noted in a
paper
for the Jamestown Foundation.
Online commentators are agitating against "Islamization" and "Arabization," and government policies on issues such as halal butchers — that is, butchers who follow Islamic religious laws regarding the slaughter of animals and food preparation — are becoming increasingly contentious.
Paranoid critics argue that laws regulating the halal meat trade or allowing the building of new mosques are, in fact, cover for a wider campaign of infiltration and "Islamization" of a vulnerable China. Public opinion has turned hostile toward Muslims, with anti-Islamic memes often picked up from far-right European and US media and repackaged on social media for a Chinese audience.
A Uighur woman walks past a statue of Chairman Mao
Zedong in the city of Kashgar in Xinjiang.
Andia/UIG via Getty Images
Yet China's Muslims are unlikely to face wide-scale persecution — at least from the government. Even as the authorities cracked down in Xinjiang over Ramadan, Leibold noted to me in an email that the central government had issued notices calling for officials to "respect and uphold the cultural customs and legal rights of ethnic minorities" and redoubled propaganda efforts (such as the white paper) to preach China's tolerance of religious freedom.
Unsurprisingly, Beijing is doing this not out of concern for religious rights but for political ends. Beijing is currently pursuing an ambitious geopolitical plan known as the "One Belt, One Road" initiative. Here's a really good basic description of it from Scott Kennedy and David A. Parker, two experts at the Center for Strategic and International Studies (a DC-based think tank) who have studied the policy:
Often referred to jointly as the "One Belt, One Road," details released so far by China's official media outlets show the "Belt" as a planned network of overland road and rail routes, oil and natural gas pipelines, and other infrastructure projects that will stretch from Xi'an in central China, through Central Asia, and ultimately reach as far as Moscow, Rotterdam, and Venice.
Perhaps awkwardly named, the "Road" is its maritime equivalent: a network of planned port and other coastal infrastructure projects that dot the map from South and Southeast Asia to East Africa and the northern Mediterranean Sea.
It's a massive project, and one on which China's president, Xi Jinping, has effectively staked his own political legacy. Showing support for the project is mandatory for Chinese academics and officials trying to prove their loyalty to Xi or advance their own careers.
To make it happen, China needs the cooperation of a whole bunch of countries — including a substantial number of Muslim ones. This means the central government in Beijing has a pretty strong incentive to make sure it's not perceived as persecuting Muslims all over China, as that would almost certainly infuriate many of its Islamic partner nations.
Pakistani laborers arrange a welcome billboard featuring the
Chinese and Pakistani national flags ahead of a visit by
Chinese President Xi Jinping to Islamabad on April 18, 2015.
(Farooq Naeem/AFP/Getty Images)
Indeed, right after scathing reports about the Ramadan restrictions on Uighur in Xinjiang began making headlines in
Pakistan
and
Indonesia
, the Chinese government invited officials from both countries to come visit the region and then took them on very carefully controlled, government-guided tours to convince them that Uighur have religious freedom.
On the other hand, though, many of these Muslim countries also have strong incentives to keep up political and trade relations with a powerful neighbor like China, even if that means looking the other way at its repression of their Muslim brethren. For instance, following their Potemkin tours, those Pakistani and Indonesian officials seemed eager to parrot the official Chinese government line about religious freedom in Xinjiang.
There are a lot of Muslims in the world, and China doesn't want to piss them off; unfortunately, there just aren't very many Uighur.
James Palmer is a writer and historian living in Beijing.
---
China Aid Media Team
Cell: (432) 553-1080 | Office: 1+ (888) 889-7757 | Other: (432) 689-6985
Email: media@chinaaid.org
For more information, click here
Human Rights Watch
July 17, 2016 7:55 pm EDT
China: End Abuse of Hunger-Striking Activist

■ Allow Guo Feixiong Access to Adequate Medical Care, Lawyers, Family
(New York) – Chinese authorities should cease their force feeding of
imprisoned activist Guo Feixiong
and ensure his immediate access to adequate medical care, Human Rights Watch said today. Guo, 49, a rights activist whose real name is Yang Maodong, has been on hunger strike at Yangchun prison in Guangdong province since May 9, 2016, to protest China's authoritarian rule and its mistreatment of political prisoners.
Guo Feixiong on the Great Wall of China, July 2012.
© 2012 Private
"Chinese authorities should immediately end their abusive treatment of Guo Feixiong," said
Sophie Richardson
,
China
director at Human Rights Watch. "Guo's case highlights China's poor treatment of detainees, made even worse by denying them access to adequate medical care."
Family members told Human Rights Watch that prison authorities began in mid-May to force-feed Guo once a day. Since mid-June they have force fed him twice a day every other day. They said that each feeding requires a painful procedure in which authorities force a feeding tube into his nostrils and down his throat into his stomach. A liquid nutritional supplement is then pushed down the tube. Debilitating risks of force-feeding include major infections, pneumonia, collapsed lungs, heart failure, post-traumatic stress disorder, and other psychological trauma.
Force feeding prisoners
who are on a voluntary and informed hunger strike – a form of peaceful expression – is contrary to international standards, Human Rights Watch said.
The force feeding process as well as the denial of adequate medical care amount to cruel and inhuman treatment in violation of the
Convention Against Torture
, which China has ratified. Because of force-feeding's invasive nature, the World Medical Association, the preeminent international organization in the field of medical ethics and practice, has
repeatedly condemned force-feeding of competent prisoners
.
Guo should never have been imprisoned in the first place, and his cruel treatment since sends a chilling message about human rights in China today.
Sophie Richardson
China Director
Guo's sister last visited him on June 7. Since then her repeated requests to see him have been denied even though Chinese law allows family visits once every month. The last time his lawyer was granted a visit was on June 20. They said that Guo looked very thin and had lost about one-third of his body weight.
The authorities have repeatedly abused Guo in a detention center and prison since he was first taken into custody on August 8, 2013. During his two and a half years of detention in Tianhe Detention Center in Guangzhou City, Guo was not allowed out of his overcrowded cell at any time, contrary to article 25 of the Detention Center Regulations and international standards, which require that detainees be allowed out of their cells to exercise every day.
Over the past year
, Guo has suffered intermittent bloody or watery stools, as well as occasional bleeding in the mouth and throat. Although Yangchun Prison twice admitted him to hospitals – once to Yangchun Prison Hospital and another time to Yangjiang City People's Hospital in Guangdong Province – between April and May, when he was given medical checks, he was not treated or diagnosed. He has also been moved to a crowded cell where the prison guards frequently insult him.
During his hunger strike, Guo has made four demands: that President Xi Jinping should undertake political reforms; the use of electric shock should be abolished in all prisons; the treatment of political prisoners should be improved; and China should ratify the
International Covenant on Civil and Political Rights
, which it signed in 1988.
Guo is serving a six-year sentence after a court in Guangzhou City found him guilty of "gathering crowds to disturb social order" and "picking quarrels and provoking troubles" in November 2015. He was sentenced for demonstrating in January 2013 outside the office ofSouthern Weekly, an outspoken newspaper, protesting censorship of an editorial, and organizing others to post online photos of themselves engaged in similar protests in eight other cities.
Guo began his activism in 2005
, when he acted as a legal advisor to Beijing lawyer Gao Zhisheng. Guo is best known for his central role defending the rights of villagers in Taishi Village, a landmark case in the "weiquan" ("rights defense") movement in China. Guo was previously imprisoned from 2006 until 2011, during which he was repeatedly tortured, including with electric shock. Guo is one of China's most influential rights activists together with lawyers
Gao Zhisheng
, Chen Guangcheng, Teng Biao, and Xu Zhiyong.
Human Rights Watch called on Chinese authorities to end all torture and ill-treatment of prisoners and detainees, including denial of medical treatment; to accept an independent, international investigation – with the participation of forensic and human rights experts from the United Nations Office of the High Commissioner for Human Rights – into the ill-treatment and deaths of detained activists, including
Cao Shunli
and
Tenzin Delek Rinpoche
; and permit a visit by the UN Special Rapporteur on Torture.
Foreign diplomats from all countries with bilateral human rights dialogues with China, or those that signed the
March 2016 statement
criticizing China's human rights record at the UN Human Rights Council, should request visits to see Guo at Yangchun Prison. If such requests are denied or receive no response, they should go to the prison and personally request access to Guo and to meet with prison officials to express concerns about his case.
"Guo should never have been imprisoned in the first place, and his cruel treatment since sends a chilling message about human rights in China today," Richardson said. "Respecting Guo's rights could help begin to repair the damage done."
---
China Aid Media Team
Cell: (432) 553-1080 | Office: 1+ (888) 889-7757 | Other: (432) 689-6985
Email: media@chinaaid.org
For more information, click here